EA Sports has heavily redesigned the FIFA 23 Career Mode, which is one of the most popular game modes in EA Sports' FIFA series. For instance, the manager mode in FIFA 23 Career Mode has been greatly improved, with authentic profiles added to make it more exciting and realistic. EA Sports implemented a slew of new features in the latest FIFA 23 game with the sole purpose of making the game more engaging and exciting.
For those who don't know, Career Mode in FIFA 23 is divided into two sections: Manager Career and Player Career. Over the course of the FIFA 23 game mode, you can take control of a club as a manager or only play as a single player in the FIFA 23 Career Mode. The FIFA 23 Career Mode also allows you to play through your entire football career. The changes aim to give players more control over their play style and allow them to participate in more off-field activities.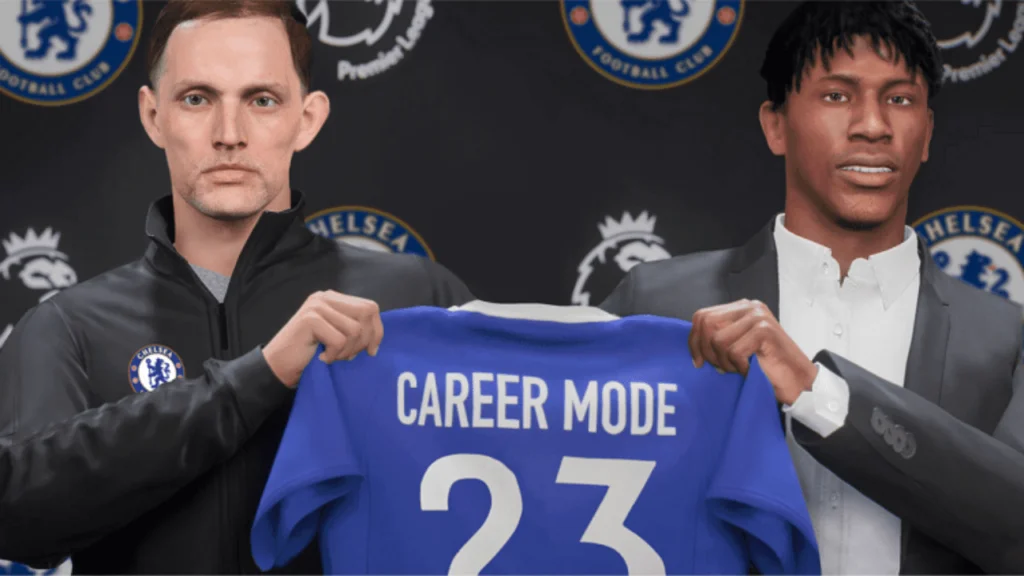 Gamerina Team examines all features and changes coming to these two sections in FIFA 23 Career Mode.
New Features of FIFA 23 Career Mode
Playable Highlights
This is a useful addition to FIFA 23 Career Mode because it allows you to play only the crucial highlights of a match rather than the entire 90 minutes. Based on the AI, this will be different for each game, and you will get playable highlights for each game. This will allow you to take control of important moments in matches in order to try to define their results, specifically handling close calls that affect the scorecard.
New Main Menu User Experience
The intuitive main menu in FIFA 23 Career Mode has been completely redesigned, allowing for quicker access to topics of interest. You can now quickly determine squad depth, players whose contracts are due to expire, or the most talented youngsters in the youth academy. A new personality tab has been added to the My Pro menu in player career mode.
Dynamic Moments
This is an excellent addition to the FIFA 23 Career Mode, which is a series of cinematics that enhance the game's realism. There are numerous scenarios to provide an authentic experience, ranging from a new training ground moments to interviews, and meeting new colleagues e.g. newly signed star players.
There are some new cinematic sequences which focus on the trophy celebrations, and transfer of players from one club to another after negotiation during transfer market. There are some new cinematic sequences, such fist bumping, when you make a key achievement in your player career mode journey. This include, not limited to, specific accomplishments and milestones, such as earning Man of the Match or Manager of the Month honours or playing 50 or 100 games.
Pre-season Tournament and Events
To add more authenticity to FIFA 23 Career Mode, pre-season events have undergone considerable alterations. Eight teams will play three matches apiece, with only the winner claiming the prize money, which will increase the transfer budget. The matchups will also be closer to the season opener.
Genuine and Authentic Manager Profiles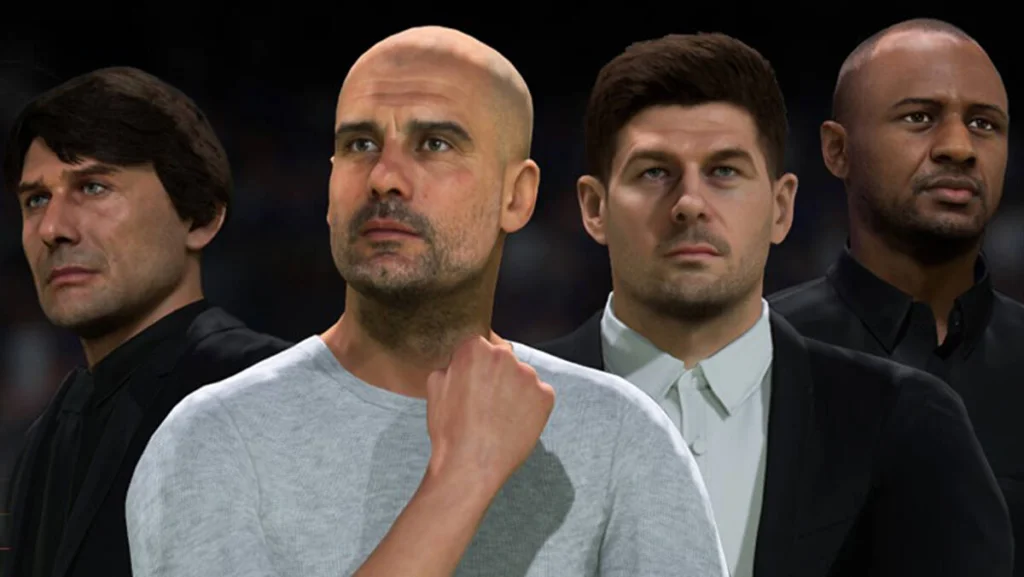 This is one of the most welcome updates to the FIFA 23 Career Mode, as you will now be able to play as your favorite manager. It has over 350 genuine football managers, including over 30 with star heads. You may personalize their attire and choose which club they will run. You can also stick with current current manger or just customise their appearance and lead your club to glory.
Enhanced Transfer Analysis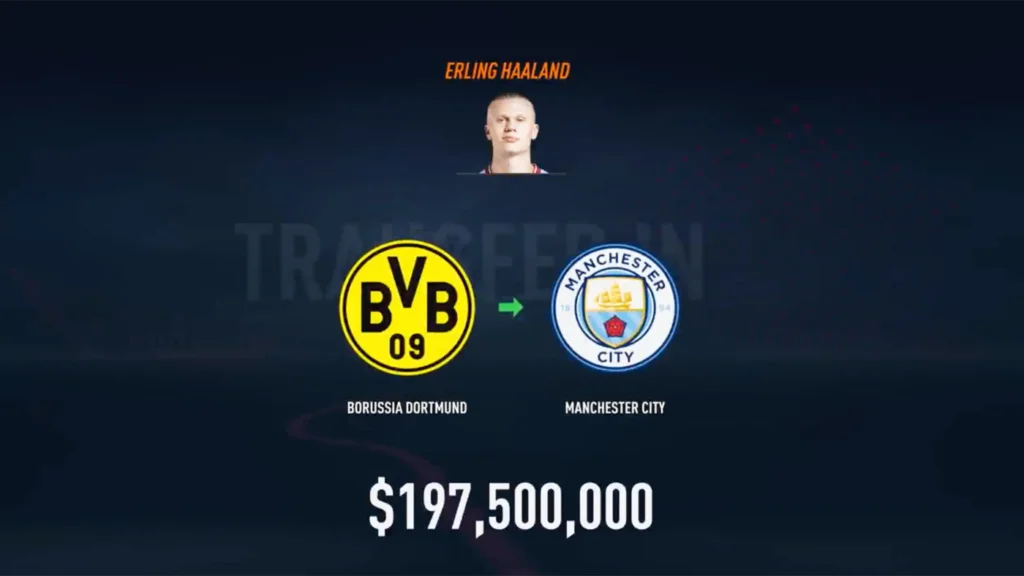 The transfer evaluation feature is intended to improve commercial bargaining abilities. The Transfer Analyst will evaluate the transfer's financial and squad impact. Ratings range from A (for high-quality business deals) to F (for deals that don't make financial sense). The rating is determined by dividing the transfer fee by the selling club's asking price. In the case of loans, the rating is decided by the agreed-upon wage split structure, if any.
Tension in Transfer Negotiations
A tension meter will emerge during the transfer negotiation time to showcase the other party's tension whether they are close to accepting an offer or close to rejecting an offer. This allows the player to determine if they should continue negotiating for a better deal or accept/reject the negotiations.
Sophisticated AI Tactics
The AI Tactics in FIFA 23 Career Mode has improved to the point where it can analyze game events in a far more sophisticated manner. Depending on the situation, the opponent will make far more informed and wiser decisions. If you are leading the game, the opponent can make more aggressive substitutions to try to come back into it.
My Club Improvements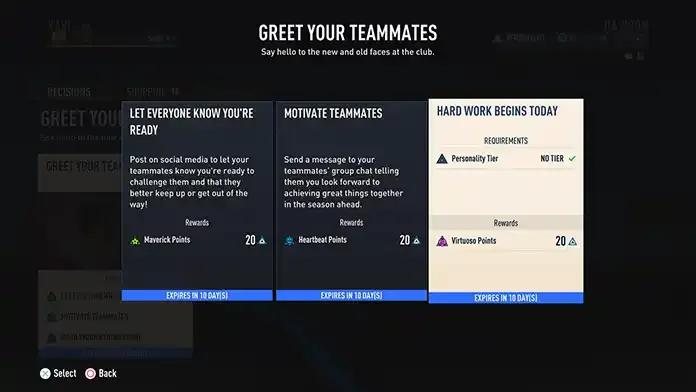 You may now personalize your club's third kit as well as your goalkeepers' kit. You can also change the names of the players, their height and weight, their bodily appearance, their favored positions, their playing Attributes, and even some of their animations.
Improved Off-Pitch Activities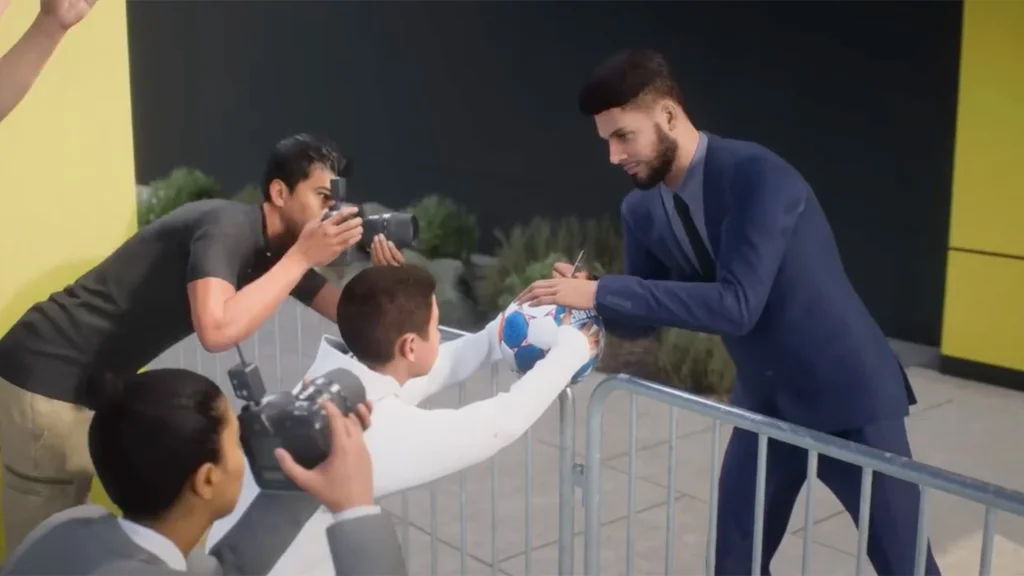 Off-the-field performance is critical for any player, but with celebrity comes the rise of distractions. Off the field, there are several new features in FIFA 23 Career Mode, such as Decision, Investments, and Shopping. Your pro-player may be able to invest their money in various firms with varying levels of risk and spend their money on luxury clothes, sports vehicles, and other items.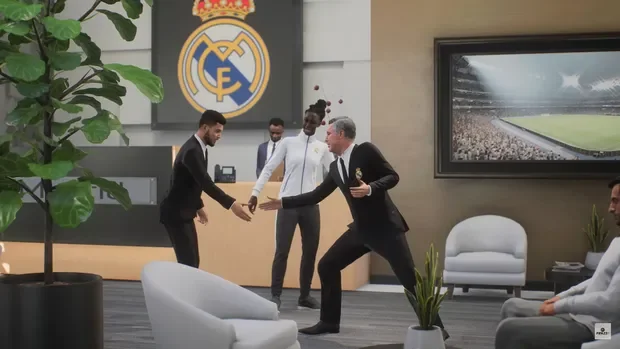 Players' Personalities in Player Career Mode
Each player has his/her own style of play, and your actions on the field will earn you personality points. The Player Personality will mold the virtual personality of the player while also gaining attribute bonuses. This was done to provide a 'deeper personal connection' with the gamer, allowing him to shape his player accordingly. There are three types of personalities, each with its own set of advantages.
Maverick
They are generally aggressive and act on instinct. They are ambitious and will go after their goals without hesitation. They live a more opulent lifestyle while remaining committed to being a professional athlete.
Virtuoso
They are skilled and intelligent and can change the course of a match in the blink of an eye. They are intensely focused and capable of making an impact on the pitch while also attaining their objectives.
Heartbeat
This player is the squad's nucleus and a full team player. They will not be looking for individual prizes as much as they will be looking to fill the team's trophy case. They are always willing to assist newcomers and children.
While in an attacking position, passing to a teammate for an assist might get you Heartbeat points, whilst shooting and scoring earn you Maverick and Virtuoso points. For example, if you completed a successful pass (+5 Heartbeat Points) and scored a goal (+20 combined Maverick/Virtuoso Points), you may receive a total of 25 Personality Points in a match.
Many levels can be unlocked, and the higher the level, the greater the flow of attribute bonuses. It is the final step of evolution when you achieve the absolute level. It will provide you with even more advantages to make a bigger impact on the pitch.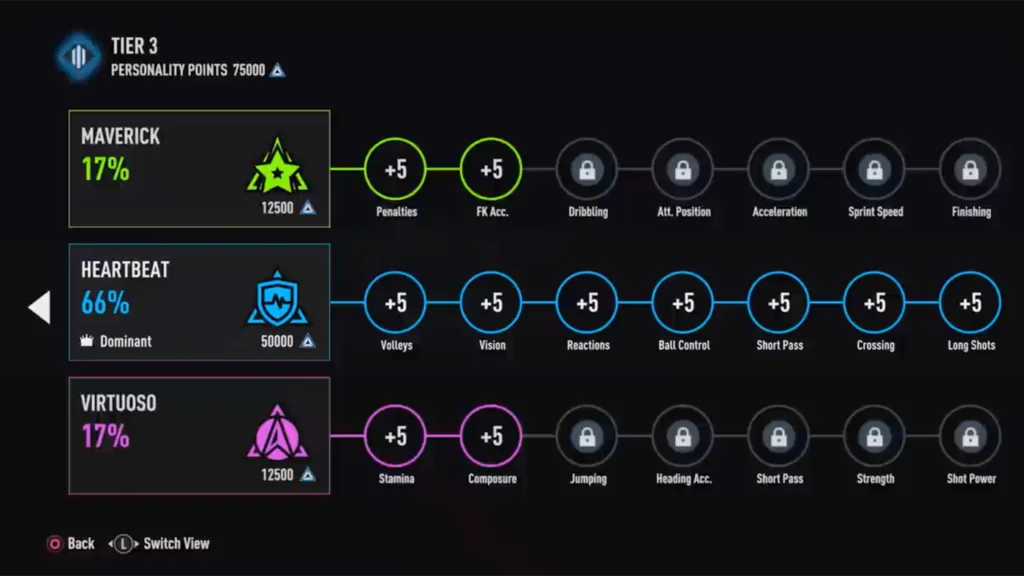 Complete Official Trailer of FIFA 23 Career Mode