FIFA 23 is the first game installment in the long-running history of football games to offer players the option of selecting the likeness of a real manager in career mode. This means FIFA 23 includes real-world football managers and coaches and game players can select any managers available in both FIFA 23 Career Mode and FUT 23 Mode.
As a player, you can also utilize FIFA 23 Managers at any club, including fictional ones, to get new ideas on how managers would perform in different settings. If you want to re-appoint Pep Guardiola as manager of Barcelona or Bayern Munich, you can do so in FIFA 23 Career mode.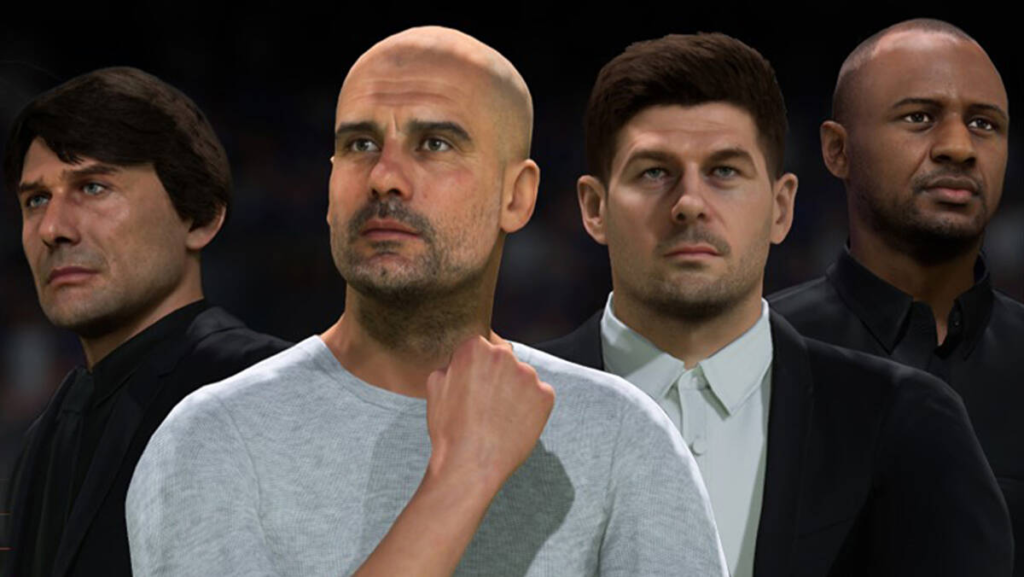 "We've seen feedback from players wanting to play as some of their favourite managers, and we're happy to say FIFA 23 enables you to play as one of the 350 plus authentic football managers, of which 30 plus have star heads, in Career Mode," EA Sports stated in the post.
"Upon selecting the manager of your choice, you can customize their outfit and decide on the club they'll be in charge of. You have the option of continuing to build a legacy at an authentic manager's current club, pick a different club to start at, or even create a new club for the manager to lead to glory."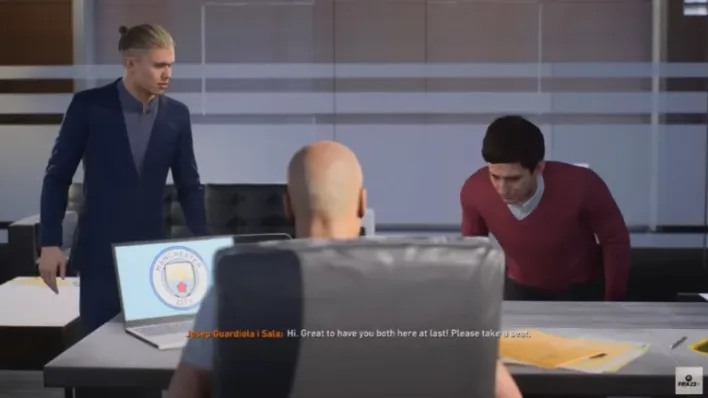 FIFA 23 Managers (Complete List)
Below is a list of all FIFA 23 Managers available in FUT 23 and FIFA 23 Career Mode.
Australia Managers FIFA 23
Ange Postecoglou
John Aloisi
Mark Rudan
Tony Popovic
Carl Veart
Patrick Kisnorbo
Steve Corica
Ufuk Talay
Arthur Papas
Ruben Zadkovic
Warren Moon
Austria Managers FIFA 23
Ralph Hassenhuttl
Christian Ilzer
Dietmar Kuhbauer
Ferdinand Feldhofer
Dominik Thalhammer
Manfred Schmid
Klaus Schmidt
Peter Pacult
Thomas Silberberger
Markus Mader
Argentina Managers FIFA 23
Diego Simeone
Eduardo Coudet
Fernando Gago
Marcelo Gallardo
Carlos Tevez
Frank Kudelka
Gabriel Milito
Julio Cesar Falcioni
Lucas Pusineri
Matia Almeyda
Ramon Diaz
Ricardo Zielinski
Sebastian Beccacece
Sergioo Rondina
Claudio Vivas
Diego Dabove
Israel Damonte
Javier Sanguinetti
Nestor Gorosito
Omar De Felippe
Leonardo Madelon
Pablo Guede
Belgium Managers FIFA 23
Carl Hoefkens
Felice Mazzu
Hein Vanhaezebrouck
Wouter Vrancken
Edward Still
Karel Geraerts
Jonas De Roeck
Marc Brys
Yves Vanderhaeghe
Jose Jeunechamps
Brazil Managers FIFA 23
Pericles
Alexandre Gama
Chile Managers FIFA 23
Manuel Pellegrini
Croatia Managers FIFA 23
Edin Terzic
Ante Cacic
Ivan Juric
Kresimir Rezic
Czech Republic Managers FIFA 23
Jinrich Trpisovsky
Michal Bil ek
Cyprus Managers FIFA 23
Sofronisa Avgousti
Denmark Managers FIFA 23
Thomas Frank
Brian Priske
Henrik Jensen
Jess Thorup
Lars Friis
Niels Fredericksen
Thomas Thomasberg
Flemming Pedersen
Glen Riddersholm
Jacob Friis
Kent Nielsen
Jakob Michelsen
Jens Berthel Askou
England Managers FIFA 23
Eddie Howe
Frank Lampard
Graham Potter
Steven Gerrard
Scott Parker
Lee Johnson
Aidy Boothroyd
Des Buckingham
Phil Parkinson
Simon Grayson
Stephen Constantine
Finland Managers FIFA 23
Toni Koskela
France Managers FIFA 23
Christophe Galtier
Patrick Vieira
Rudi Garcia
Valerian Ismael
Karim Belhocine
Patrice Carteron
Germany Managers FIFA 23
Jurgen Klopp
Roger Schmidt
Thomas Tuchel
Alexander Blessin
Matthias Jaissle
Franco Foda
Bernd Hollerbach
Kosta Runjaic
Markus Anfang
Michael Kollner
Robin Dutt
Rudiger Rehm
Uve Rosler
Bartosch Gaul
Bernd Storck
Christian Neidhart
Daniel Scherning
Markus Kauczinski
Miroslav Klose
Olaf Janssen
Peter Zeidler
Stefan Kramer
Timo Rost
Torsten Ziegner
Uve Koschinat
Andre Meyer
Christian Preusser
Christoph Dabrowski
Horst Steffen
Michel Kniat
Thomas Brdaric
Thomas Kleine
Greece Managers FIFA 23
Giorgos Donis
Iceland Managers FIFA 23
Freyr Alexandersson
Ireland Managers FIFA 23
Jim Goodwin
Andy Myler
Damien Duff
John Russell
Keith Long
Kevin Doherty
Ollie Horgan
Stephen Bradley
Stephen O'Donnell
Tim Clancy
Italy Managers FIFA 23
Alessio Dionisi
Andrea Sottil
Antonio Conte
Carlo Ancelotti
Gabriele Cioffi
Gennaro Gattuso
Massimiliano Allegri
Simone Inzaghi
Stefano Pioli
Vinvenzo Italiano
Davide Nicola
Fabio Pecchia
Giovanni Stroppa
Luca Gotti
Marco Giampaolo
Paolo Zanetti
Vincenzo Montella
Andrea Pirlo
Cristian Bucchi
Fabio Caserta
Fabio Liverani
Francesco Farioli
Mario Silva
Rolando Maran
Attilio Tesser
Cristiano Bergodi
Cristiano Lucarelli
Davide Dionigi
Fabio Grosso
Fabrizio Castori
Filippo Inzaghi
Paolo Tramezzani
Roberto Venturato
Edoardo Gorini
Eugenio Corini
Dario Fossi
Lichenstein Managers FIFA 23
Mario Frick
Mexico Managers FIFA 23
Javier Aguirre
Netherlands Managers FIFA 23
Erik ten Hag
Giovanni van Bronckhorst
Mark van Bommel
Danny Bujis
John van den Brom
Northern Ireland Managers FIFA 23
Brendan Rodgers
Stephen Robinson
Ruaidhri Higgins
Norway Managers FIFA 23
Ronny Deila
Erling Moe
Kjetil Knutsen
Kjetil Rekdal
Per-Mathias Hogmo
Bjarte Lunde Aarsheim
Dag-Eilev Fagermo
Geir Bakke
Bjorn Petter Ingebretsen
Christian Michelsen
gaute Ugelstad Helstrup
Hans Erik Odegaard
Jostein Grindhaug
Lars Arne Nilsen
Poland Managers FIFA 23
Maciej Stolarczyk
Tomasz Kaczmarek
Waldemar Fornalik
Jacek Zielinski
Mariusz Lewandowski
Piotr Stokowiec
Wojciech Lobodzinski
Adam Majewski
Leszek Ojrzytnski
Portugal Managers FIFA 23
Bruno Lage
Jorge Jesus
Marco Silva
Ruben Amorim
Sergio Conceicao
Ivo Vieira
Moreno
Nuno Espirito Santo
Pedro Caixinha
Rui Pedro Silva
Vasco Seabra
Alvaro Pacheco
Cesar Peixoto
Evangelista
Filipe Martins
Jose Gomes
Luis Freire
Nelson Verissimo
Paulo Sergio
Petit
Vitor Campelos
Pedro Emanuel
Romania Managers FIFA 23
Mircea Lucescu
Razvan Lucescu
Dan Petrescu
Laszlo Balint
Marius Sumudica
Gheorghe Hagi
Ilie Poenaru
Liviu Ciobotariu
Marius Croitoru
Mihai Teja
Alexandru Pelici
Russia Managers FIFA 23
Stanistav Cherchesov
Scotland Managers FIFA 23
David Moyes
Robbie Neilson
Callum Davidson
David Martindale
Jack Ross
Malky Mackay
Derek McInnes
Nick Montgomery
Serbia Managers FIFA 23
Sinisa Mihajlovic
Ivan Jovanovic
Vuk Rasovic
Ivan Durdevic
Ivan Vukomanovic
Senegal Managers FIFA 23
South Korea Managers FIFA 23
Hong Myung-bo
Kim Sang-sik
Nam Ki-il
An Ik-soo
Jo Sung-hwan
Kim Ki-dong
Kim Tae-wan
Lee Byung-keun
Choi Yong-soo
Kim Do-kyun
Kim Nam-il
Spain Managers FIFA 23
Aitor Karanka
Diego Martinez
Ernesto Valverde
Francisco
Imanol Alguacil
Iraola
Jagoba Arrasate
Julen Lopetegui
Mikel Arteta
Pacheta
Pep Guardiola
Quique Flores
Sergio Gonzalez
Unai Emery
Xavi
Gaizka Garitano
Garcia Pimienta
Luis Garcia
Michel
Rubi
Vincente Moreno
Alberlardo
Carcedo
Cuco Ziganda
Jon Bolo
Luis Carrion
Ramis
Imanol Idiakez
Julian Calero
Marti Cifuentes
Pep Clotet
Etxeberria
Ruben Albes
Eder Sarabia
Josep Gombau
Juan Ferrando
Manolo Marquez
Sweden Managers FIFA 23
Andreas Georgson
Jens Gustafsson
Kim Bergstrand
Bartosz Grzelak
Jimmy Thelin
Andreas Alm
Henrik Rydstrom
Mikael Stahre
Andreas Brannstrom
Daniel Backstrom
Joakim Persson
Kim Hellberg
Mattias Lindstrom
Stefan Billborn
Tobias Solberg
Switzerland Managers FIFA 23
Raphael Wicky
Alain Geiger
Alexander Frei
Giorgio Contini
Mattia Croci-Torti
Bruno Berner
Thomas Stamm
Trinidad & Tobago Managers FIFA 23
Dwight Yorke
Tunisia Managers FIFA 23
Mehdi Nafti
Turkey Managers FIFA 23
Abdullah Avci
Okan Buruk
Emre Belozoglu
Erol Bulut
Nuri Sahin
Cagdas Atan
Ilhan Palut
Riza Calimbay
Serkan Ozbalta
Hakan Keles
Ukraine Managers FIFA 23
Sergiy Rebrov
United States Managers FIFA 23
Coach Beard
Jesse Marsch
Ted Lasso
Joe Enochs
Brian Clarhaut
Uruguay Managers FIFA 23
Alexander Medina
Gustavo Munua
Wales Managers FIFA 23
Steve Cooper
These are all the lists of FIFA 23 Managers in both FIFA 23 Career Mode and FUT 23 Mode.
FUT 23 Managers Cards
Manager cards in FUT 23 are staff items that represent team managers (team coaches) for your FUT squads. Having a manager in your club will help you improve team camaraderie and provide contract bonuses to your players.
Manager cards are based on real-life football managers and are available in the FIFA game with a specific league name. A manager card's league name is crucial to your team's cohesion. You can alter the league of a manager card by putting a Manager League card on it.
Chemistry
Managers' ethnicity and league (but not club) have an influence on Player and Team Chemistry, just like players.
Choosing a manager of the same country and league as your players will result in the best chemistry rate in your squad.
Types of Managers Cards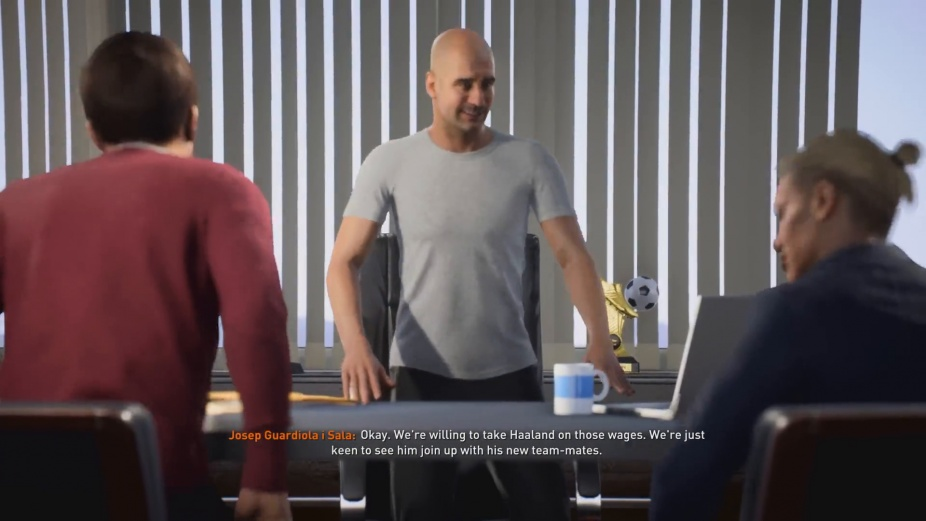 FUT Manager products are available in three common qualities: gold, silver, and bronze. They also have a contract bonus %, which increases the number of contracts to players when you apply a contract item to a player if that manager is your squad's manager at the time. The following are the different tiers of manager cards available in FUT 23:
| Manager Cards Grade | Contract Bonus Rate |
| --- | --- |
| Gold (Rare) | 3-2% |
| Gold | 1% |
| Silver (Rare) | 0-2% |
| Silver | 0% |
| Bronze (Rare) | 1% |
| Bronze | 0% |
FAQs About FIFA 23 Managers
Do Managers Matter in FIFA 23 Ultimate Team?
Managers are crucial in FIFA 23 Ultimate Team as they provide chemistry boosts to players, especially with the revamped chemistry system which has made league and nation boosts even more important. Additionally, some FIFA enthusiasts believe that managers can affect the number of contracts your players receive.
Who Is the Best FIFA 23 Manager?
With more than 350 managers to choose from, including over 30 with star heads, it can be difficult to determine the best one. However, Frank Lampard from England is considered the top-rated manager in FIFA 23.
Who Is The Best Manager in FIFA 23 Ultimate Team
The most proficient manager in FIFA 23 Ultimate Team is Pep Guardiola.
Are There Morocco Managers in FIFA 23?
Unfortunately, there are no Moroccan managers available in FIFA 23 Ultimate Team. Players will need to include other Moroccan players in their squads to gain chemistry boosts.
Are There Algerian Managers in FIFA 23?
Unfortunately, there are no Algerian managers available in FIFA 23 Ultimate Team. Players will need to include other Algerian players in their squads to gain chemistry boosts.
How to Appoint, Remove, or Change a Manager in Your Team
To add a manager to your squad, head to your Squad, open the Manager Actions page (PS4: R2 button / Xbox: RT button), choose Add Manager if you've never added a manager before, or Swap Manager if you wish to replace your current manager, then select a manager card.
Where Can I Find and Hire Managers?
You can find and hire or appoint a manager through the Manager card items which are obtainable as prizes in packs. Managers in FIFA 23 can also be acquired through the Transfer Market by searching under the Staff menu and selecting Managers as the Staff Type.