FIFA Mobile 22 is the newest installment of the FIFA Mobile series developed by EA SPORTS. Enhanced visuals and enhanced immersion in FIFA Mobile 2022 mark the start of a whole new era of gaming on phones. One of the biggest changes in this season update is that you can listen to live commentary while playing the game on your phone. Check out what more is in store for FIFA Mobile 2022 below, including the FIFA Mobile 22 release date, latest FIFA Mobile 2022 features, FIFA Mobile 22 requirements, FIFA Mobile 22 download links, and so much more!
FIFA Mobile 22 features
Display HUD- including new scoreboard look and gameplay layout.
Enhanced Substitution Menu.
A defensive, balanced, and attacking mentality has been added to AI matches.
4 New Camera Angle Button.
Improved Player Rendering.
7 New Stadiums.
Up to 60 FPS
Ping Connectivity Rating in Head to Head and VS Attack.
Team Logos & Score showing on the pitch during kickoffs
Emote Messages
More on What is New in FIFA mobile 2022?
When Did FIFA Mobile 22 Come Out?
From Monday, 18th of January 2022, the FIFA Mobile New Season 2021-2022 app became available.
Who Developed FIFA Mobile 22
EA Mobile developed FIFA Mobile 2022, which allows players to enjoy the FIFA experience on their smartphones and tablets.
How Can I Play FIFA 22 on My Phone?
Smartphone owners can play FIFA Mobile 2022 by downloading the game on their phones. You can download FIFA Mobile free for iOS and Android devices from the Apple App Store and Google Play. You can download the current FIFA Mobile version on iOS and Android by clicking below the download links suitable to your smartphone:
FIFA Mobile 22 Requirements (Operating System)
iOS
iPhone – Requires iOS 12.2 or later
iPad – Requires iPadOS 12.2 or later
iPod Touch – Requires iOS 12.2 or later
Android
At least 1GB Ram.
Quad-Core (with a clock speed of 1.5GHz).
Android OS version 5.0 or later.
*Please note that supported devices can change from time to time.
Check the updated EA help page to ensure your device meets minimum system requirements in order to play FIFA Mobile 22.
Can You Play FIFA Mobile 22 on iPad
Yes, you can install and play FIFA Mobile 2022 on your iPad. Apple's iPhone, iPad, and iPad Pro all support EA's FIFA Mobile 22 game. Meanwhile, your iPhone must have iOS 12.2 or a more recent version to support the download, installation, and for gameplay to run properly.
Carryover from FIFA Mobile 21 to FIFA Mobile 2022. Is FIFA Mobile 22 Going to Reset?
With the transition from FIFA Mobile 21 to FIFA Mobile 22, FIFA Mobile 21 will be replaced by FIFA Mobile 22. With the transition, the game will receive an update, certain items will change, and others will remain. Below are the items that will carry over from FIFA Mobile 2021 to FIFA Mobile 2022 without resetting and those that will reset.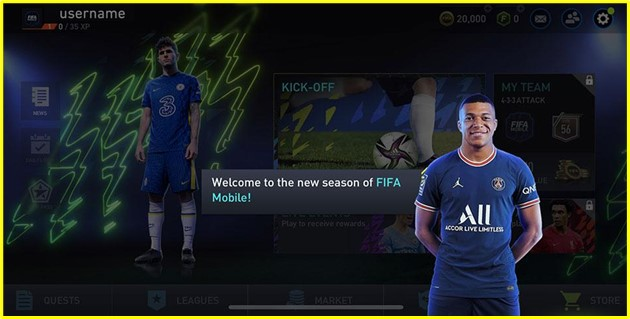 Items You Can Carry Over – Items You Won't Lose!
FIFA Point Balance
Now and Later Packs
User Logos
Items You Cannot Transfer – Items You Will Lose
Account Level
Coins
Gems
Skill Boosts
Fans
Cups
Quests
League Record
VIP Level
Training XP
Leaderboards
To conclude, FIFA 22 can be downloaded on Apple's iPhone, iPad, and iPad Pro and varieties of Android phones. FIFA 22 can also be downloaded on PC and Consoles. The process is simple. You can read this post, we describe how to download FIFA 22 on PS4, PS5, Xbox, PC, and Stadia.