One of the most iconic free-kick goals in football history was scored by Roberto Carlos back in 1997. R. Carlos used the outside of his boot to swerve the ball from the free-kick spot into the net. This was something humans had never imagined was possible and therefore they named the free-kick 'Trivela'. So, the Trivela free kick used by both real life players and video gamers in FIFA game today is a one-of-a-kind technique inspired by Carlos.
The process of scoring a Trivela free kick on FIFA 22 is quite complicated, so don't be surprised if the first time you try it, you mess up completely.
Choosing a player with a lot of power and positioning them straight behind the ball is a good way to set yourself when you want to take a Trivela Free kick. Using a left freekick taker can also be an advantage. This type of free kick cannot be taken from any other standing position than through the Trivela or Roberto Carlos freekick standing style.
How to Score Trivela Free Kicks in FIFA 22
Step 1. Flick the right stick to adjust the starting position. Position the freekick taker so that he or she stands straight in front of the ball.
Step 2. Focus your targeting on the side of the crossbar as much as possible.
Step 3. Press (circle on PlayStation, B on Xbox) until you hit 2-3 bars
Step 4. Using the right stick, rotate it from the bottom to the top in a half circle motion.

The half circle should be made to the right if the freekick is taken on the right side of the pitch by a left-footer. When you have a freekick on the left side of the pitch, you should use a right-footed player and make the half circle to the left.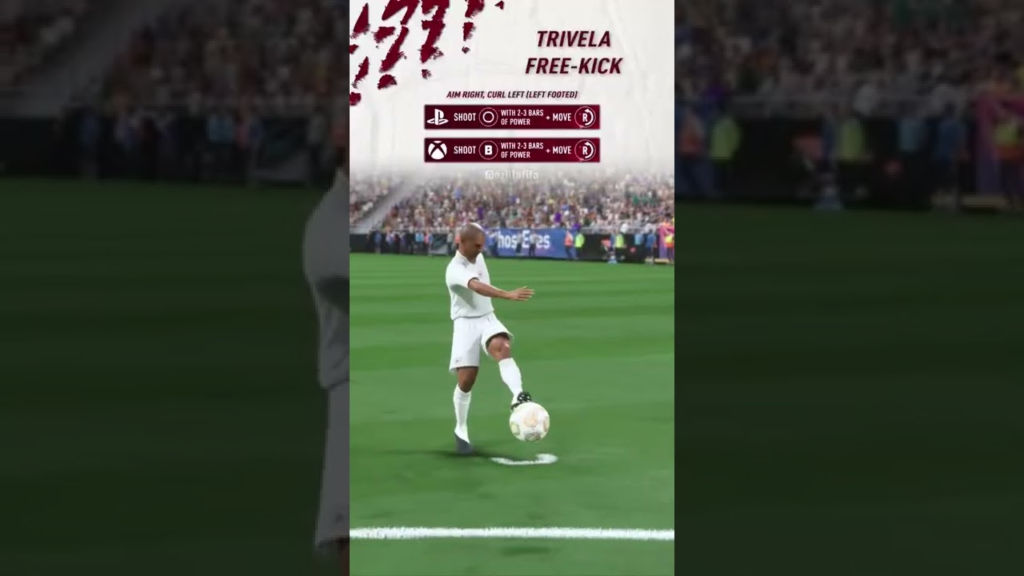 More Resources on How to Score Trivela Free Kick in FIFA 22
We have helped source two video tutorials that will teach you how to take Trivela freekicks in FIFA 22 and score on each side of the post. Watch how to score Trivela Free Kick in FIFA 22 below.
Tutorial 1 on Trivela Free Kick in FIFA 22
Tutorial 2 on Trivela Free Kick in FIFA 22