PES 2021 Stadiums are mostly identical to those in Pro Evolution Soccer 2019. Meanwhile, certain stadiums from PES 19 are not featured in PES 2021. The Nou Camp, Allianz Arena, Allianz Stadion, and Old Trafford are among the most well-known stadiums in PES 2021. On the other hand, some stadiums have been constructed by Konami to serve as generic stadiums that are closely similar to what else is accessible across the world.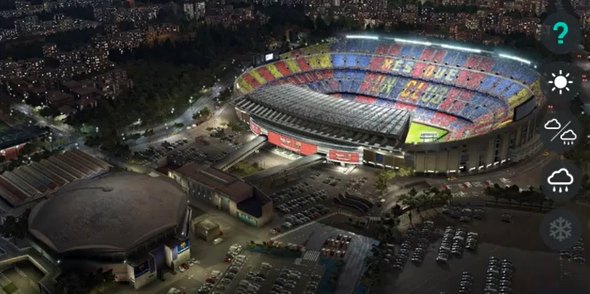 Meanwhile, some PES 2021 stadiums' custom backgrounds and sections also changed. For instance, playing in the Allianz Arena comes with a subterranean player entrance and thousands of Bayern Munich supporters pounding drums and chanting.
All PES 2021 Stadiums
The stadium list below will be updated as formal confirmation is received.
Number
Stadium
Approval
Location
Club
Seat Capacity
Length of Grass
1
Camp Nou
Licensed
Barcelona, Spain
Barcelona
99,354
Normal
2
Allianz Arena
Licensed
Munich, Germany
Bayern Munich
75,024
Normal
3
VELTINS-Arena
Licensed
Gelsenkirchen, Germany
FC Schalke 04
62,271
Normal
4
Old Trafford
Licensed
Southwest of Central Manchester, England
Manchester United
74,310
Normal
5
Emirates Stadium
Licensed
Holloway, London, England
Arsenal
60,704
Normal
6
Wembley Stadium connected by EE
Licensed
London, United Kingdom
National
90,000
Normal
7
Allianz Stadium
Licensed
Turin, Italy
Juventus
41,507
Normal
8
Stadio Olimpico
Licensed
Rome, Italy
A.S. Roma, S.S. Lazio, Italy National football team
72,698
Normal
9
Stade Louis II
Licensed
Fontvieille district of Monaco
AS Monaco
18,523
Normal
10
St. Jakob-Park
Licensed
Basel, Switzerland
FC Basel
38,512
Normal
11
Gazprom Arena
Licensed
St Petersburg, Russia
FC Zenit
68,000
Normal
12
Celtic Park
Licensed
Glasgow, United Kingdom
Celtic F.C
60,411
Normal
13
Ibrox Stadium
Licensed
Glasgow, United Kingdom
Rangers F.C
50,817
Normal
14
Estádio José Alvalade
Licensed
Lisbon, Portugal
Sporting CP
50,095
Normal
15
Johan Cruijff Arena
Licensed
Amsterdam, Netherlands
AFC Ajax
55,865
Normal
16
De Kuip
Licensed
Rotterdam, Netherlands
Feyenoord
47,500
Normal
17
Estádio São Januário
Licensed
Rio de Janeiro, Brazil
CR Vasco da Gama
21,880
Normal
18
Allianz Parque
Licensed
São Paulo, Brazil
Sociedade Esportiva Palmeiras
45,000
Normal
19
Estádio Mineirão
Licensed
São José, Belo, Brazil
Atlético Mineiro
62,000
Normal
20
Arena Corinthians
Licensed
São Paulo, Brazil
Corinthians
49,205
Normal
21
Estádio Beira-Rio
Licensed
Porto Alegre, Brazil
Sport Club Internacional
50,842
Normal
22
Arena do Grêmio
Licensed
Rio Grande do Sul, Brazil
Grêmio
60,540
Normal
23
Estádio Cícero Pompeu de Toledo
Licensed
São Paulo, Brazil
São Paulo FC
67,052
Normal
24
Estadio Urbano Caldeira
Licensed
São Paulo, Brazil
Santos FC
16,068
Normal
25
El Monumental
Licensed
Belgrano, Buenos Aires, Argentina
Club Atlético River Plate
72,054
Normal
26
Estadio Alberto J. Armando
Licensed
La Boca, Buenos Aires, Argentina
Club Atlético Boca Juniors
54,000
Normal
27
Estadio Monumental de Colo-Colo
Licensed
Macul, Santiago, Chile
Colo-Colo
47,347
Normal
28
Estadio Alejandro Villanueva
Licensed
La Victoria District in Lima, Peru
Alianza Lima
33,938
Normal
29
Saitama Stadium 2002
Licensed
Saitama, Japan
Urawa Red Diamonds
63,700
Normal
30
KONAMI Stadium
Licensed
South Korea, Japan
known in Real Life as Ulsan Munsu Football Stadium
44,102
Normal
31
Neu Sonne Arena
Licensed
Germany
Known in Real Life as Panasonic Stadium Suita owned by New York Red Bulls
25,000
Normal
32
Metropole Arena
Licensed
Floirac, Bordeaux, France
National

11,300 (standing)
8,000 (seated)
Normal
33
Hoofdstad Stadion
Licensed
Warszawa, Poland
Known in Real Life as Stadion Narodowy owned by the State
58,580 (official)
Normal
34
Estadio Campeones
Licensed
Sullana, Peru
Alianza Atlético
2000
Normal
35
Estadio de Escorpião
Licensed
Mumbai, India
Known in Real Life as Wankhede Stadium owned by Mumbai Cricket Association
33,500
Normal
36
Estadio del Nuevo Triunfo
Licensed
Llobregat, Barcelona, Spain
Known in Real Life as Estadio Cornella owned by RCD Espanyol de Barcelona
40,000
Normal
37
Stade de Sagittaire
Licensed
Lyon,
France
Known in Real Life as Stade de Gerland owned by Olympique Lyonnais

35 730
Normal
38
Stadio Orione
Licensed
Catania CT, Italy
Known in Real Life as Stadio Angelo Massimino owned by Catania S.S.D.
23,266
Normal
39
Burg Stadion
Licensed
Krefeld, Germany
Known in Real Life as Grotenburg-Stadion owned by KFC Uerdingen 05
34,500
Normal
40
Estadio del Martingal
Licensed
Villarreal, Spain
Villarreal CF
22,000–23,500
Normal
41
Rose Park Stadium
Licensed
Birmingham, United Kingdom
Known in Real Life as Villa Park owned by Aston Villa
42,785
Normal
42
Coliseo de los Deportes
Licensed
Getafe, Madrid, Spain
Known in Real Life as Coliseum Alfonso Perez owned by Getafe CF
17,000
Normal
43
Sports Park
Licensed
Hitachidai, Kashiwa, Japan
Known in Real Life as The Sankyo Frontier Kashiwa Stadium owned by Kashiwa Reysol
15,349
Normal
44
Village Road
Licensed
Stoke-on-Trent, Staffordshire, England
Known in Real Life as bet365 Stadium owned by Stoke City F.C
30,089
Normal
45
Stadio Nazionale
Licensed
Metropolitan City of Rome, Italy
City (Rome)
47,300
Normal
46
Estadio del Tauro
Licensed
Mexico City, Mexico
Club Universidad Nacional, and Pumas CU
72,000
Normal
47
eFootball Stadium
Licensed
South Korea, Japan
known in Real Life as Ulsan Munsu Football Stadium. Serves as an alternative version of the KONAMI Stadium
Normal
48
eFootball Pro Arena
Licensed
South Korea, Japan
known in Real Life as Panasonic Stadium Suita. Serves as an Neu Sonne Arena
Normal
All 48 PES 2021 Stadiums
It should be noted that there are only 48 PES 2021 Stadiums available in the game. The game lists 50 stadiums, but 2, specifically "Home Ground" and "Random" aren't actually stadiums. In PES 2021, "Home Ground" and "Random" are the only methods for selecting stadiums based on random selection or the Home ground selection of the team in use. You can check the image below for more understanding of how "Home Ground" and "Random" stadiums look and work in the PES 2021 game.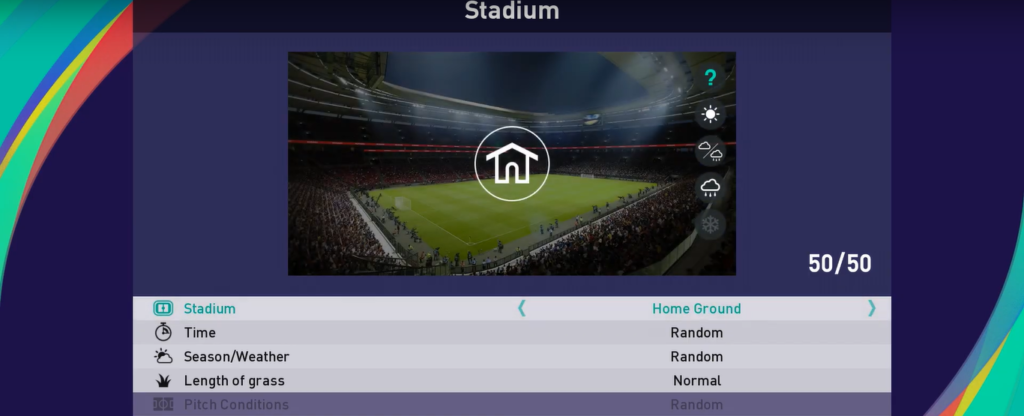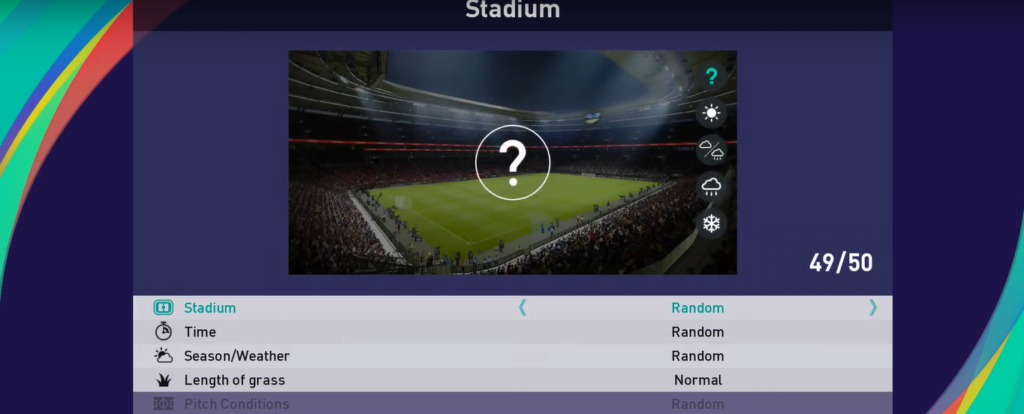 That is it all on PES 2021 Stadiums. Whether you want to play at home or away, you'll definitely find out a good stadium on this list to choose from. And If you're a fan of eFootball or PES, then you'll definitely want to check out the new eFootball 2022 Stadiums.