The EA SPORTS FC 24 Official Reveal Livestream, meant to generate excitement and anticipation, instead witnessed an outpouring of dissatisfaction from fans directed at gaming giant Electronic Arts (EA). Over 2000 comments flooded the YouTube video titled "EA SPORTS FC 24 | Official Reveal Livestream," painting a vivid picture of disappointment with the company.
The prevailing disappiontment among viewers can be summarized in one resounding phrase: "EA never disappoints when it comes to disappointments." The criticisms were focused on perceived lack of improvement in the football game. Many also expressed frustration with the company's focus on superficial details, such as realistic hair movement, while neglecting more fundamental issues in gameplay.
One viewer, LondonIsForeverBlue1022, succinctly captured the general sentiment, stating, "EA Never Disappoints When It Comes To Disappointing Us." This sentiment echoed throughout the comment section, with over five thousand fans supporting the statement, emphasizing their belief that EA consistently falls short of expectations.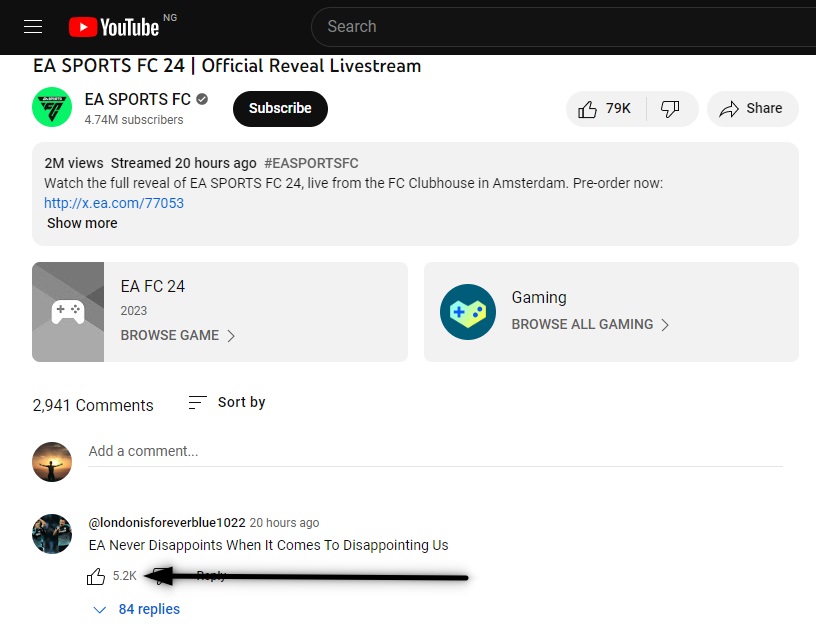 Another viewer, MSSweetYana, raised concerns about EA's continued reliance on the Frostbite engine, which has been in use for seven years without significant visible improvements. Several others echoed this sentiment, expressing a yearning for innovation and advancements in gameplay mechanics.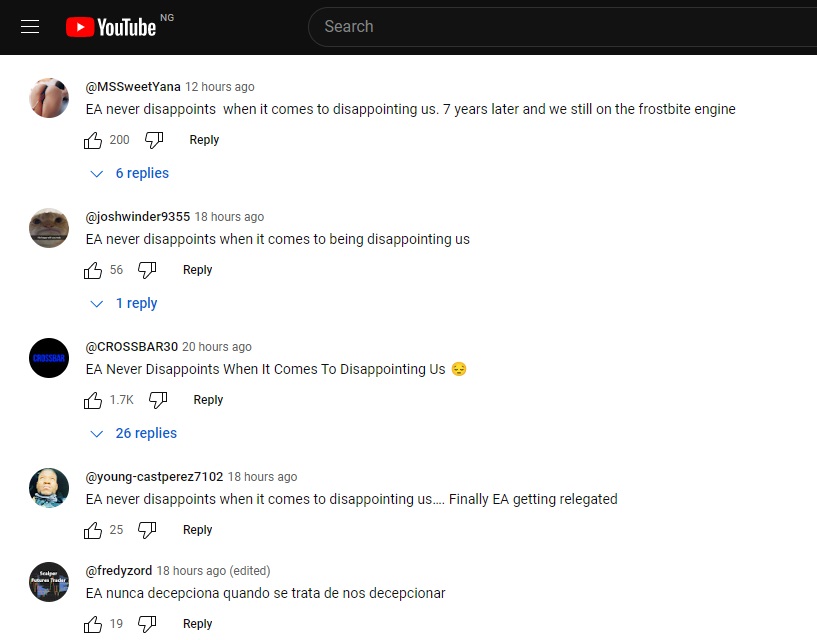 While a few comments mentioned specific aspects like passing mechanics, the overall tone conveyed a broader sense of frustration with EA's perceived lack of progress and failure to address long-standing issues in their games.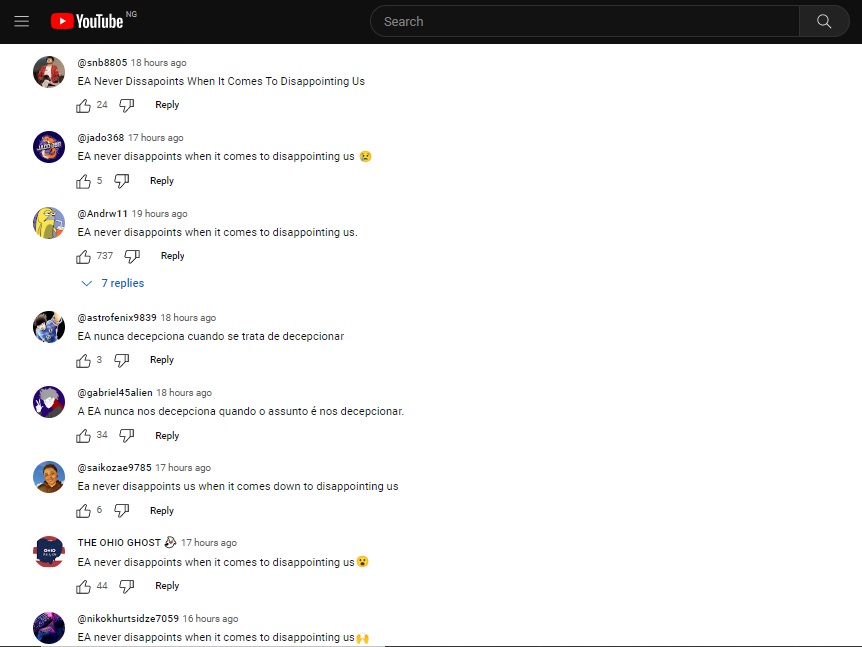 It's important to note that not all comments were critical, as a few viewers expressed anticipation for the upcoming game and praised certain features showcased during the live stream. However, the overwhelming majority of comments reflected widespread disappointment among fans.
EA SPORTS FC 24 aims to introduce new features, including the inclusion of women's football in the popular Ultimate Team mode, as announced during the live stream. Yet, it remains to be seen if these additions will be enough to assuage the disenchantment of the fanbase.
As we approach the September 29 release date of EA SPORTS FC 24, it is clear that EA faces a significant challenge in rebuilding the trust and satisfaction of its loyal player base. With the thousands of disenchanted fans who voiced their concerns during the live stream, EA will need to confront these issues directly and demonstrate substantial improvements in order to reinvigorate their relationship with players.