The cover for EA Sports' highly anticipated EA FC 24 Ultimate Edition has been officially revealed, showcasing a groundbreaking approach with a diverse lineup of 31 men's and women's stars. Breaking away from tradition, the cover features each player portrayed as their EA FC 24 avatar, rather than their real-life photographs. Manchester City's prolific striker, Erling Haaland, takes center stage, accompanied by a captivating ensemble of players from both past and present.
Table of Contents
EA FC 24 Marks the Debut of EA Sports' New Football Game Series
EA FC 24, the inaugural title in EA Sports' brand-new football game series, is set to take the gaming world by storm. Serving as a successor to the long-running FIFA series, this game marks the end of the 30-year partnership between publisher EA and FIFA. As anticipation builds for EA FC 24's official release, new details about the game are beginning to emerge. One of the first exciting revelations is the official confirmation of the Ultimate Edition cover.
EA FC 24 to Offer Two Versions: Standard and Ultimate Edition
While the exact release date for EA FC 24 has yet to be officially confirmed by EA, the unveiling of the Ultimate Edition cover confirms that fans can look forward to at least two versions of the game. The Ultimate Edition promises an enhanced gaming experience, accompanied by exclusive content and features. Notably, Paris Saint-Germain's Kylian Mbappe, a regular fixture on previous FIFA covers, is conspicuously absent this time. Instead, the spotlight belongs to Manchester City's Erling Haaland, signaling a new era for EA FC 24.
A Groundbreaking Ultimate Edition Cover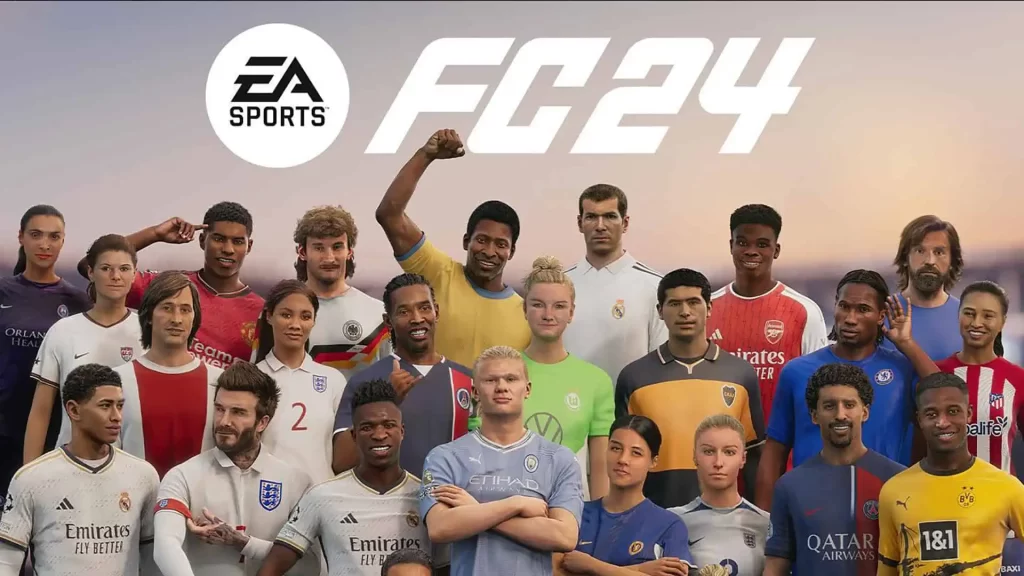 The EA FC 24 Ultimate Edition cover breaks new ground in terms of its design and composition. Departing from the conventional approach, EA has opted to feature a sizable group of 31 players on the cover. Each athlete is represented by their respective EA FC 24 avatar, further immersing players in the unique gaming experience. The cover resembles an impressive team photo, with Haaland prominently positioned at the forefront. He is flanked by Real Madrid's Vinicius Junior and Chelsea Women's Sam Kerr. Additionally, the cover boasts an impressive roster of legendary players, including David Beckham, Pele, Zinedine Zidane, Rudi Voller, Andreas Pirlo, Ronaldinho, Johan Cruyff, and Didier Drogba. Below are all the players on EA FC 24 Ultimate cover:
| Back row (left to right) | 3rd row (left to right) | 2nd row (left to right) | Front row (left to right) |
| --- | --- | --- | --- |
| Marta (BRA) | Mia Hamm (USA) | Jude Bellingham (ENG) | Alexander Isak (SWE) |
| Marcus Rashford (ENG) | Johan Cruyff (NED) | David Beckham (ENG) | Selma Bacha (FRA) |
| Rudi Völler (GER) | Alex Scott (ENG) | Vinícius Jr. (BRA) | Alexia Putellas (SPA) |
| Pelé (BRA) | Ronaldinho (BRA) | Erling Haaland (NOR) | Virgil Van Dijk (NED) |
| Zinedine Zidane (FRA) | Alexandra Popp (GER) | Sam Kerr (AUS) | Son Heung-Min (KOR) |
| Bukayo Saka (ENG) | Riquelme (ARG) | Leah Williamson (ENG) | Trinity Rodman (USA) |
| Andrea Pirlo (ITA) | Didier Drogba (CIV) | Marquinhos (BRA) | Federico Chiesa (ITA) |
| | Leicy Santos (COL) | Youssoufa Moukoko (GER) | Enzo Fernández (ARG) |
Promising Clues for Inclusive Modes and Women's Icons
The presence of various Premier League stars, such as Virgil van Dijk, Heung-Min Son, Alexander Isak, Marcus Rashford, and Bukayo Saka, adds further excitement to the Ultimate Edition cover. Notably, a somewhat unusual depiction of Bukayo Saka has caught the attention of fans. Moreover, this cover could signify the inclusion of women's Icons in EA FC 24. The appearance of England legend Alex Scott and USA legend Mia Hamm suggests that leaks earlier this year, indicating the addition of women's players and women's ICONs to Ultimate Team, may indeed hold. The amalgamation of all players in a single photo on the cover fuels speculation about an all-inclusive mode in the game.