FIFA 22 Ultimate Team's Best of Batch 1 FUTTIES has been announced by EA Sports. The new EA Sports' FIFA 22 FUTTIES 'Best of' Batch 1 pack contains re-released items from prior promotions and is now live on several gaming platforms. Beginning on Friday, July 15, 6:00 PM, these cards will be available in packs for a limited time.
It's been a fantastic season for FIFA 22 Ultimate Team, from FUT Future Stars to Ones To Watch. A new cycle of FUT 22 FUTTIES has begun to celebrate the start of the new cycle of FUT 22! As part of this campaign, you'll find the very best of all things FIFA 22, as well as new content designed to help your squads improve.
FIFA 22 FUTTIES 'Best of' Batch 1 provides players with the opportunity to get items they might have missed out on if they didn't have enough coins to buy them on the transfer market. Since Summer Swaps are offering high-end packs in the FIFA 22 Ultimate Edition game, now is the perfect time to open them. You can upgrade your squads by taking advantage of the FIFA 22 FUTTIES 'Best of' Batch 1 pack, which celebrates all-things-FUT 22.
2 Sets of FIFA 22 FUTTIES 'Best of' Batch 1
Players released as part of the FIFA 22 FUTTIES 'Best of' Batch 1 promo are divided into two separate sets. You can potentially obtain all of the actual FUTTIES-themed cards by completing SBCs or objectives.
The second set of FIFA 22 FUTTIES 'Best of' Batch 1 releases, consisting of fans' favorite players throughout the FIFA 22 cycle. You can only acquire these Best Of cards in packs, and you can also get them in 85×25 packs when you redeem your Summer Swaps tokens.
FIFA 22 FUTTIES 'Best of' Batch 1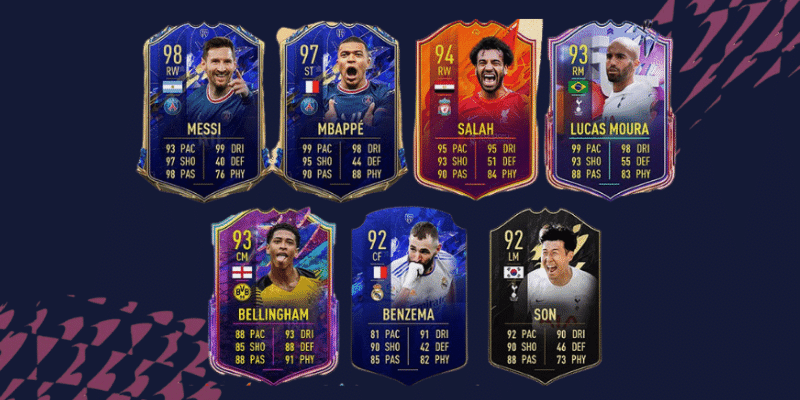 Below you'll find a list of all the players who made it out for the FIFA 22 FUTTIES 'Best of' batch 1:
TOTY Lionel Messi
TOTY Cristiano Ronaldo
TOTY Kylian Mbappe
UCL RTTF Sadio Mane
TOTY N'Golo Kante
UCL RTTF Gareth Bale
Fantasy FUT Allan Saint-Maximin
Fantasy FUT Marcus Rashford
Fantasy FUT Ousmane Dembele
UCL RTTF Riyad Mahrez
Fantasy FUT Coutinho
Headliners Streak Mohamed Salah
UCL RTTF Thiago
Fantasy FUT Lucas Moura
Adidas Numbers Up Marc-Andre Ter Stegen
UEFA TOTT Robert Lewandowski
FUT Birthday Dani Alves
FUT Birthday Paulo Dybala
FUT Signature Signings Kevin De Bruyne
Future Stars Jude Bellingham
Future Stars Pedri
Headliners Streak Virgil van Dijk
Winter Wildcard Neymar Jr.
UECL RTTF Memphis Depay
FUT Birthday Roberto Firmino
Future Stars Ferran Torres
TOTW Harry Kane – 92
TOTW Heung-min Son – 92
TOTY Honorable Mentions Karim Benzema
UCL RTTF Kyle Walker
Adidas Numbers Up Angel Di Maria
FUT Birthday Jadon Sancho
Headliners Streak Kalidou Koulibaly
Winter Wildcard Zlatan Ibrahimovic
Adidas Numbers Up Joao Felix
UEFA TOTT Gianluigi Donnarumma
Future Stars Maxence Lacroix
Headliners Streak Luis Diaz
Headliners Streak Nicolo Barella
Rulebreakers Casemiro
Rulebreakers Erling Haaland
TOTY Honorable Mentions Antonio Rudiger
TOTY Honorable Mentions Leon Goretzka
UCL RTTK Marquinhos
UCL RTTK Timo Werner
Winter Wildcard Luka Modric
Winter Wildcard Paul Pogba
Winter Wildcard Raheem Sterling
UEFA TOTT Trent Alexander-Arnold
FUT Versus Fire Gabriel Jesus
Headliners Streak Gaetan Laborde
Headliners Streak Rafael Leao
Headliners Streak Vinicius Jr.
Ones to Watch Sergio Ramos
TOTW Theo Hernandez – 89
TOTW Wojciech Szczesny – 89
UCL RTTK Frenkie De Jong
Winter Wildcard Fabinho
Winter Wildcard Kingsley Coman
Adidas Numbers Up Diogo Jota
UEFA TOTT Christopher Nkunku
TOTW Luis Alberto – 88
Winter Wildcard Eden Hazard
Adidas Numbers Up Eder Militao
UEFA TOTT Andreas Christensen
FUT Signature Signings Wissam Ben Yedder
FUT Versus Fire Federico Valverde
FUT Versus Ice Jules Kounde
Ones to Watch Dayot Upamecano
Rulebreakers Franck Yannick Kessie
TOTW Matthias Ginter – 87
UCL RTTK Rodrygo
Winter Wildcard Leonardo Spinazzola
Domestic MOTM Emil Forsberg
UEFA TOTT Antony
FUT Signatures Signings Raul Jimenez
FUT Versus Fire Joe Gomez
FUT Versus Ice Adama Traora
FUT Versus Ice Angel Correa
Ones to Watch Antoine Griezmann
Ones to Watch Denzel Dumfries
Ones to Watch Joaquin Correa
Ones to Watch Raphael Varane
TOTW Jonas Hofmann – 86
TOTW Luke Shaw – 86
TOTW Youri Tielemans – 86
UCL RTTK Renan Lodi – 86
Winter Wildcard Matteo Guendouzi
UEFA TOTT Tiago Djalo
FUT Signature Signings Diego Carlos
FUT Signature Signings Youcef Atal
FUT Versus Fire Nico Schulz
FUT Versus Ice Kevin Mbabu
Domestic MOTM Goncalo Guedes
TOTW Damian Suarez – 84
TOTW Domenico Berardi – 84
TOTW Manuel Lazzari – 84
Rulebreakers Renaud Ripart
TOTW Joao Moutinho – 93
UEFA TOTT Erik Botheim
The FIFA 22 FUTTIES 'Best of' Batch 1 is now complete. This batch featured some of the best players in the FIFA 22 game, including Cristiano Ronaldo, Lionel Messi, and Neymar. Who do you think should make the next FIFA 22 FUTTIES batch? Let us know in the comments.