Football game creators, EA Sports have announced that FIFA Mobile 22 Manager Mode is coming soon to iOS and Andriod. FIFA Mobile Manager Mode in FIFA Mobile 22 gives game players the opportunity to manage a club as a football manager instead of playing the FIFA Mobile 22 game controlling the players on the field. Players are also able to take to the touchline and fight to win matches while tweaking tactics and strategies. Fittingly, this is a breath of fresh air in FIFA Mobile. Hopefully, it will do a better job at keeping players satisfied in FIFA Mobile than Quick Career mode did.
As at on Thursday, July 2022, EA officially released a trailer of FIFA Mobile 22 Manager Mode. FIFA Mobile 22 Manager Mode had already been teased a few months back when EA accidentally added the Manager Mode feature into the FIFA Mobile 22 game on the 'Division Rivals' menu, it only took a few weeks for EA to remove it.
FIFA Mobile 22 Manager Mode Features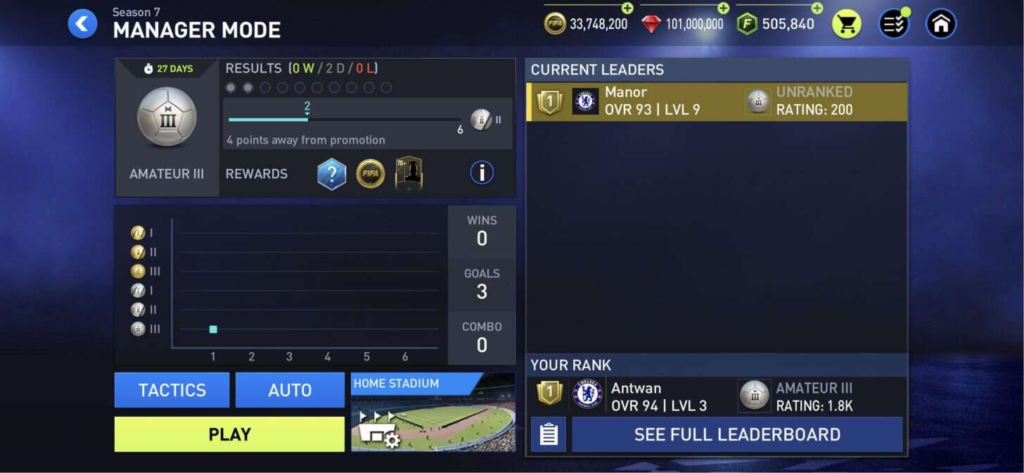 According to the announcement by EA Sports, FIFA Mobile 22 Manager Mode will feature tactics customization where players are able to selectively choose the team's tactics, and customize strategies on the fly (or while in a match) such as changing tactics, mentality, passing range, and build-up speed. There is also a new camera angle for football matches in FIFA Mobile 22 Manager Mode.
Below are detailed information about all FIFA Mobile 22 Manager Mode features which will provide players with a broader menu of options to enjoy a personalized in-game experience.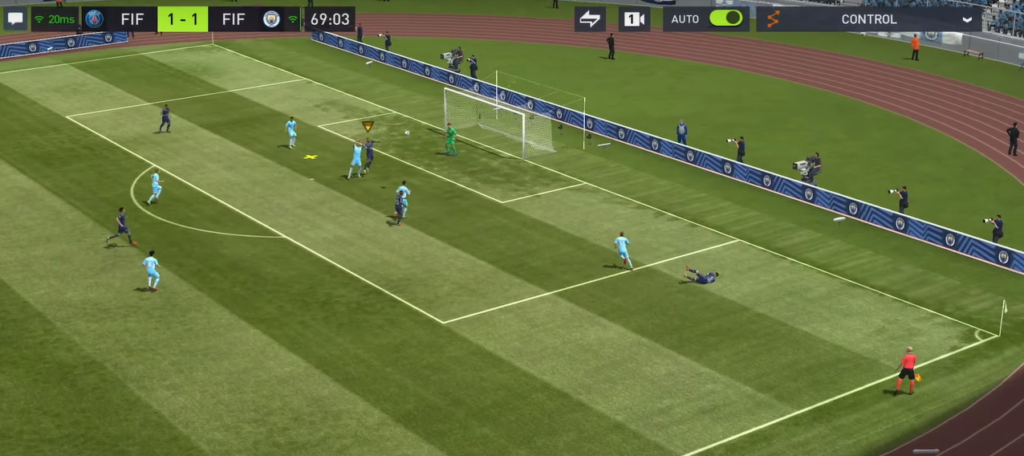 Auto Match
FIFA Mobile 22 Manager Mode is primarily allows tactically organizing your team. Instead of playing Head to Head or VS Attack, you'll be managing your team while watching them carry out your game plan. The manager mode is a fully automated mode. All you need to do is to choose your starting lineup and strategy, then start the game. You can queue up multiple matches using the Auto Match settings. In the Auto Match settings, you can choose from a number of options such as:
Daily Match Rewards
Daily Safety Rewards
Amount of Points to reach
Division to reach
After you've chosen your preferences, you can queue up continuous matches. That is, once you have completed a Manager Mode match, a countdown will begin automatically. You'll enter a new match once the countdown is over. This continues until you either reach your desired settings (e.g., Pro Division) or cancel the Countdown. It's an excellent choice if you want to "set and forget" your Manager Mode matches until you reach a certain point.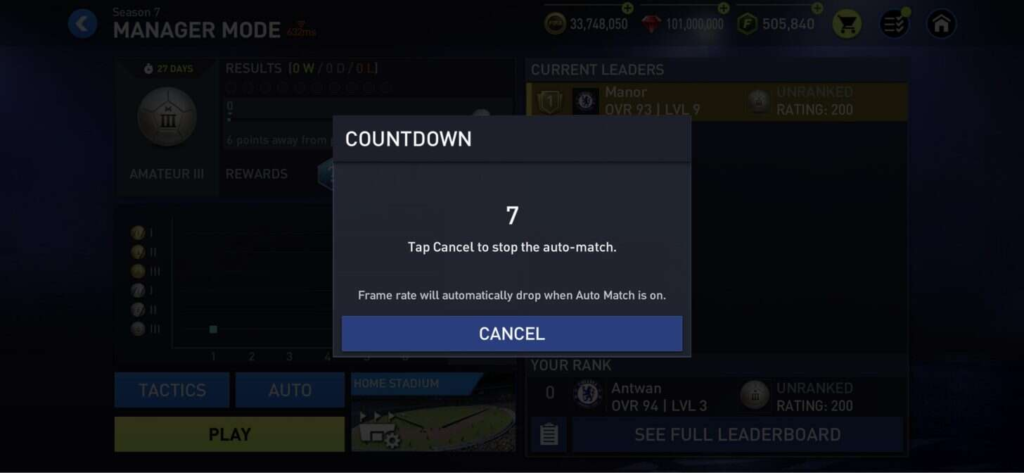 Tactics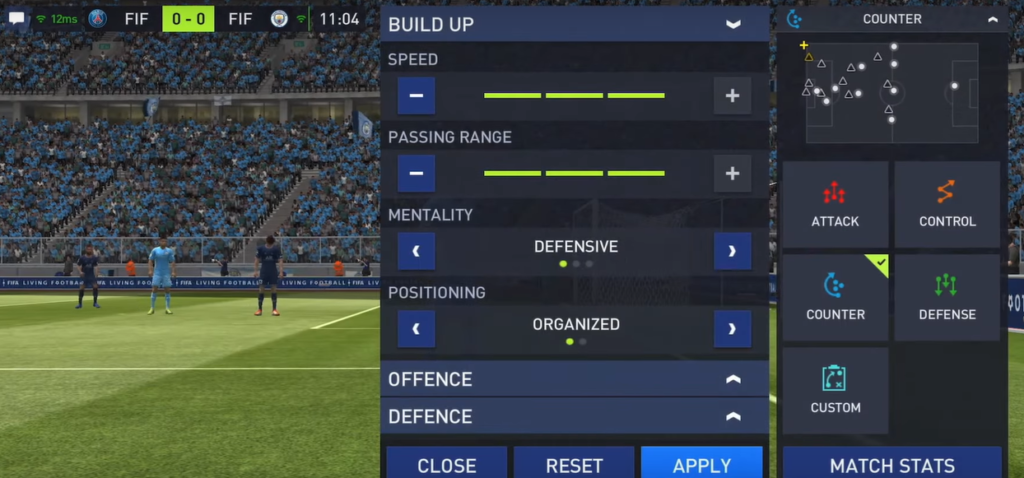 FIFA Mobile 22 Manager Mode focuses on tactics. These are the high-level strategies you choose for your squad both before and during the game. Your team's playstyle will be influenced by the tactic you choose. There are four pre-defined tactics: offensive, controlling, defensive, and counter-offensive. If you start changing the specifics of a Preset Tactic, you are now developing a Custom Tactic. The tactic you choose is influenced by the game situation, your opponent, and your team's strengths and weaknesses.
Attacking Preset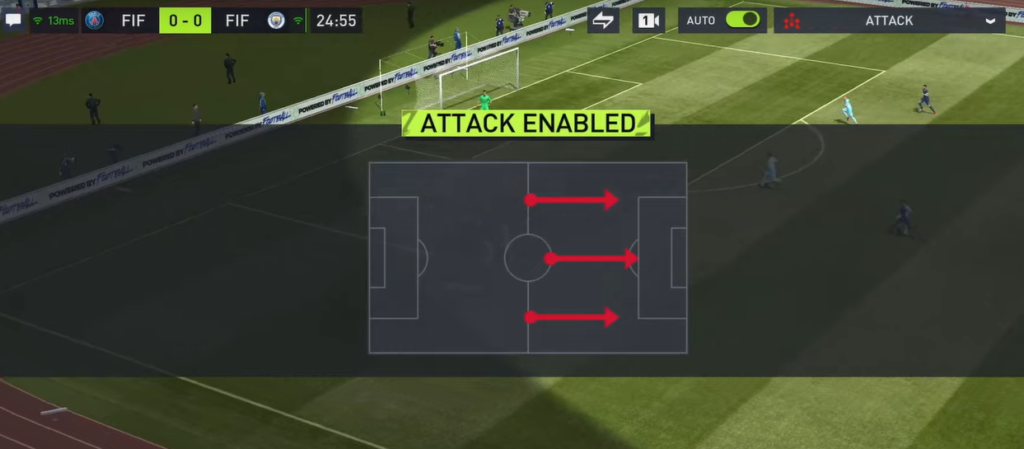 The Attacking Tactics in FIFA Mobile 22 Manager Mode will force your team into offensive positions. Your players will move up the field in the hopes of scoring quickly. Direct passes into dangerous positions will be sought after by your players. You run the risk of your midfielders being out of position during a change of possession, as well as being countered, so use this tactic with caution.
Control Preset
The Control Tactic focuses on maintaining possession and moving up the pitch methodically. Shorter passes will be made by your players while riskier passes will be avoided. Your players will seek out the best opportunity to break through the defense, but they will not force passes. This tactic is best suited for teams with technical players who can patiently break down a defense.
Counter Preset
The counter tactic/Preset emphasizes sitting back and striking quickly. Once you retake possession, your players will make long through balls into open space to give your attackers somewhere to run. Your midfielder will make quick passes in an attempt to catch your opponent off guard. This strategy is most effective for teams with quick forwards and athletic midfielders.
Defensive Preset
The Defensive Tactic/Preset is all about being organized and disciplined at the back in order to prevent attacking opportunities. Your players will drop back and crowd the defensive third of the pitch, preventing your opponent from creating chances. When you regain possession, your players will try to relieve pressure by making long passes up to your attackers. Furthermore, this tactic will keep attacking runs to a minimum in order to maintain the shape of your formation. This tactic is best suited for teams that are outmatched or want to maintain their lead.
Custom Preset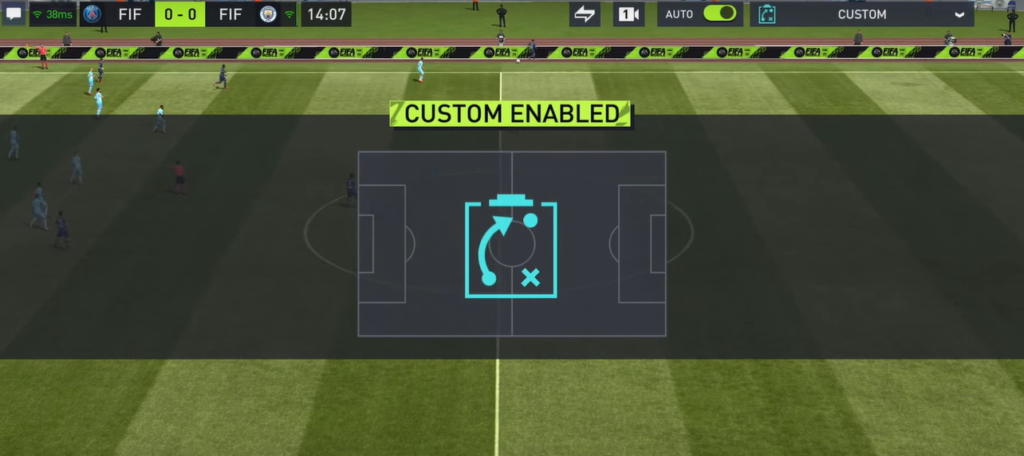 You decide on the Custom Tactic in FIFA Mobile 22 Manager Mode! You can make minor changes to the existing Tactics or completely redesign it to meet the needs of your team. There are numerous options for you to investigate and master. Create your Custom Tactic and save it in FIFA Mobile 22 Manager Mode before starting a match, or just create a different one in the middle of one!
In-Depth Tactics Options
Within Tactics options available in FIFA Mobile 22 Manager Mode, you can change specific options that affect how your team behaves on the field. They are divided into three categories: build up, offense, and defense.
Build Up
Speed
Passing Distance
Mentality (Defending, Balanced, Attacking)
Positioning (Organized, and Free)
Offence
Passing Rate
Cross Rate
Shooting Rate
Positioning (Organised, and Free)
Defence
Pressure
Width (Narrow, balanced, and Wide)
Tackle Tendency
Back Line (Free, and Offside Trap)
New In-Depth Match Statistics
FIFA Mobile 22 Manager Mode will provide more detailed stats that you can view at any time during a match. Examine your team statistics such as shots, possession percentage, pass accuracy, fouls, and offsides. View your players' Goals, Assists, Shots on Goal, Passing, Tackles, Fouls, and Overall Match Rating. Use these statistics to inform your tactical decisions, just like any savvy manager!
Division Rivals
FIFA Mobile 22 Manager Mode has a progression system similar to VS Attack and Head to Head.You win matches to advance through the Division Rivals ranks and earn better rewards. Find and earn your place in leaderboard placement and logos, place among the top competitors.
Divisions:
Below are the five division in FIFA Mobile 22 Manager Mode.
Amateur III, II, I
Pro III, II, I 
World Class III, II, I
Legendary III, II, I
FIFA Champion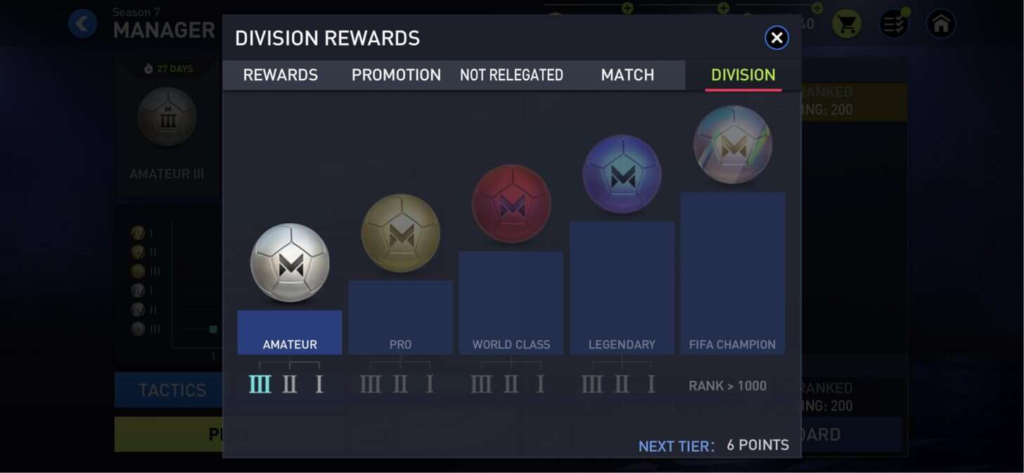 Promotion & Relegation
To move up and down divisions, FIFA Mobile Manager Mode employs a Promotion and Relegation system. Points will be awarded based on your performance:
Win gives 3 Points
Draw gives 1 Point
Loss gives 0 Points
Each division has a Points threshold that must be met in order to be promoted to the next division, relegated to the lower division, or remain in the same division.
For instance in Pro III:
If you get 12 or more Points in 10 games, you'll be promoted to Pro II.
If you get between 4 and 11 Points in 10 games, you'll stay in Pro III.
If you get fewer than 4 Points, you'll be relegated to Amateur I.
Meanwhile, each division has different point requirements for promotion, relegation, and staying in the same division.
Individual Match Rewards
Every Manager Mode match you play earns you Star Pass Points and Coins. This will allow you to advance along the Star Pass path for additional rewards.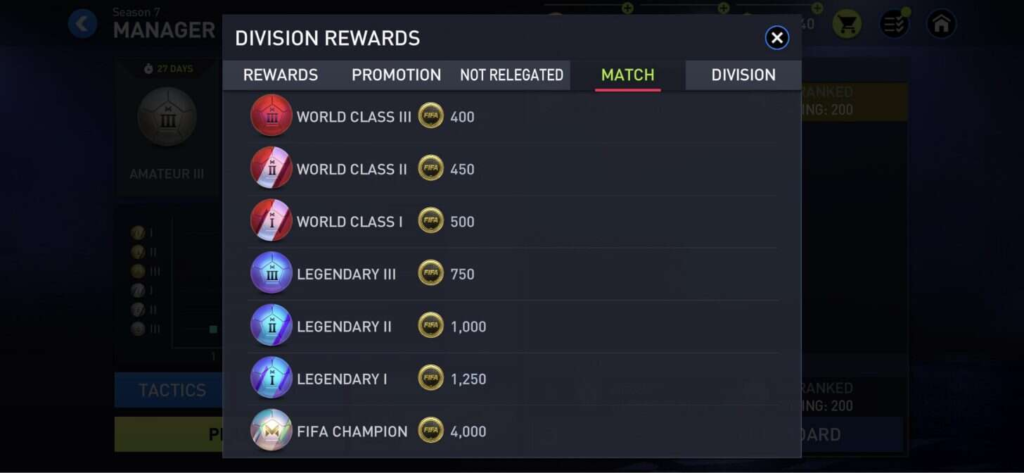 Division Rivals Promotion Rewards
You'll get Coins and Rank Up item rewards every time you move up a Division for the first time. To earn the most promotion rewards, progress all the way to FIFA Champion.
Division Rivals Season Rewards
Receive specific rewards based on the Division you reached at the end of each month.
Already-available Feature in FIFA 22 Mobile
Build Your Ultimate Team
Enhanced Authenticity
Next-Level Football Action
Play Against Your Friends
UEFA Champions League
Icons & Heroes
FIFA Mobile 22 Manager Mode Release Date
EA Sports has not announced when the Manager Mode is coming to FIFA Mobile globally. Nonetheless, EA's developers have stated that more info about the FIFA Mobile Manager Mode will happen on Twitch next week.
Meanwhile, certain regions or countries such as China have begun to receive the FIFA Mobile Manager Mode new feature. This may mean certain features of FIFA Mobile 22 Manager Mode Global Edition may be released in only region-specific areas. This is just like the new Authentic Challenge mode available in FIFA Mobile Korea which permits players to play matches specifically with Korean players and clubs.
You will need the FIFA Mobile 22 app installed when the manager mode is released in order to enjoy FIFA Mobile 22 Manager Mode. Visit the FIFA Mobile 22 download page.