Football Manager 2024 or FM24 training is one very important aspect of the game every manager needs to know.
Because Managers must either at one point or another learn how to train their players better and also even faster — if they want to be successful.
In this post, we discuss the ins and outs of FM24 training, so you can do what is right which will improve your team's performance.
So, join us as we share all you need to know and do in the training of Football Manager 2024.
Table of Contents
Training Home Screen: Getting Started
When you launch Football Manager 2024, one of the first screens you'll encounter is the training home screen.
It might seem a bit overwhelming at first, but don't worry – we're here to walk you through it.
Training Control
At the top of the screen, you'll see who's currently in charge of your team's training.
You have the option to delegate training to your assistant manager or any member of your coaching staff by using the drop-down menus.
However, for the better for now, take control of the training yourself to understand and do the drill process better.
Primary Training Tactic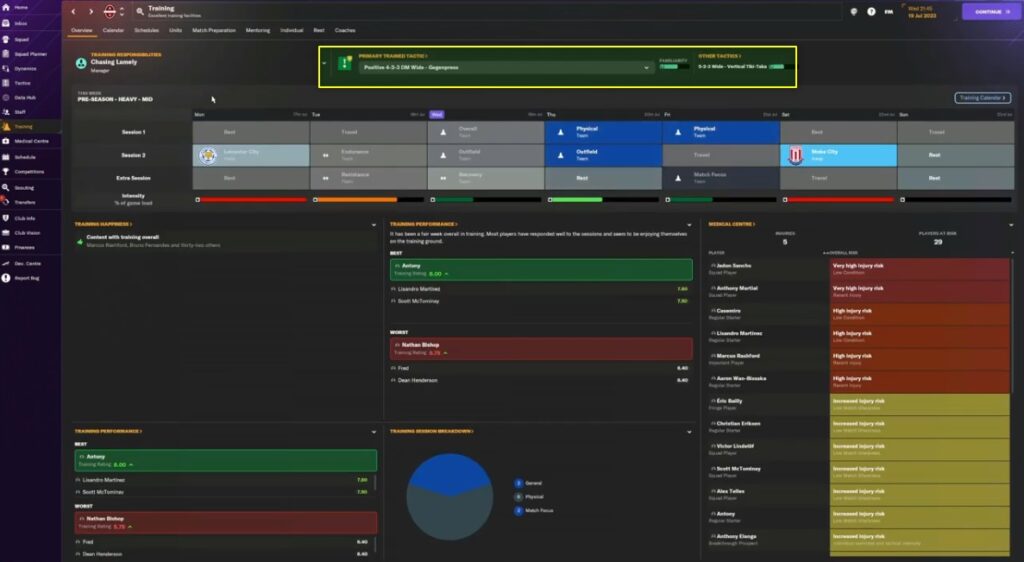 Your primary training tactic is your team's main tactical approach.
This is the tactic your team will focus on during training sessions.
You can also set up a secondary tactic in slot number two.
To switch between them, simply set one as the primary training tactic.
Training Schedule
In the middle of the screen, you'll find your training schedule for the week.
These schedules are divided into different training units, such as goalkeepers, attackers, and defenders.
These units will face each other during training sessions.
Player Performance and Medical Center
You should monitor your players' performance and injury risk on this screen.
The Medical Center will display any players at risk of injuries, so note that.
Meanwhile, during the preseason, it's normal to have players at risk, nevertheless, keep an eye on this throughout the season.
This will inform you of the players that need or urgently require rest.
Training Session Breakdown
After each training session, you will get a training session breakdown that provides a summary of how your training sessions are structured over time.
This summary will also show you the focus of each session.
Match Preparation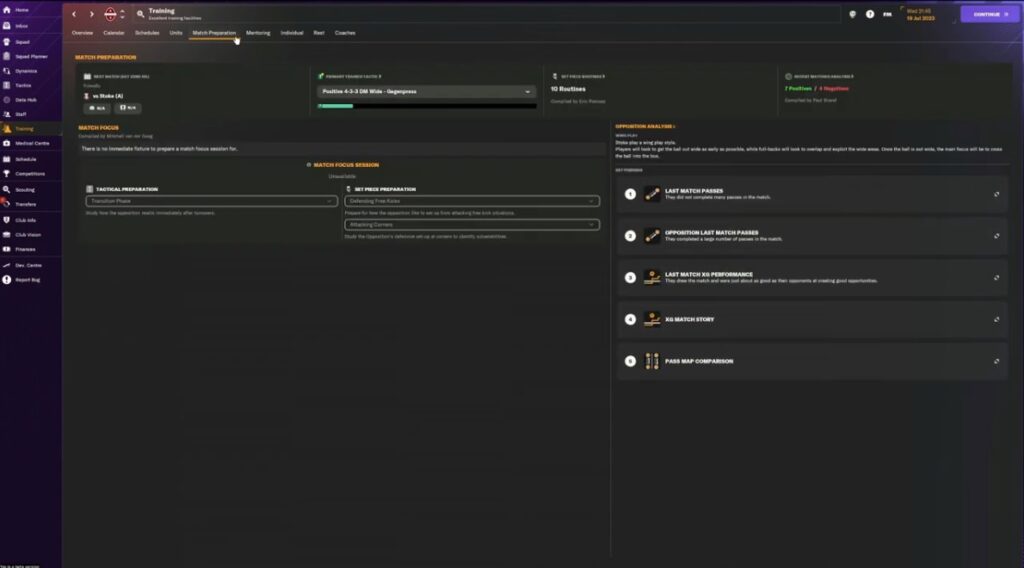 Match preparation must be an essential part of your training routine in FM24.
This will help your team prepare for upcoming matches. Here's how it works:
Analyzing Your Opponents
Football Manager 2024 provides an analysis of upcoming opponents.
You can see their recent performances, preferred playing styles, and strengths and weaknesses.
With this information, you can counter their style of players or use this information to tailor your match preparation (e.g. through training) to exploit the opponent's vulnerabilities.
Match Prep Focus
After knowing your opponent's specific focus, you can effortlessly select focus on this specific area in FM24.
Take for instance, if the opponent's CBs are shorter or under or with 5 cm taller, you can do more training in set pieces.
Another example, you can also focus on transitional play, or defensive organization if the opponent's playstyle focuses heavily on attacking e.g. Man City.
Individual Training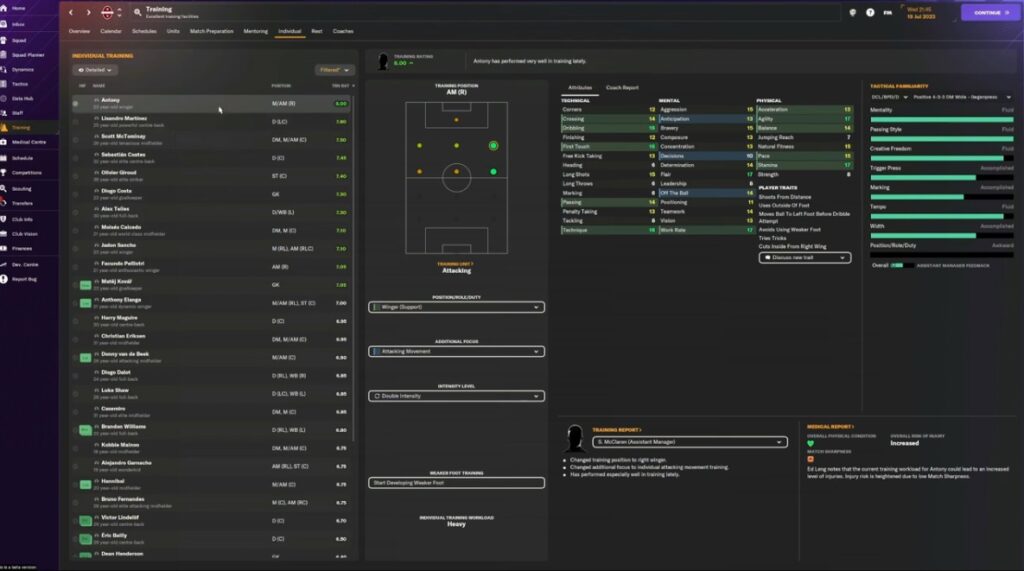 Individual training is crucial for the development of all players in your team, particularly your key or star players.
Here's how you can customize it:
Position Training
You can choose to train players in different positions or roles to enhance their capability.
For example, if you have a winger who can play on both sides, consider training them as an inside forward or inverted winger to make them more deadly on the ball.
Attribute Focus
You can also focus on developing specific attributes for individual players.
For example, if a player lacks agility and balance, you can work on improving those attributes through training.
Additional Focus
Additional focuses in FM24 allow you to work on specific areas, such as making a player a free-kick taker or improving their work rate.
You should look into all your key players' attributes and choose the focus that aligns with your player's strengths and your team's needs.
Rest and Recovery
Rest is vital for your players' well-being, performance, and the continuous success of a team.
When a player has had his hands in too many matches, rest them.
To do this, you can visit the rest screen:
Rest Intensity
At the rest screen, you can adjust how intense the rest a player should get in a way that balances the player's recovery and training.
When you adjust to Higher intensity, this means more recovery work.
But, if you choose lower intensity shift the focus on training while resting.
Youth Development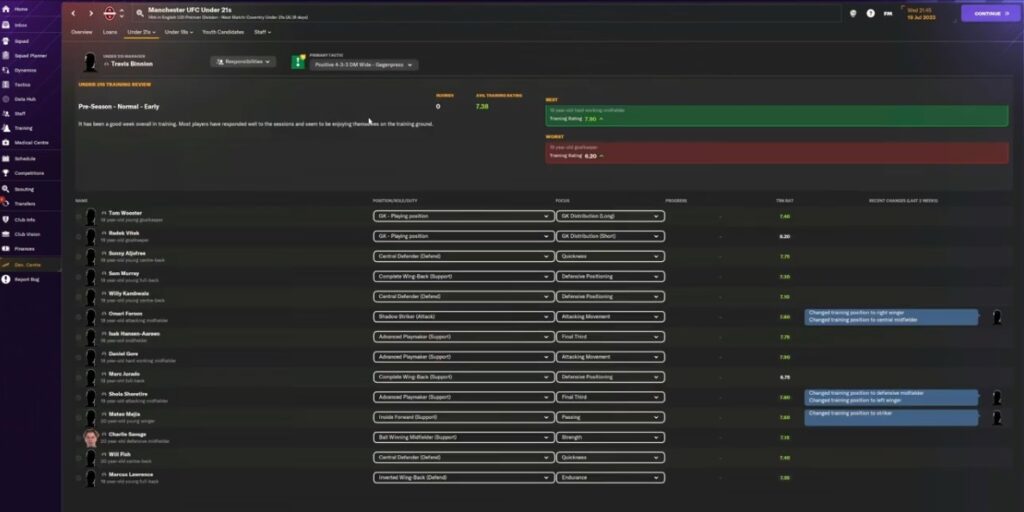 Youth development is a very important aspect of Football Manager 2024.
You can set up training schemes for young talents at the:
U21 and U18 Teams
When you set training schemes for your U21 and U18 teams, ensure the focus covers what you want them to learn, in line with their traditional position.
One advice, or say a tip, focus on technical development for younger players to maximize their potential.
If you like, you can browse all FM24 Wonderkids in all positions, as well as FM24 Skins already released.