There are hundreds of goalkeepers in eFootball 2023 game. These players have been upgraded and developed by Konami according to their performance in the latest football season.
Surprisingly, there are still many game players who don't know about the best goalies in eFootball 2023 game. To help, this article features a list of eFootball 2023 best goalkeepers.
10 eFootball 2023 Best Goalkeepers
Below, we have listed ten eFootball 2023 best goalkeepers you should go for in the Konami game.
Alisson Becker, Liverpool
J. Oblak, Athletico Madrid
G. Donnarumma, Paris Saint German
M. Neuer, Bayern Munich
T. Courtois, Real Madrid
Ederson Moraes, Manchester City
M. ter Stegen, Barcelona
E. Mendy, Chelsea
M. Maignan, AC Milan
K. Navas, Paris Saint German
Who is the Best Goalkeeper in eFootball 2023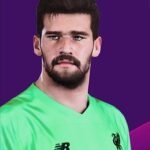 In eFootball 2023, Alisson Becker is arguably the best goalkeeper. According to Konami's latest rating in eFootball 2023, the 29-years-old has a max rating of 95. Konami rates the Brazilian, who plays for Liverpool R, ahead of other goalkeepers such as J. Oblak who is rated second and G. Donnarumma who is rated third.
More Resources on eFootball 2023 Best Players