The key to winning matches in eFootball 2023 game is to ensure you use quality players in their preferred position to your advantage. Among the very useful types of players here are the Defense Midfielders (DMFs).
DMFs can help your team make strong, decisive tackles and pressure out opponents in crucial situations. They literally can help protect your team's ball and give opposing players no space. This is why it's important for you to know about eFootball 2023 best DMFs. The Gamerina team has analyzed, handpicked, and listed the 10 eFootball 2023 best DMF players in the game based on their current stats and their performances.
10 eFootball 2023 Best DMF
Below are the best 10 defensive midfielders (DMF) in the eFootball 2023 game capable of providing high-level defending and midfield proficiency for your team.
J. Kimmich, Bayern Munich
Rodri, Manchester City
Casemiro, Manchester United
N. Kante, Chelsea
Fabinho, Liverpool
M. Brozovic, Inter Milan
D. Rice, West Ham
Sergio Busquets, Barcelona
Jorginho, Chelsea
M. Locatelli, Juventus
Who is the Best DMF in eFootball 2023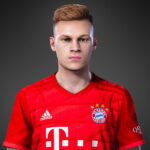 J. Kimmich is undisputedly the most talented defensive midfielder in eFootball 2023. The FC Bayern Munich defensive midfielder has a max rating of 95. Top midfielders such as Kante, Rodri, and Casemiro only come close to such a rating, but they don't match it.
More Resources on eFootball 2023 Best Players