Konami has released its 2023 eFootball game and the eFootball 2023 features consist of new and realistic additions. The eFootball 2023 features deliver improved gameplay much better than eFootball 2022. You also get a real football gaming experience with a better resemblance to football players. As a matter of fact, the newly released eFootball 2023 features bring the football gaming experience to a new high-plane level unlike the previous eFootball and PES game series. Below are all new eFootball 2023 features for consoles/pc and mobile devices.
New Player Types
There are two new Player Card Types in eFootball 2023 and they give you extensive team-building options. You also can create your own "evolution" of players via player progression in eFootball™ 2023 Season 1.
Highlight Player Packs
These are hand-picked players that have excelled in the "current season," and have greater growth potential. 10 of Trent's closest teammates (in real-life football) will join him in eFootball™ 2023 as "Highlight" players as more update roll in.
Epic Player Packs
These types of player cards in eFootball™ 2023 commemorate the "defining season" of past and present major football stars with the highest ratings.
New Permits/Licences
There are a number of additional licenses introduced to the eFootball™ 2023 game. For instance, "AC Milan" and "Internazionale Milano" are back to the eFootball™. You can also use the flying eagle of Mexican football, "Club América". There are also new leagues added to eFootball™ 2023. The well-known Liga BBVA MX is among the new leagues in eFootball™ 2023.
Player Advancement
eFootball™ 2023 season 1 features new recreation of player movement and signature skills through the aid of motion capture. In addition, there are new football legends and starlets in eFootball™ 2023 which bring the eFootball series to a new height.
Premium Ambassador Pack
New eFootball™ 2023 global ambassadors, e.g. Bruno Fernandes, are available in eFootball 2023 as a premium pack. This means you can get Lionel Messi, Neymar, and Takefusa Kubo, Trent Alexander-Arnold, and Bruno Fernandes in specially designed Premium Ambassador Packs on eFootball 2023.
Trent Alexander-Arnold, eFootball's newest global ambassador, takes a center stage with his own "Premium Ambassador Pack"! In eFootball 2023, Trent's character is presented as an "Epic" player under the tag name "TAA".
Club Pack
You have the opportunity to bolster your Dream Team with new Dream Team Power Packs in eFootball 2023. eFootballs' new partner clubs namely AC Milan, Internazionale Milano (Inter Milan), and Club América" are available as Club Packs in the eFootball 2023 packs. Each football clubs has its own Club Pack and consists of 11 player cards with distinctive graphics.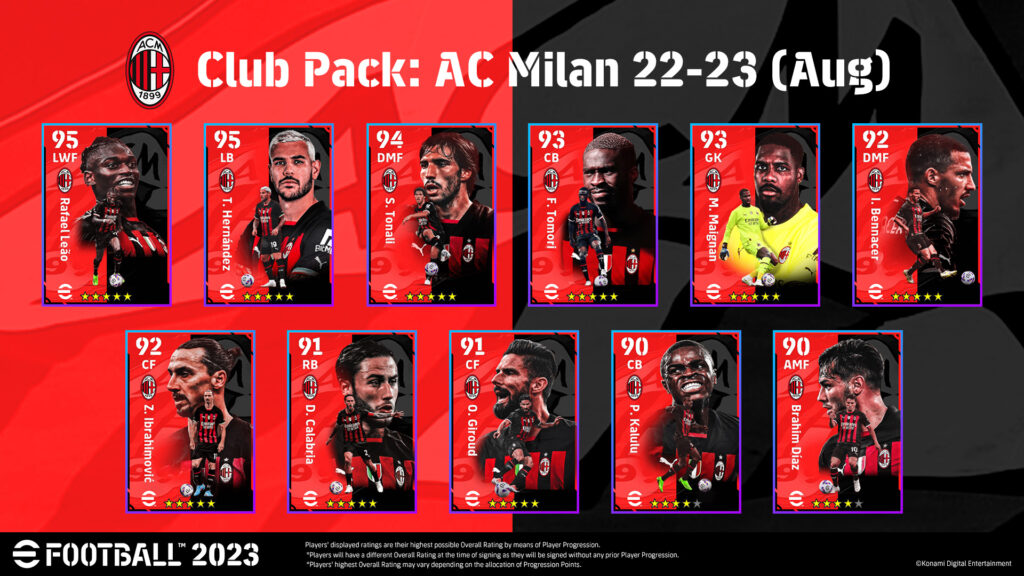 Real Teams
eFootball 2023 has a total of 26 teams. Some of the teams are Santos FC, SSC Napoli, AS Roma, and Arsenal. You can play matches with all 26 teams and can also carry out scouting for your next Dream Team signing.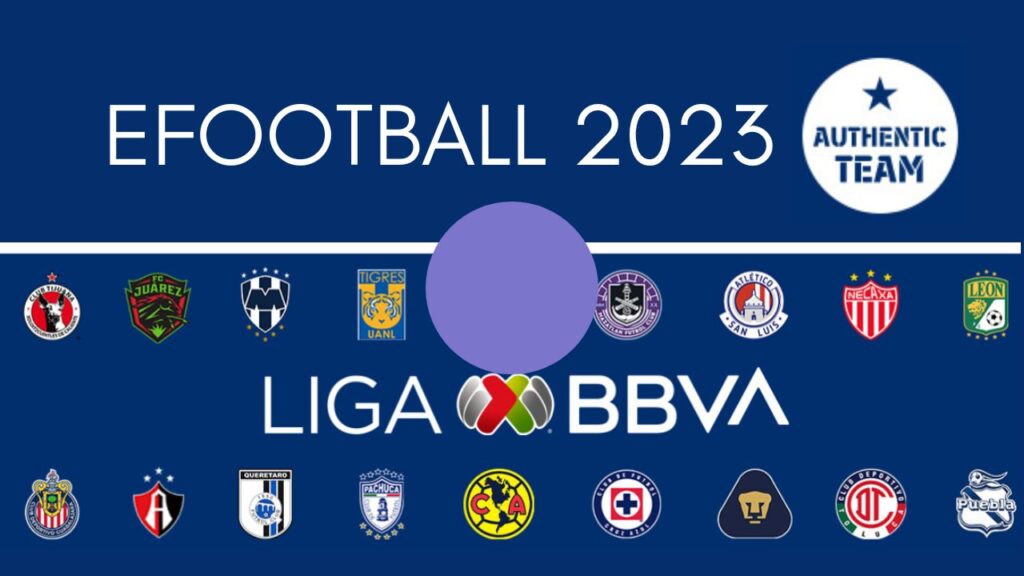 AI-Controlled Tour Events
In tour events on eFootball™ 2023, you can have the AI control your own squad. You can set the tactics and player selections you want AI to work with during Tour events and then take a rest while AI does the rest.
National Team as Base Team
You can select national teams as your base team in dream team in eFotball 2023.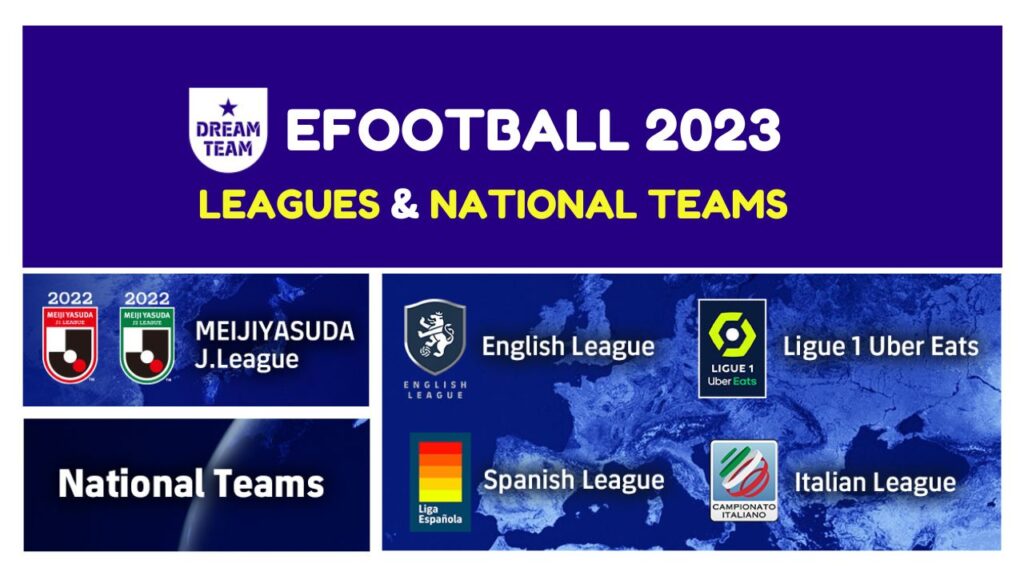 Manager Pack
New Manager Packs in eFootball 2023 consist of a genius manager who can help you lead your Dream Team to glory. J. Cruijff and F. Cannavaro are a few examples of elite or legend managers available in eFootball 2023.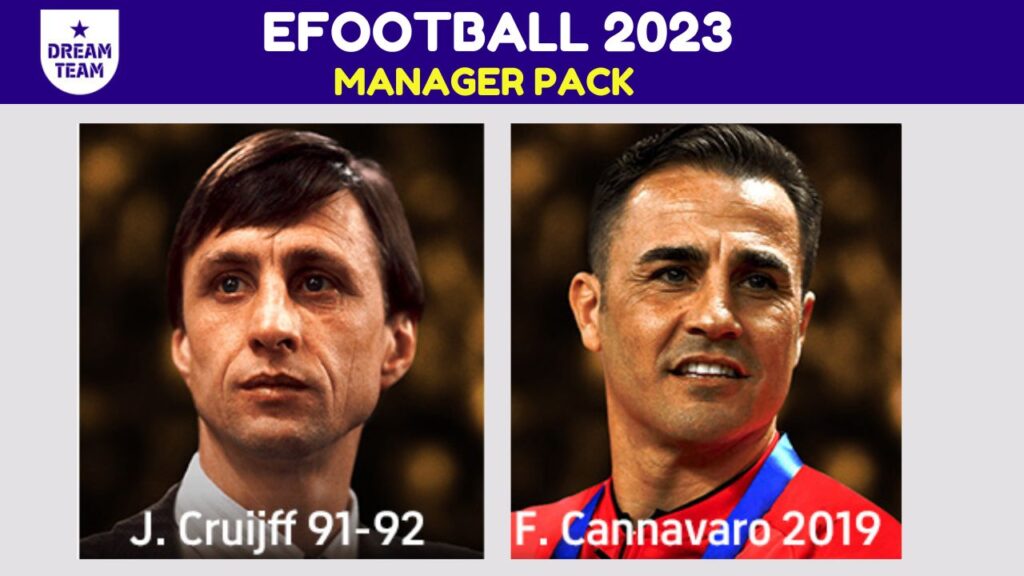 There are several real-life managers of football clubs and countries available in eFootball 2023. Some of these football managers are Jose Mourinho of AS Roma, Xavi Hernandez of Barcelona, and Fernando Santos of Portugal.
Coins Events
Coin events are now available in the latest eFootball series, eFootball 2023 mobile. In coins events, you play PvP matches and complete other challenges to earn rewards such as 50 eFootball coins.
Shopable Legendary Cards
Legendary Cards which represent legend footballers in eFootball players in eFootball 2023 mobile can now be acquire via Shop in eFootball 2023 game. You exchange points to get various Legendary Cards such as P. Scholes at cheap rates in Shop.
Training
There is a new training feature in eFootball 2023 mobile that allows you to increase the abilities of your players. You can train players in your squad right from your Gameplan. To successfully train and develop players in your squad you need what are called Progression Points in eFootball™ 2023. Progression Points are units you spend to increase a specific ability in a player for example, agility. Progression Points range from from 0-8 units in eFootball 2023.
check marketmuse or neutaltext for related queries
dissect image in konami
More on eFootball 2023 Features