Hey, there fellow eFootball 2023 enthusiast! Are you new to the game or just need a quick refresher on the basics? Well, don't worry, you've come to the right place. eFootball 2023 is super easy when you know and use the right techniques! And in this guide, we will give you the exact rundown on all the essential playing tips, tactics, and techniques you need as a beginner in eFootball 2023. Let's get down to it right away.
Play Dream Team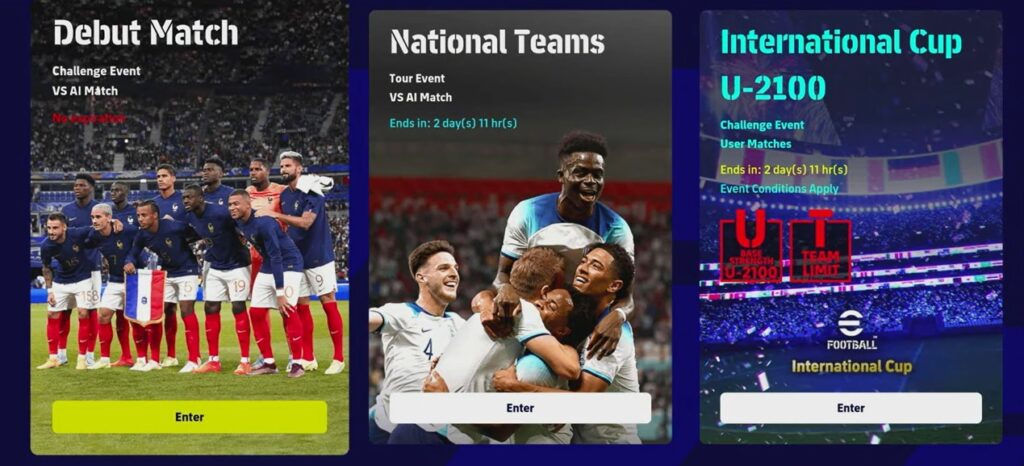 The Dream Team section allows you to create your own team using the players you have acquired. You can select the best players, create tactics that fit your playstyle, and compete with other teams in different modes for rewards. There are three main sections in eFootball 2023 Dream Team. There include eFootball League, Friend Match, and Online Match.
eFootball League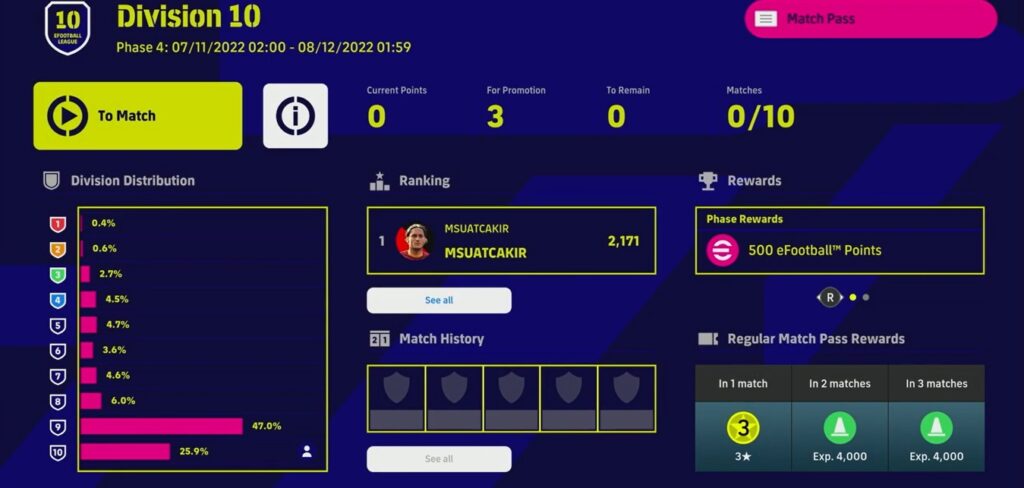 eFootball League in Dream Team is basically the division your Dream Team plays in eFootball 2023. It is a league where players from all over the world compete with their Dream Teams. Each league competition lasts 28 days. Rewards are given at the end of each league phase base on the highest division reached. After that, rankings are reset and a new phase starts. As you win your way through the division and matches, you get the points you need for promotion.
Friend Match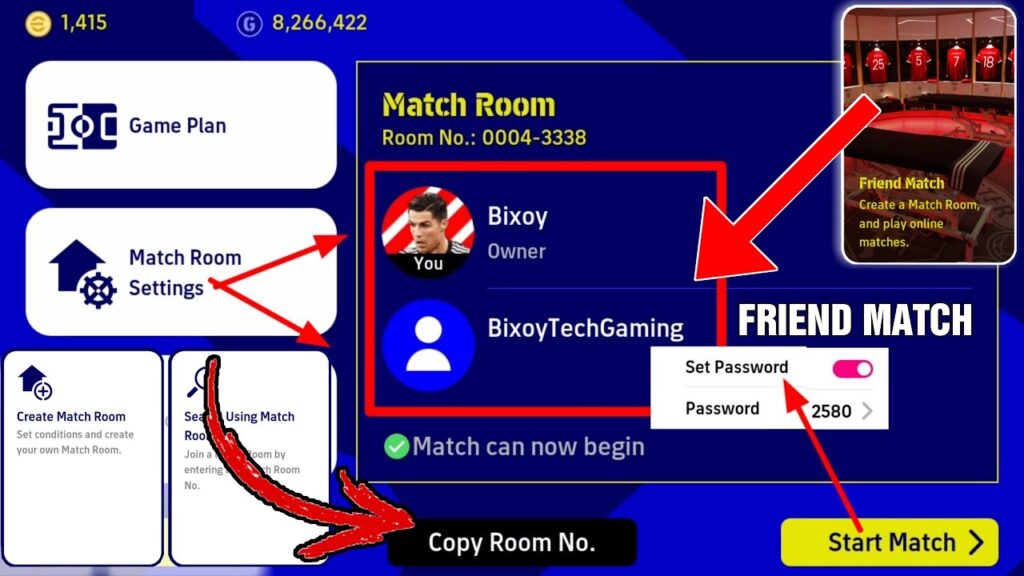 In Friend Match, you can invite a friend in and play an online quick friendly match in a Lobby. It is a one-off match. There are no rewards, no ranking.
Online Events
Online events in the eFootball 2023 game offer a mixture of playing against both AI and other users in player-versus-player (PVP) matches. All of these events can be entered and are easy to win. When you win a match, you get rewarded with 100 football coins, which allow you to receive a free spin.
Never Miss Login Bonuses and Campaigns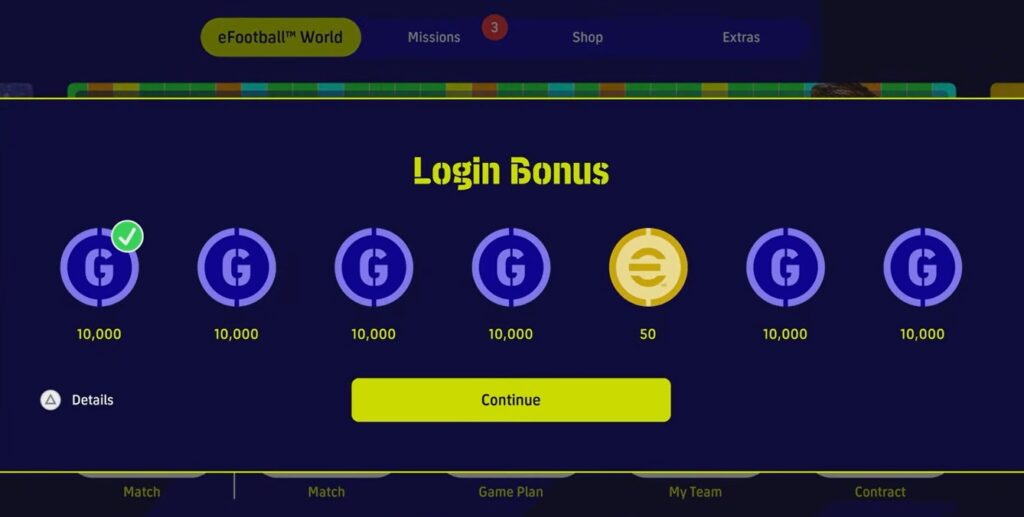 When you first start playing eFootball 2023, you will receive login bonuses for seven days a week. On day five, you will receive 50 coins. Every week, there are login bonuses, as well as a campaign or campaign special login bonus. It is important to note that campaigns repeat every week and month, and you will receive a lot of free stuff, including special login bonus players.
Do Debut Missions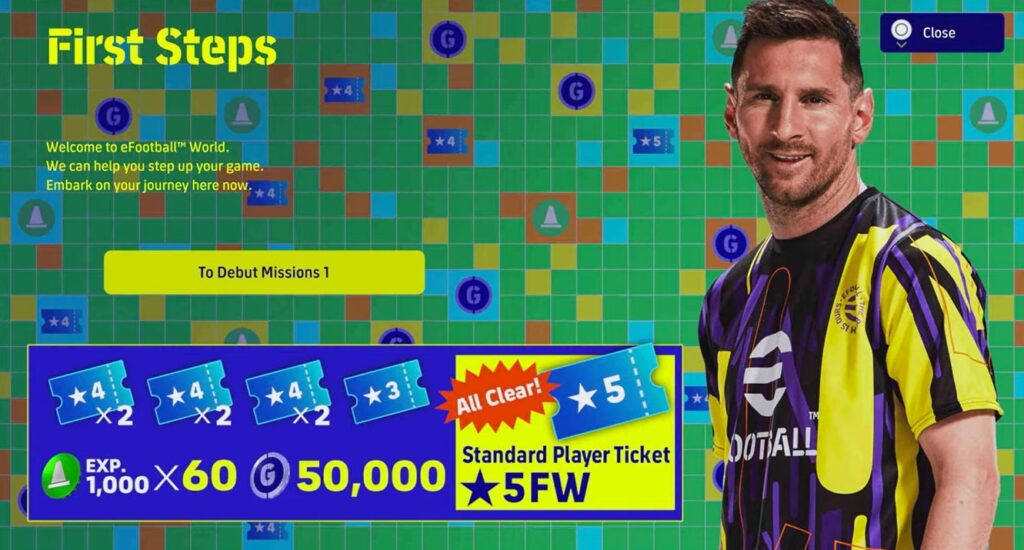 When you log into the game and create your profile, you will have access to Debut Missions and Debut Events. When you complete all the Debut Missions, you get rewards such as a four-star player, two four-star forwards, four or two four-star midfielders, and two four-star defenders.
Buy Only The Most Deserving Players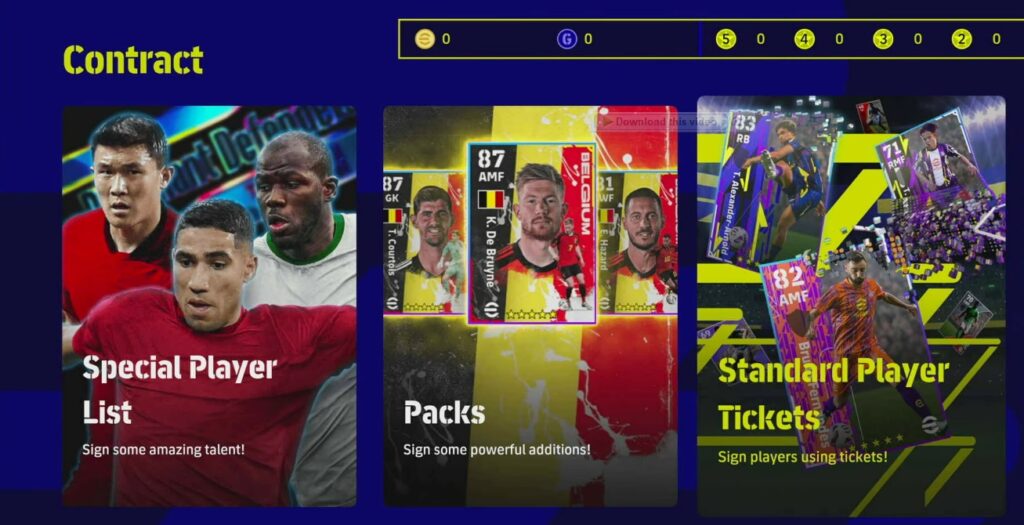 You should only buy the quality players you need. You can do this with either coin, which is real-life money, or GP. Every Monday and Thursday, special players are recycled and added to the game, so it is important to check efootballdb.com, a database website that shows all the players available, as well as upcoming players. On the website, players can also simulate a player's training and see their potential, cost, and final stats after they are fully trained. This can allow you to plan ahead and make informed decisions about which players to acquire for your team.
Play And Earn With Match Pass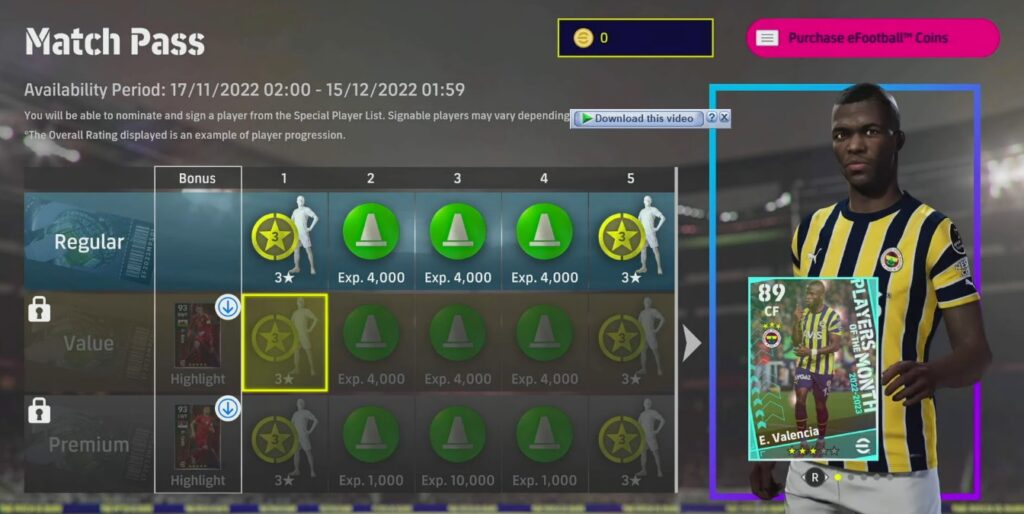 Match Pass is a reward system that offers you rewards for playing matches in eFootball 2023. There are three versions of the match pass in eFootball: regular, value, and premium match pass.
The regular match pass is free and players will receive rewards just for playing 50 matches. It doesn't matter what type of match players play, they will receive the rewards. The value pack match pass is available for 250 coins. The premium match pass is 500 coins.
Players have the option to purchase any of these match passes, but it is ultimately up to them to decide if it is worth the cost. The different versions of the match pass offer varying levels of rewards, with the premium pass offering the most rewards. Players can choose the match pass that best fits their playing style and budget.
Target In-game Objectives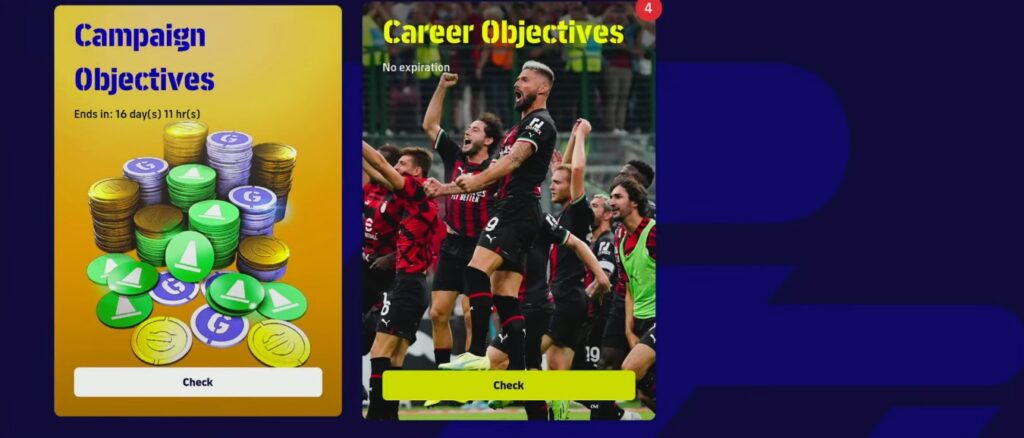 In the game, there are three types of objectives: main objectives, career objectives, and campaign objectives. By scoring goals and playing games, players will unlock these objectives organically. These objectives are in-game challenges that players can complete by scoring goals, and other in-game actions.
Players can view all the objectives by accessing the objectives section of the game. The objectives are designed to provide an extra layer of challenge and engagement for players as they progress through the game. So, whether you're a casual player or a competitive one, objectives will help you to get the most out of your gaming experience.
Play Training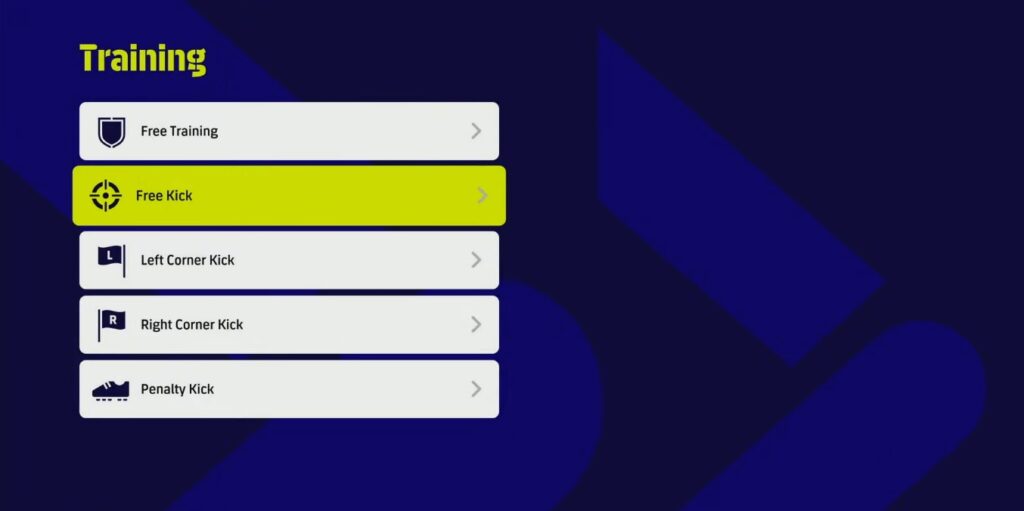 The in-game Training section in eFootball allows you to improve your skills in free kicks, corner kicks, penalty kicks, and more. The training is free and you can play against any team you choose. By participating in training, you will also unlock a debut mission.
There are multiple ways to approach training in the game. You can pick a squad you want, test controls, experiment with different camera angles, or just figure out what works best for you.
To play Training go to Extra in the main menu of the eFootball 2023 game. Now, click on Training. You will be taken to the Trainer menu where you can select the type of training you want to play. You can select any team you want to train with. Pro players use this method to test out players before buying them as you get a better understanding of how a player performs before making a decision to buy them.
Stock Up Trainer Points or XP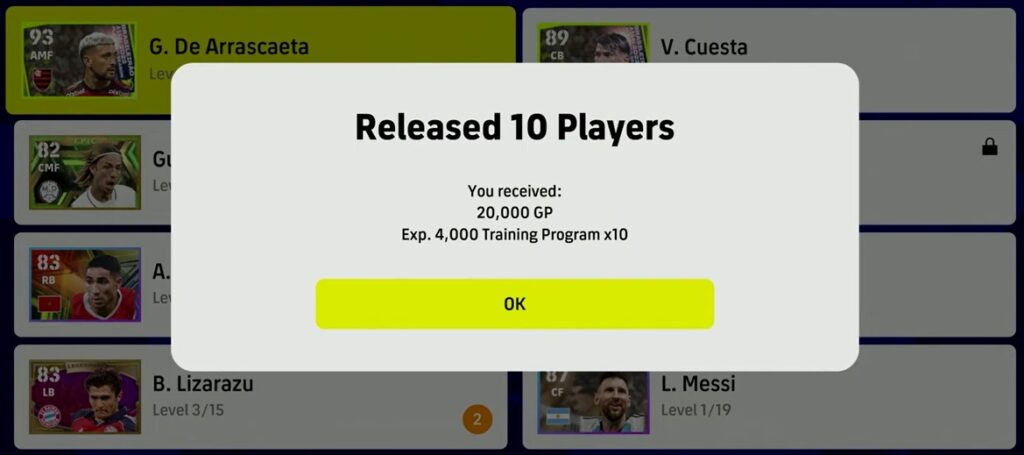 Another tip is to flip players for trainers. This is a good way to gain trainer progression points or trainer XP. You can start by buying cheap four-star players, such as Eric Garcia. Once you have purchased multiple versions (e.g. 10) of the player, go to the My Team section, select the Players tab, and then List Actions and sort by selecting Recent Signings. From there, select all the duplicate players you just bought and release them. This will give you trainer points and GP in thousands. It is also recommended to go for a player that you might possibly want in your squad in the future.
Go for Shiny Cards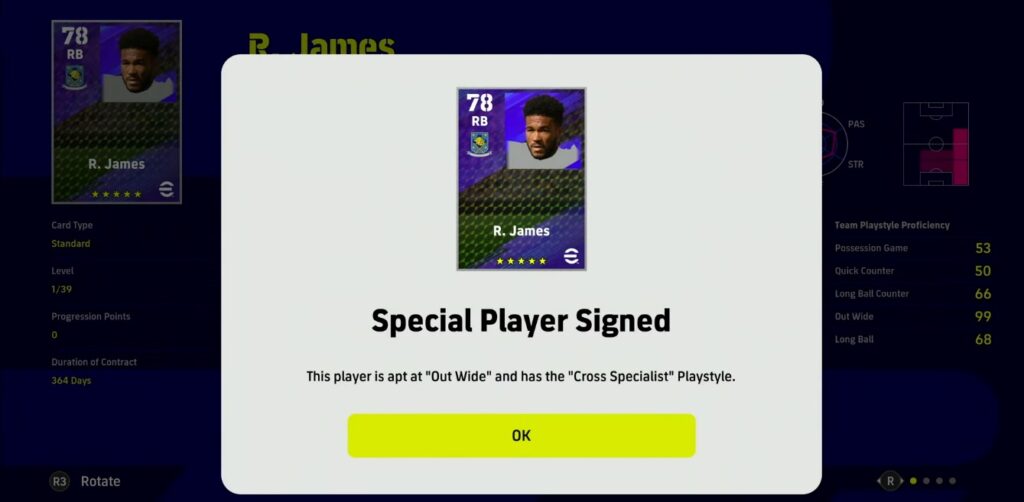 In eFootball 2023, a "shiny card" are players with increased proficiency. There are players that you can acquire from either the special player list or the standard player list. Occasionally, players may be acquired as a "shiny version" of the card, which has a different play style and increased team playstyle proficiency compared to the regular card.
Avoid Accidentally Releasing Valuable Players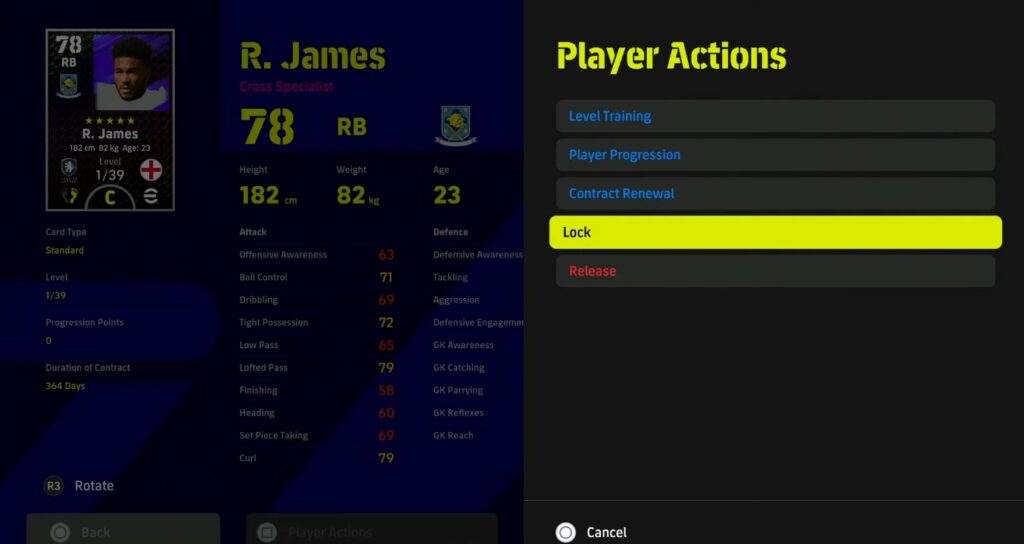 One tip to avoid accidentally releasing valuable players in eFootball 2023 is to lock them in the Player Actions menu. This will prevent the accidental release of unique cards, such as a trained-up version of Rashford or a special version of Messi or Ronaldo.
To lock a player, simply click on the player and go into the Player Actions menu and select the Lock Option. A padlock icon will appear next to the player's name, indicating that they cannot be released without first being unlocked. This serves as a two-step verification process to ensure that valuable players are not accidentally released.
Complementing Your Style with the Right Formation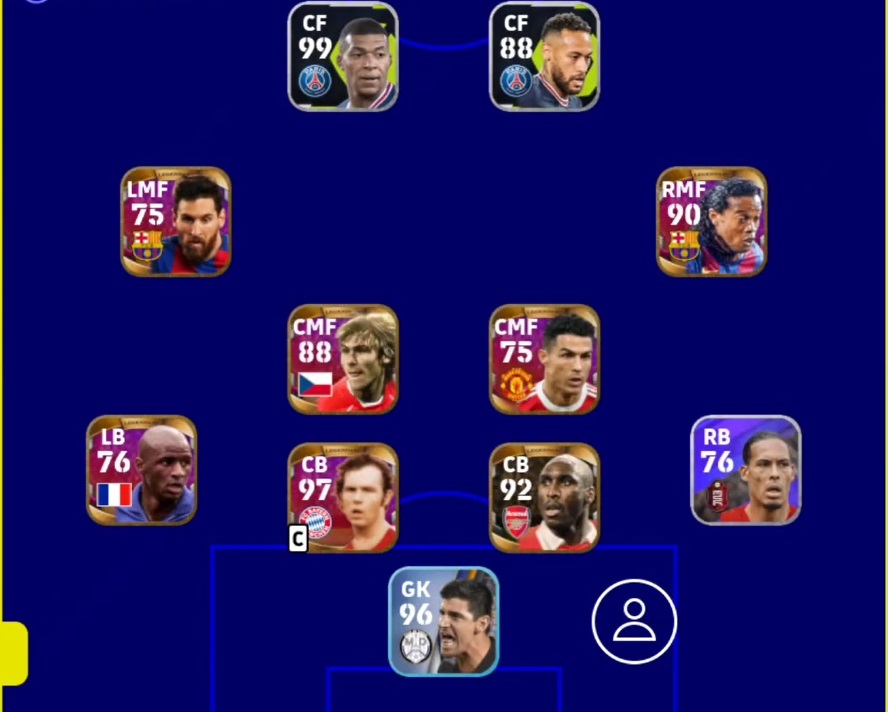 One other important aspect to consider is your formation. Many players make the mistake of using a formation that doesn't complement their playstyle. For example, use a possession-based formation when your playstyle is more focused on counter-attacking.
If you're struggling to find a formation that works for you, or if you're having trouble against high-ranked players or players with stacked teams, try using the beginner's formation. This formation is a 4-5-1, with no wingers or left/right midfielders. Instead, you have three attacking midfielders, with Neymar and Ronaldinho playing manually as left and right midfielders. This formation is balanced, with a solid defense and strong attack. It also allows you to mix in your playstyle, such as manually controlling Neymar to sprint out wide.
Hire A Manager Based On Your Players' Tactical Abilities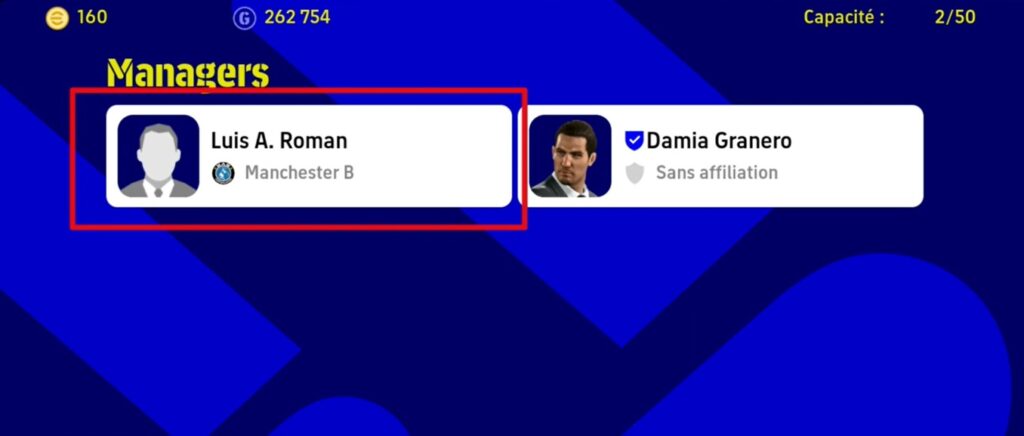 Never fail to select a manager based on the tactical abilities of your players. For example, if you have a player with a high possession attribute, find a manager with a possession playstyle like Luis A. Roman. If you don't know which manager is most suitable for the possession game style in eFootball 2023, read our guide on eFootball 2023 Best Managers. When signing new players, consider their abilities and how they fit into the team's tactics. Know your preferred playstyles and choose the one that perfectly suits your Dream Team. For example, if you have a fast and agile team, a quick counter strategy may be more effective than a possession-based style.
Don't Miss The In-Game Objectives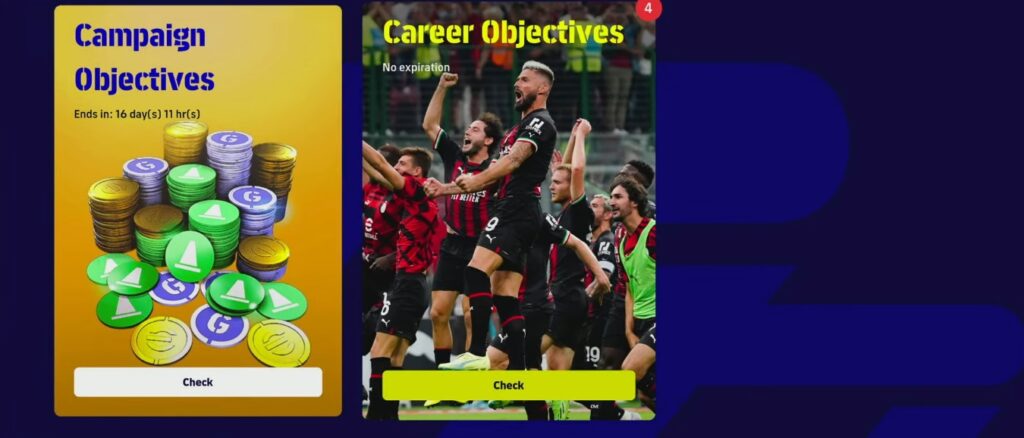 In eFootball 2023, there are three types of objectives: career, weekly, and limited-time campaign. Career objectives are based on milestones such as matches played, goals scored, and clean sheets maintained. Weekly objectives change every Thursday and repeat each week. You need to perform the given tasks each week in the game to complete them. Limited-time campaign objectives offer lots of in-game resources, like virtual currencies and other assets. Watch out for the Objectives section in eFootball 2023 to take advantage of them.
Solve Stamina Issues For Players

One sure way to fix player stamina issues in eFootball 2023 is by improving players' dexterity and lower body strength when training them. This will help players maintain their stamina throughout the game, especially when attacking aggressively.