There are two greatest football games of all time, FIFA and Pro Evolution Soccer. Both arrived on the game market this year with their game release in a somewhat surprising format. FIFA's latest installment, FIFA 22 makes many drastic improvements to its game. Meanwhile, the newest version of PES, eFootball 2022 introduced a little more than just a new graphics engine – it also included few changes to gameplay, tactics, and more.
Gamers from all over the world have battled out which is the most realistic football game ever made – FIFA 22 or Pes 22? In the face of this long FIFA 22 vs Pes 22 history and debate, this blog compares the two games head-on, highlighting the main differences between the two. From both games history to gameplay modes to which is better to game on. Gamer players will find everything they need to decide which game is best for them. So what are you waiting for? Let's get on dissecting!
Brief History of FIFA 22 and PES 22
Brief History of eFootball 2022
On 30 September 2021, eFootball 22, the first year of the game series, was released. Konami published eFootball 2022, which is also known as PES 2022, with the Unreal Engine 4 gaming engine. This year's game, PES 2022, is part of the IESF World Championship and the North and Eastern Europa League (NEEC).
A lack of content, graphic issues, and controls plagued eFootball 2022 at launch. Konami Digital Entertainment, the developer of eFootball 2022, later apologized and improved the game considerably.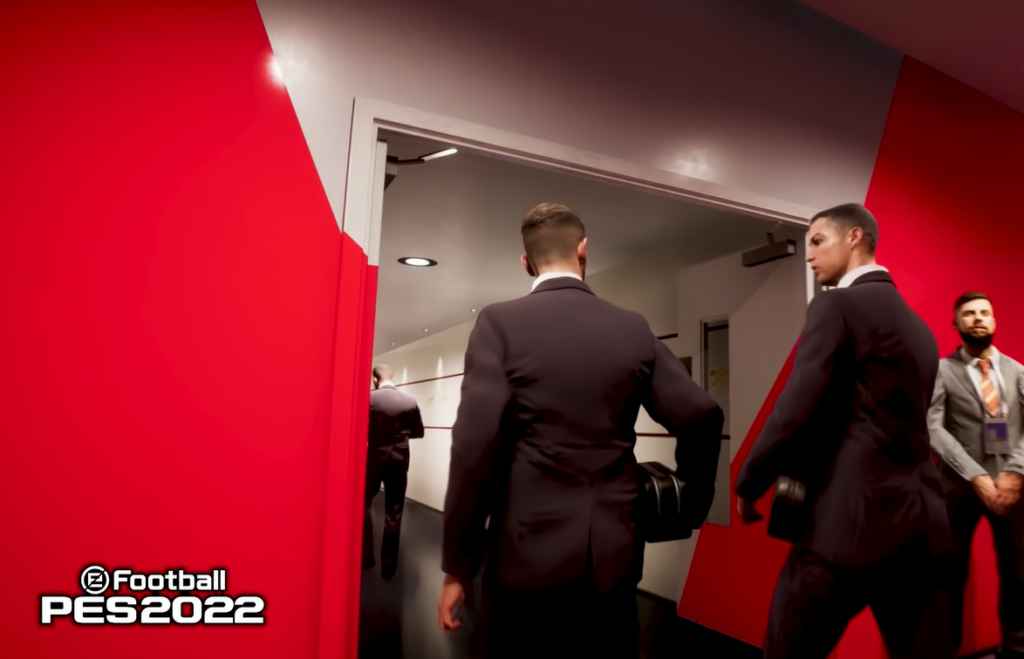 Brief History of FIFA 22
The FIFA 22 video game is a soccer simulation game released or published by EA Sports or Electronic Arts Sports. FIFA 22 was developed by EA Vancouver and EA Romania using HyperMotion gaming engines. As the 29th installment of the FIFA series, FIFA 22 was released worldwide on 1 October 2021 for Xbox One, PlayStation 4, and Microsoft Windows.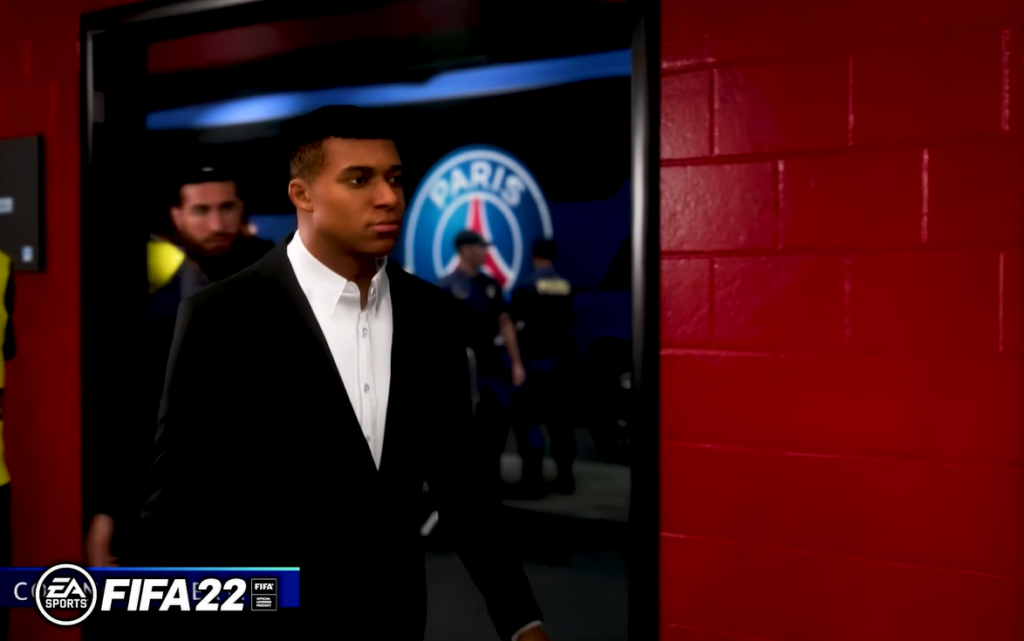 FIFA 22 vs eFootball 2022: Main Differences in Features
| Features | FIFA 22 | eFootball 2022 |
| --- | --- | --- |
| Engine | HyperMotion Technology | Unreal Engine 4 |
| New Gameplay Features | Goalkeeper rewrite, true ball physics, explosive sprint, tactical ai, kinetic air battles, composed ball control, player humanization, new skill moves, new tactical options, match analysis e.g. expected goals (XG) | Ball touch, enhanced 1v1 situation, more defensive options, realistic physical battles, sharp kick (available on a future update, focus on duels, enhanced team playstyles, new controls, and a new camera for duels. |
| In-Game Modes | Career mode, Ultimate Team, VOLTA Football | Dream Team, Master League (coming soon) |
| Icon/Legend | Pro Clubs & Pro Players (Icons) | Pro Players (Legends) |
| Leagues | 30 officially licensed leagues | None |
| Total Clubs | 700+ football clubs, including the Indian Super League 11 teams | 661 football clubs (9 teams officially available for use) |
| Players | +17,000 players | +15,000 players |
| Stadiums | 100+ stadiums | 14 stadiums |
| Card Kinds | 29 Card kinds | 5 Card kinds |
| Professional tournaments | FIFA 22 Global Series | Championships Pro |
| Removals | Russian Premier League and the Russia national football team and Mason Greenwood | +10 players including Mason Greenwood, and Premium Player Pack |
| Game Edition | 2 Editions (Standard Edition & Ultimate Edition) | Only one edition |
| Mode(s) | Single-player, multiplayer | Single-player, multiplayer |
FIFA 22 vs eFootball 2022 Graphics

When it comes to graphics, there is no doubt that FIFA 22 stands head and shoulders above its eFootball 2022 counterpart. The game has been modified to be very responsive and user-friendly, while the graphics are stunning. FIFA 22 also takes advantage of the latest technology, offering stunning graphics that will immerse you in the game. In addition to the beautiful scenery, the game features all-new playable characters, an updated match engine, and more realistic graphics.
It is interesting that eFootball 2022 offers cutting-edge graphics and a nearly unmatched immersion experience on new-gen consoles. On the other hand, it is regrettable that PES 2022 still suffers from low-resolution crowds, unnatural facial expressions, and questionable body proportions. These are just a few issues with eFootball graphics to tell today.
FIFA 22 vs eFootball 2022 Teams

One of the biggest differences between FIFA 22 and eFootball 2022 is the number of teams available. FIFA 22 features 700+ playable teams from around the world, whereas eFootball 2022 has only 9 playable teams. This means that if you're a football fan and want to play the game with a variety of football teams — which you might not exhaust, FIFA 22 and not eFootball 2022 is the game for you. eFootball 2022 is a great game to play, but its ability to officially feature 9 teams is definitely what no ideal game player has to manage with for a vast football gaming experience.
FIFA 22 vs PES 22 Modes

FIFA 22 vs PES 22 modes – which game has football game modes?
FIFA 22 comes out top with its number of much interactive game modes. eFootball 2022 has lesser modes, including a popular mode called Dream Team. FIFA 22 includes the much-loved Ultimate Team mode where you can build your own team of players and compete against others online. It also includes other game modes like career mode and Volta. As a result, FIFA 22 would be the better choice if you're a football fan looking for game with in game modes.
FIFA 22 vs eFootball 2022 Players and Their Faces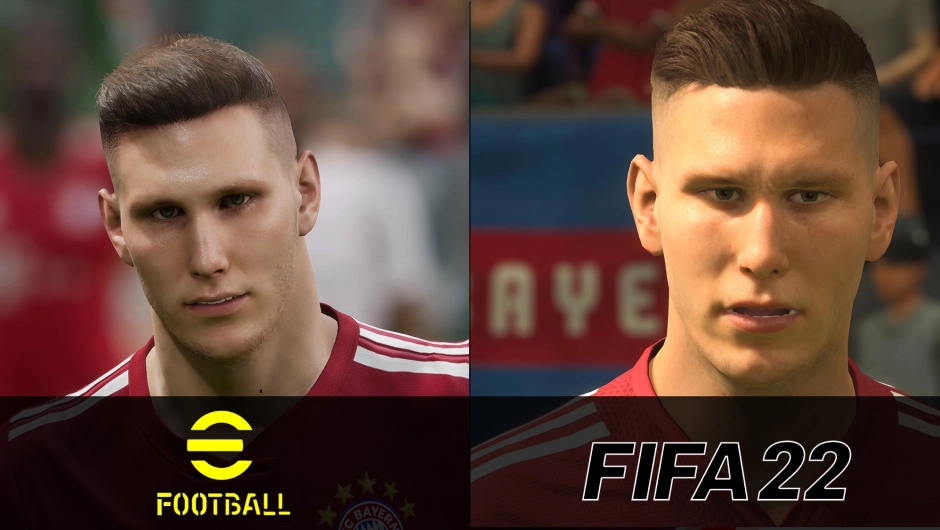 Both games boast stunning graphics that will leave you in awe. Over the years, both FIFA 22 and eFootball 2022 games have widely acclaimed realistic player faces. The faces of the players have been updated to look more lifelike, and the game also boasts a new procedural generation system that makes the game even more realistic than before.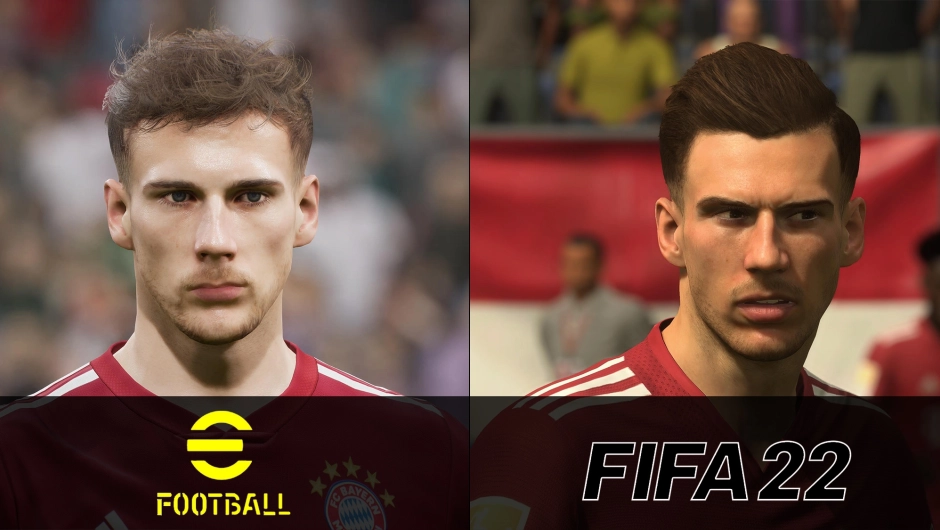 Meanwhile, player movements have always been known to be better in the FIFA series. PES 2022 recently up its system on this path. This is why we will consider a here between FIFA 22 and eFootball 2022 here.
FIFA 22 vs eFootball 2022: Performance Optimization

Well, the answer to this part is a little bit complicated. While both games are considered to be the best football games on the market, FIFA 2022 boasts an artificial intelligence that is said to be better than that of PES 22. For those who do not, the game is capable of simulating real-life gameplay better, making it a more immersive experience on systems, consoles, or platforms that meet its operating requirements. But, in contrast to FIFA 22, eFootball 2022 offers "a taste of what to expect from the new free-to-play football simulation" game which can be played on a much lower-end GPU Personal Computers (PC).
The platform FIFA 22 is available on are PC, PS4, PS5, Xbox One, Xbox Series X/S, Nintendo Switch, and Google Stadia, while eFootball PES 2022 is only playable on PC via Steam, PS5, PS4, Xbox One, and Xbox Series X/S.
FIFA 22 and eFootball 2022 are both available on iOS and Android devices. Both Konami Digital Entertainment and EA Mobile developed their game (eFootball 2022 mobile and FIFA Mobile 2022) remarkably well, especially when the graphics settings are set to the maximum level. Even so, both games perform quite differently on mobile devices.
The FIFA Mobile 22 runs more smoothly, particularly on midrange devices with lower video card specs. Meanwhile, PES 2022 Mobile is centered to deliver superior display and resolution. Players can testify that they are able to see players' faces and bodies clearly while playing eFootball 2022 Mobile on their phones. The game is even more realistic and interesting when played on mobile devices with higher specifications.

FIFA 22 vs PES 22: Exclusive Licenses
While both games are considered to be the best football games on the market, FIFA 2022 boasts many more exclusive licenses to players, clubs, and stadiums than PES 22. Fifa 22 offers a ton of exclusive licenses on few football teams, and few football club stadiums that make the game more expansive and expensive, while PES 22 allows you to play as only a few teams with few football club stadiums around the world.

The Pitch/Stadium of FIFA 22 vs PES 22

There is a significant difference between the pitch proportions of PES eFootball 2022 compared to FIFA 22. Players in EA Sports' football game franchise tend to skate through the pitch most of the time due to their speed. Proportions of the pitch are much more authentic in eFootball 2022. eFootball 2022 does a more accurate job when it comes to field proportions an look. Using best-in-class cameras and a gradual action-packed display, eFootball 2022 gives players the freedom to utilize individual duels and play efficiently together on the overall pitch.
FIFA 22 vs PES 22? Which Game Is Better For Windows?

When it comes to football games for computers, there are a few favorites around e.g. FIFA 22, Football Manager 2022, etc. But which one is the best? FIFA 22 or PES 22? Let's take a look at the pros and cons of each game and see which one is better for Windows. FIFA 22 is a great football game for Windows. It offers realistic graphics and gameplay that are ideal for fans of the sport.
Additionally, FIFA 22 has been widely considered the best game on the market when it comes to artificial intelligence in gameplay for windows with highly reputable soundtracks. PES 22 is a good football game, though it was initial criticized for poor graphics which later improve for better. Meanwhile, an artificial intelligence-imbed gameplay is still miss to an extent in the game. If you're looking for a more realistic experience for windows, FIFA 22 is the better option.
Which Game Is Better For Mobile, PES 22 Or FIFA 22?

Which game is better for mobile? That's the question on everyone's mind, and the answer bores down to one truth. It ultimately bores down to personal preference. PES 2022 Mobile is a great game for mobile because of its realistic graphics and offers more player customization options. FIFA Mobile 22, on the other hand, is a better game for mobile because of its in-gameplay features such as a better in-game menu.
If you're looking for good gameplay mechanics along with playing pure football with your friends and good graphics – PES (Mobile) is the game for you. If you're looking for something that is quick and interesting along with many features – FIFA (Mobile) is the game for you. FIFA launches many events that you can play and many featured players.

Archana Tiwari on Quora
According to me efootball PES (Mobile) is definitely the best game, me and all my friends… PES (Mobile) is the best game with best Graphics and characters. If you have low end smartphone and have less storage capacity then FIFA mobile is definitely a good choice.

SHIV KAKKAR on Quora
According to Sensor Tower, eFootball™ 2022 has over +700k download on iOS and +1m download as of Jun 2022 on android in US only. Meanwhile, FIFA Mobile 22 or FIFA Soccer has over +1m download on iOS and +5m download as of Jun 2022 on android in US only.
FIFA 22 vs PES 22: Which One Cost More?
PES 22 which is published by Konami is basically free. Though it has some game mode which goes for a price such as the upcoming Master league which its price is yet to be released. On PS5 and Xbox Series X/S, FIFA 22 Standard Edition cost $69.99. The Standard edition cost $59.99 on PS4, Xbox One, PC, and Google Stadia. Meanwhile, on Nintendo Switch, the Standard Edition goes for $39.99.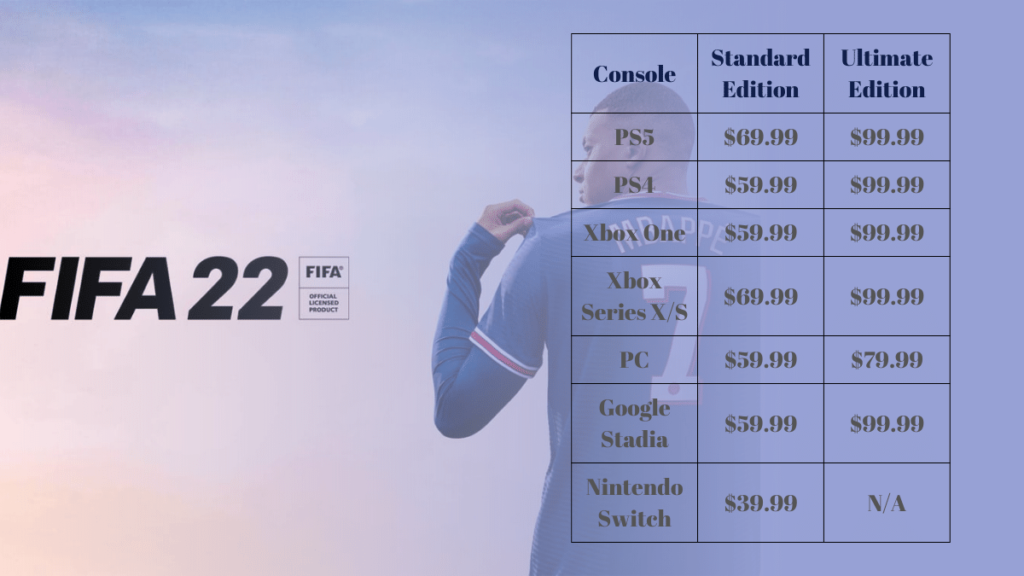 So, when you factor in the highest cost of additional downloadable content (DLC) of PES 22 and FIFA 22 Ultimate edition cost, FIFA 22 costs $60 more than PES 22. So, if you are looking to save some money, PES 22 is the better choice. However, if you are looking for a more full-featured game, FIFA 22 is the better choice.
FIFA 22 vs PES 22: Which One Should You Choose
Though there are a lot of great football games on the market these days, but we all know the competition balls down to FIFA 22 vs PES 22. So, which one should you choose? PES 2022 or FIFA 22?
PES 2022 offers a great overall experience, but FIFA 22 has many features that make it a better game. For example, FIFA 22 takes advantage of advanced gaming technology, HyperMotion Technology, so you'll have an immersive experience. If you're looking for realism in a football game, then FIFA 22 is the option for you. However, if you're not a fan of better football simulation games with advanced AI but performance, PES 22 may be a better choice for you.

Frequently Asked Questions
Is PES 2022 a Good Game?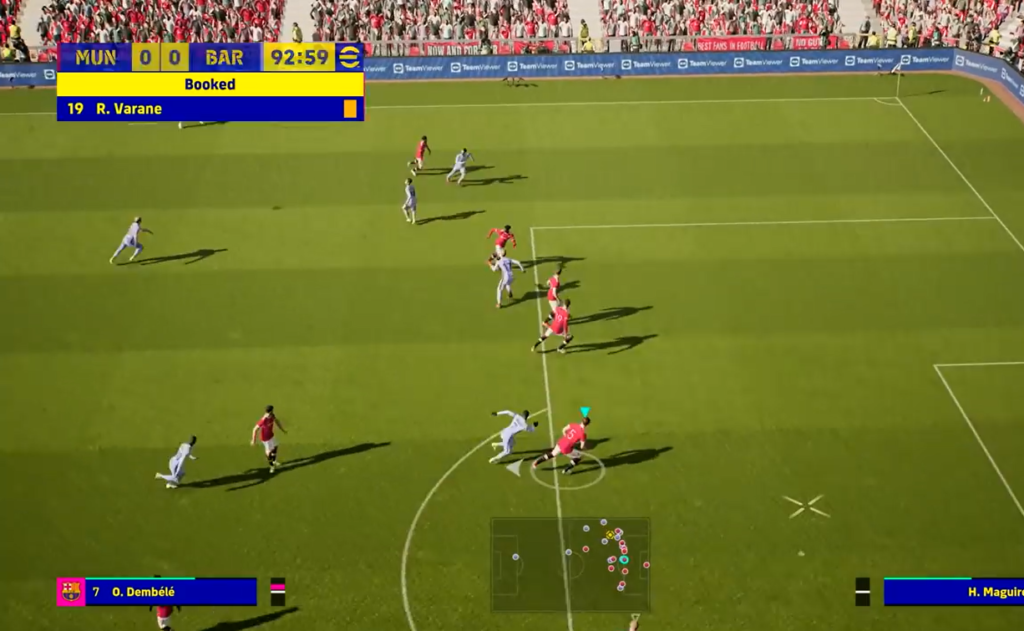 There is no doubt that PES 2022 is one of the top football video games out there. In fact, some fans of the game have argued that there was a significant improvement after Konami improved the following critics at its launch. Meanwhile, others claim that the game does not offer much new or unique features enough to justify the new investment is better than the previous, PES 2021.
Is FIFA 22 Gameplay Different?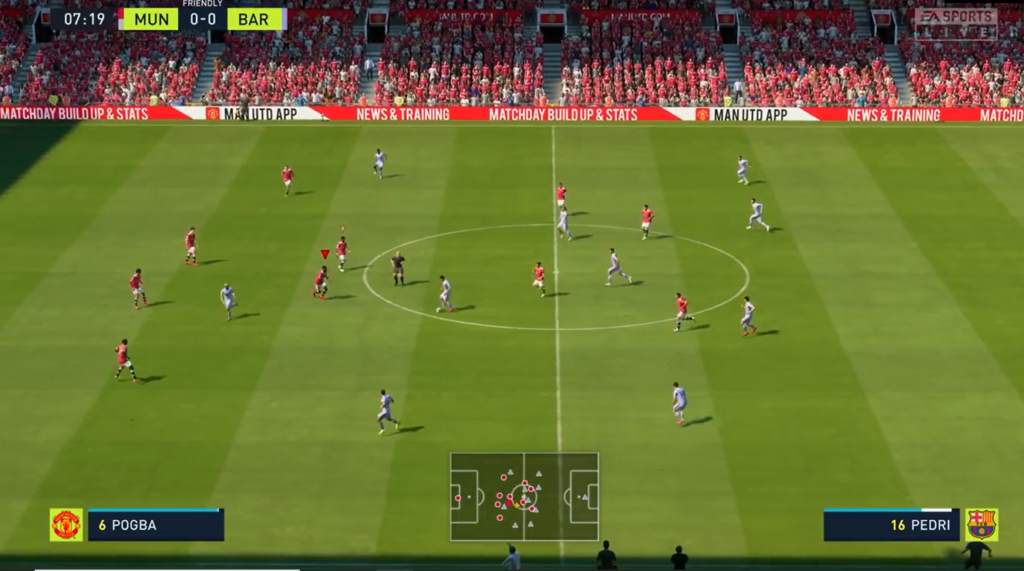 Yes, FIFA 22 gameplay is different. FIFA 22 has newly updated animations including better graphics. Alternatively, eFootball 2022, unlike FIFA 22, is free-to-play while FIFA 22 costs as high as $100. Fans of FIFA's mobile series are happy regardless. The FIFA Mobile 22 game is easy to go with without having to learn a whole new set of mechanics like eFootball Mobile 2022.
FIFA 22 vs PES 22: Which Game Should I Buy If I Am a Football Fan?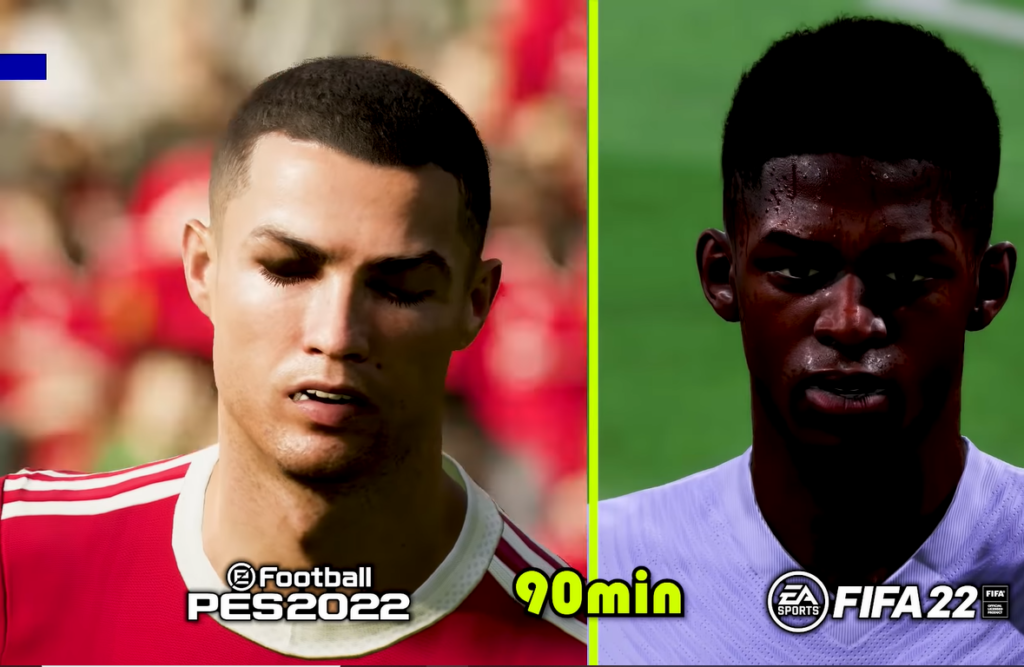 For football fans, the best buy between PES 22 Or FIFA 22 may depend on a lot of factors such as individual's preferences and which game the individual is more familiar with. Nonetheless, without bias, the Gamerina Team carried out an analysis of both football video games. We recommend FIFA 22 to players new to football video games. Consequently, you have a good and enjoyable — first — gaming experience — issues come up.
Game Console or PC for Playing Games like FIFA and PES? Which One is Better?
Consoles are better for playing both FIFA 22 and PES 2022. Konami and EA Sports have always and forever put in extra efforts for better gaming experiences in their football game series for consoles than PCs. For example, the graphics of FIFA 22 and eFootball 2022 are more realistic on PlayStation 5 than on PC.
FIFA 22 vs PES 22: Which is the Best Football Game on the Market?
In December 2021, EA reported that more than 9 million copies of FIFA 22 had been sold worldwide. According to GFK data analysis, FIFA 22 topped the sales charts in 17 of 19 European nations during that period. As of March 2022, the franchise has already crossed 325 million sales. The same cannot be said for eFootball 2022. eFootball 2022 only made 111 million as of March 2022.

Final Words on FIFA 22 vs PES 22

This is indeed an extremely intense comparison football game comparison between FIFA 22 vs eFootball 2022. After reading the blog, you definitely must have gotten the verdict in and out! FIFA 22 has many exclusive licenses that eFootball 2022 does not have, graphics are better on FIFA 22, players and teams look better on FIFA 22, and the holistic gameplay is better on FIFA 22. Nonetheless, eFootball 2022 has better graphics for mobile devices. Which wins our ultimate conclusion as the best? PES 22 or FIFA 22. By a length, FIFA 22 worth your time more.