FIFA 23 is a game that takes football gaming to the next level. With its hyper-realistic graphics and gameplay, players can feel like they are playing in a real-life stadium. Add in the latest installment of the FIFA franchise, FIFA 23, there are bigger and better stadiums that give you that awe-gaming experience. But, what's the biggest stadium in FIFA 23?
Table of Contents
History of FIFA Games Stadiums
Since its inception, FIFA game series stadiums have gotten more realistic. And the FIFA 23 stadiums are no exception. In fact, FIFA 23 stadiums are some of the most captivating ever in the series. Advancements in technology have played a pivotal role in the evolution of stadiums in FIFA games. From cutting-edge graphics to detailed textures, and advanced rendering techniques, they have all allowed developers to create stunning virtual stadiums that closely resemble their real-life counterparts.
The Importance of Stadiums in FIFA 23
Stadiums serve as the backdrop for all matches in FIFA 23, and their immersive environments greatly enhance the gaming experience. From the thunderous roar of the crowd to the vibrant colors of the stands, every element is designed to transport players into the heart of the action. The sheer scale and grandeur of stadiums evoke awe and excitement, elevating gameplay to new heights.
Criteria for Determining the Biggest Stadiums in FIFA 23
In order to determine FIFA 23's largest stadium, the following criteria were considered:
Capacity
Architectural grandeur
Historical significance
Biggest Stadium in FIFA 23
The Wembley National Stadium is the biggest stadium in FIFA 23, with awe-inspiring architecture that holds over 90,000 spectators. Wembley National Stadium is located in Wembley, London. It is owned by the Nation of England and connected by EE.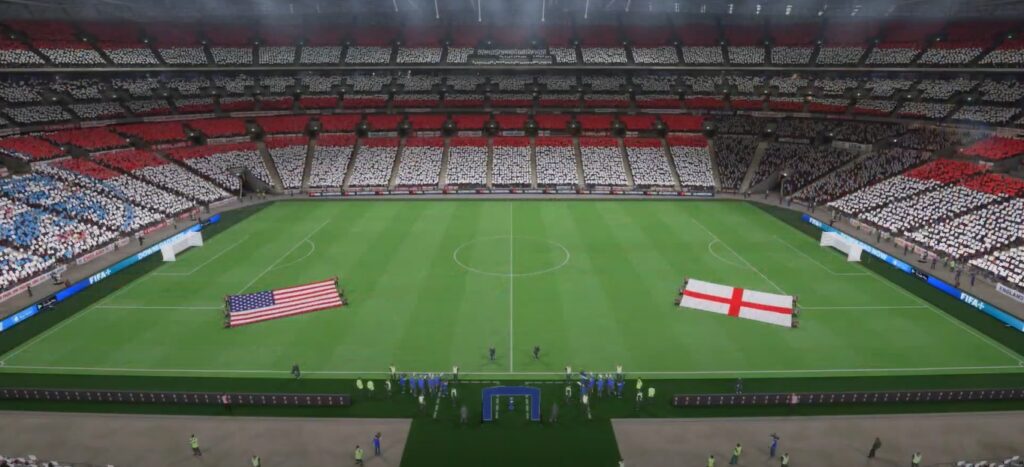 Wembley National Stadium has four weather types in FIFA 23. They are sunny, snowy, rainy, and cloudy. Its FUT quality is Gold. You can use Tifos stadium themes to personalize its beauty.
Following that, let's divide it into the list of other biggest stadiums in FIFA 23.
The Biggest Stadium and Others in FIFA 23
| Stadium | Club/Team | Capacity |
| --- | --- | --- |
| Wembley National Stadium | National Stadium | 90,000 |
| Estadio Azteca | N/A | 90,000 |
| San Siro | AC Milan/Inter Milan | 80,018 |
| Ataturk Olympiastadium | National Stadium | 75,145 |
| Old Trafford | Manchester United | 75,731 |
| Signal Iduna Park | Borussia Dortmund | 75,000 |
| Santiago Bernabeu | Real Madrid | 74,769 |
| Camp Nou | FC Barcelona | 74,429 |
| FNB Stadium | National Stadium | 74,064 |
| Stade de France | National Stadium | 74,000 |
Did you know that the smallest stadium in FIFA 23 can only hold 7,000 people? Discover more about FIFA 23 smallest stadium.