In November last year, Football Manager 2022's PC/Mac edition was released with interesting managerial features, and it sold more than a million copies. Even so, there are new, intelligent ways to take your team to higher levels in the new Football Manager 2023 (FM23) video game. The FM23 video game offers lots of entertainment, excitement, and virtual football management experiences.
If you're considering getting the FM23 game for yourself or as a gift for someone, and you want to know what's new in the latest Football Manager game, the Gamerina Team has included every bit of information about FM23 features below.
Football Manager 2023 or FM23 Features
There are over new 6 FM23 features. These Football Manager 2023 features include:
Recruitment Revamp
Match AI And Animation
UEFA Club Competitions Licence
Supporter Confidence
Dynamic Manager Timeline
Gameplay Upgrades
Recruitment Revamp
You can now strengthen your transfer plans in FM 23 thanks to the brand-new Recruitment Revamp feature. The Recruitment Revamp feature comprises 5 newly introduced and upgraded sections on FM23 to make it a more realistic footballing world. They include:
Squad Planner
Experience Matrix
Scouting Enhancements
Agents Improvements
Improved Recruitment Meetings and Process
Recruitment Meetings
Squad Planner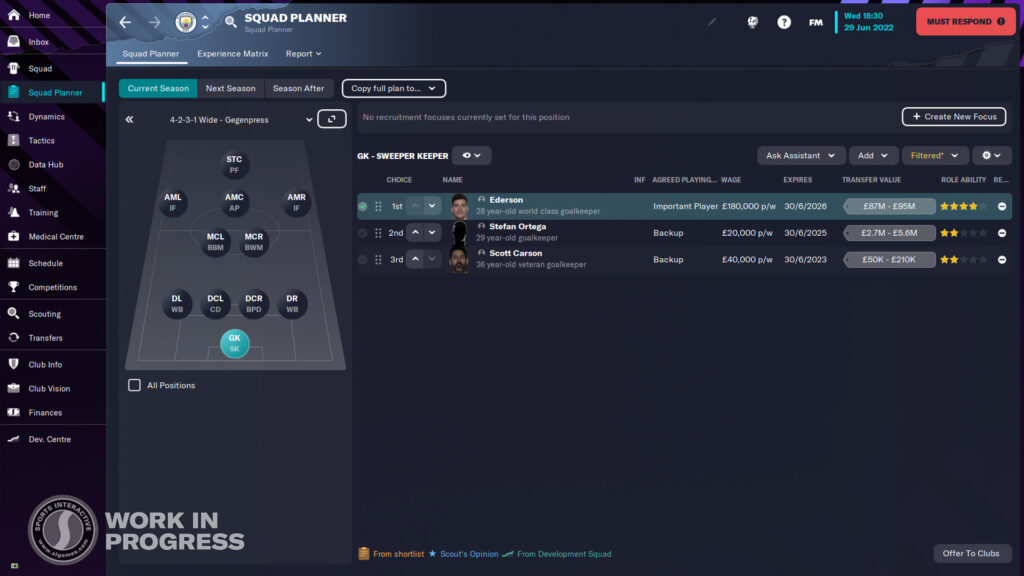 Squad Planner helps you determine if you need to recruit in a particular area. For instance, you can use the Squad Planner to know if your team is lacking depth or resources in a particular area or position in a season. The Squad Planner also prompts you at different intervals to engage with your squad if you have multiple key players out with long-term injuries or if you're on a bad run of form.
Experience Matrix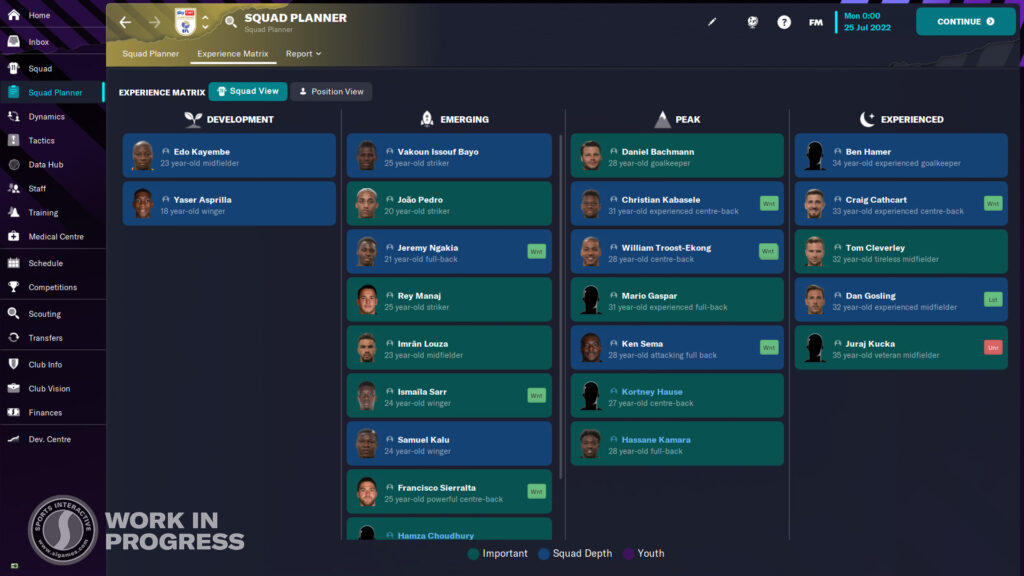 The Experience Matrix is a new visualization that completes the role of Squad Planner, meaning it help make more title-winning scouting and recruitment decisions in FM23. The Experience Matrix points out that you've got Youth Prospects yet to break through to the first team, Youngsters who still have potential to develop, players in the Experienced phase (of final years) of their careers, or players at the peak of their careers.
Scouting Enhancements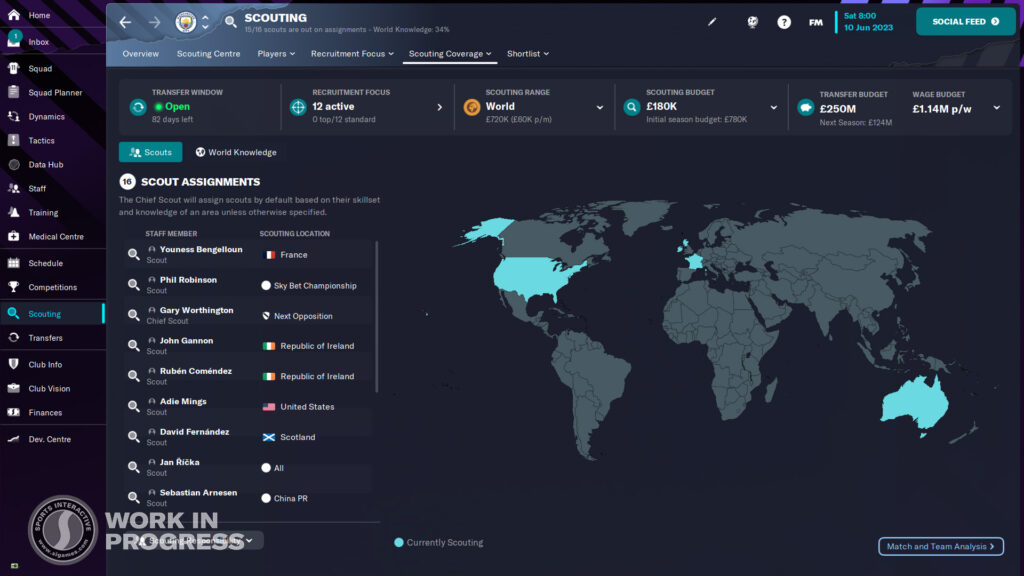 The major enhanced aspects of Scouting in FM23 are the number of players and how they are scouted. You can tell scouts to find suitable players based on criteria such as the likeliness to obtain a work permit. You can also instruct the scouts to only focus and find players in a nation or football league. Meanwhile, Scouting Meetings are now less frequent on FM23, so you will only get these meetings only when your scouts find players that highly suit your recommendations.
Agent Improvements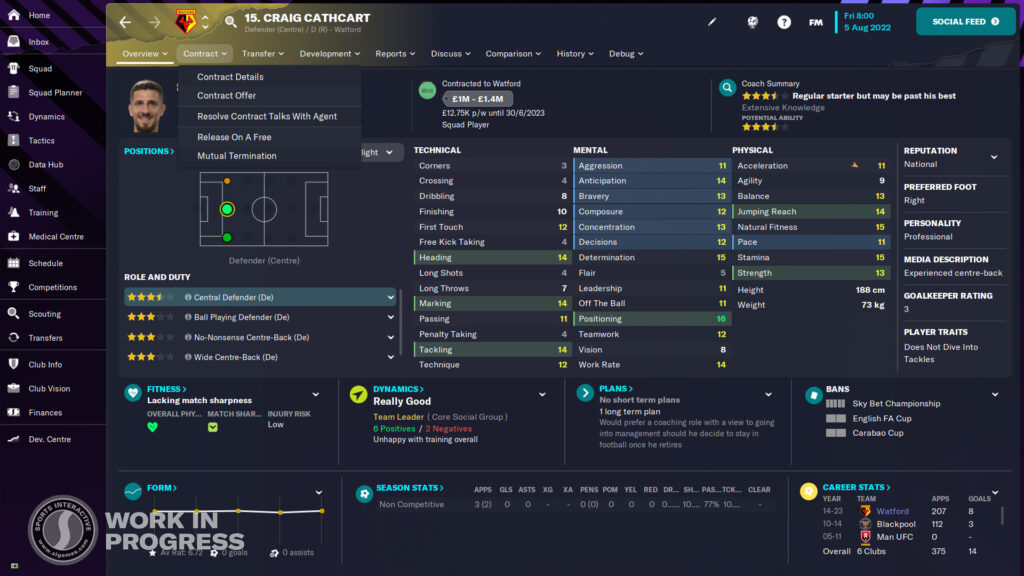 Agents are more involved in gameplay areas in FM23 and they have an expanded role for players in your squad. The newly-added Ask Agent Availability function allows you to subtly negotiate parts of a player's contract (one not in your team) with the agent before even approaching the player's club. In situations where you enter negotiations with a player and walk away without agreeing to a deal, a breakdown will occur between you, the player, and their agent.
If negotiations with a player (one in your team) break down, you can speak to their agent to revive the conversation. You can even ask a player's agent to try and solve a player's morale issues.
Improved Recruitment Meetings and Process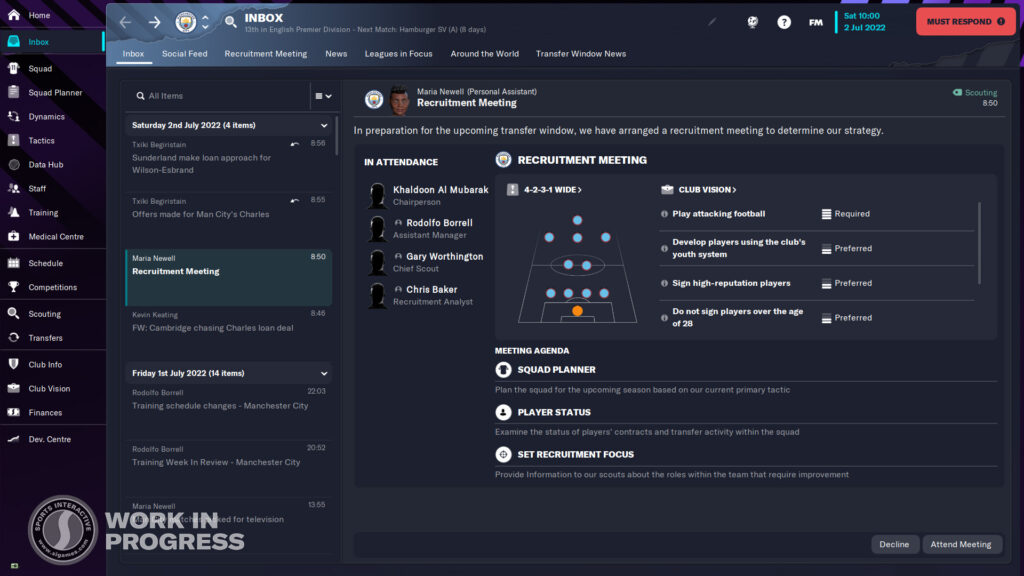 Recruitment Meetings have been significantly revamped in FM23 to make them more engaging and conversational than in FM22. For this, two new meetings were added to FM23; a Planning Meeting and a Feedback Meeting. You can attend Planning Meetings to discuss future transfer windows with your Director of Football, Assistant Manager, and Chief Scout.
The Feedback Meeting in FM23 is where you review your past transfer activities and your staff makes informed recommendations on the type of players that should come to your team next.
Recruitment Focuses
Recruitment Focuses are a new way to search and buy players in FM23. You can set your search criteria for a player, such as player's proficiency in a specified role, potential ability, and likeliness to obtain a work permit, and more. You can select a scout to fill three different transfer tasks (Top Priority, Standard Priority or Ongoing) to get a specified player. Or, you can let your backroom team sort that out for you.
Match AI and Animation
Smarter AI Opponents And Animation
There is an upgrade to the AI managers (for both your team and your opponent's team). This means not only are you smart and savvy but also your opponents. For instance, in situations where you have the upper hand in a match, your opponent can adapt and change the nature of the match with more intelligent tactical tweaks.
AI Manager Improvements
The enhanced model of AI managers in Football Manager 2023 reacts more realistically to each shifting scenario, including chasing leads and when facing in-form teams.
Player Enhancement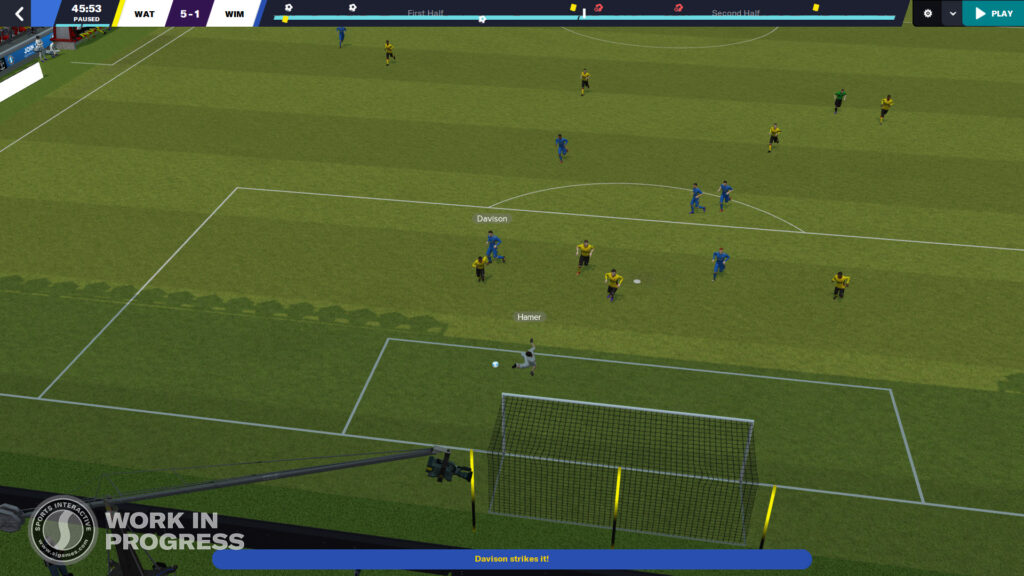 Goalkeepers now have the ability to make K-Block saves, i.e. dropping one knee to the ground to prevent a shot from traveling through their legs in one-on-one situations. Players can also make realistic touches in their attempts to get a ball under control.
Animation Engine Improvements
FM23 has an upgraded animation engine called Inverse Kinematics (IK) that improves the overall quality of gameplay animations. It also has an optimized animation system that reduces the download data footprint.
New Language And Team Instructions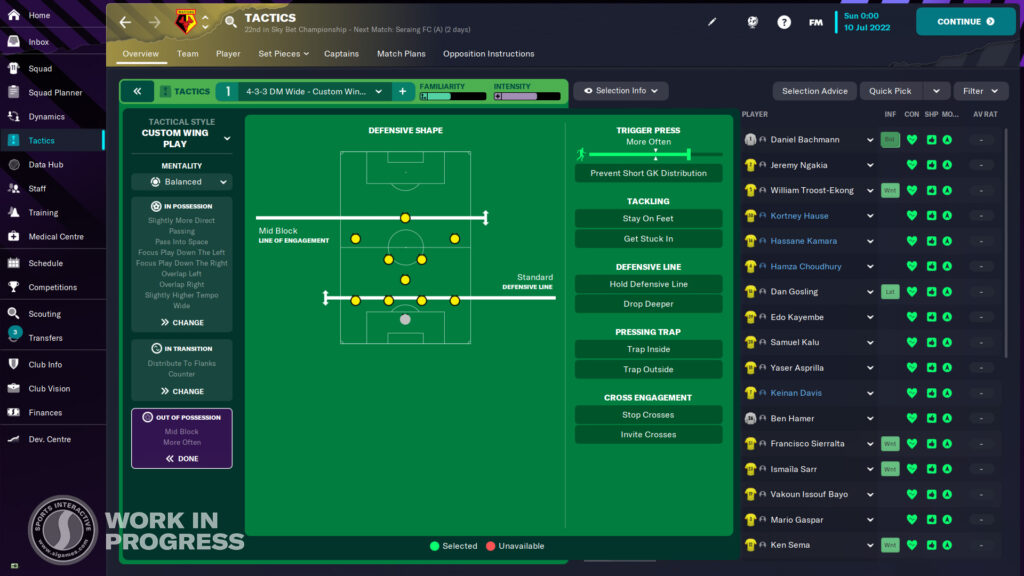 The Offside Trap option is a newly added team instruction in FM23. The Offside Trap option gives you the choice to tell your team to Drop Off or Hold the Line. The newly released instructions help better set up your team's defensive shape in different zones of the pitch.
UEFA Club Competitions Licence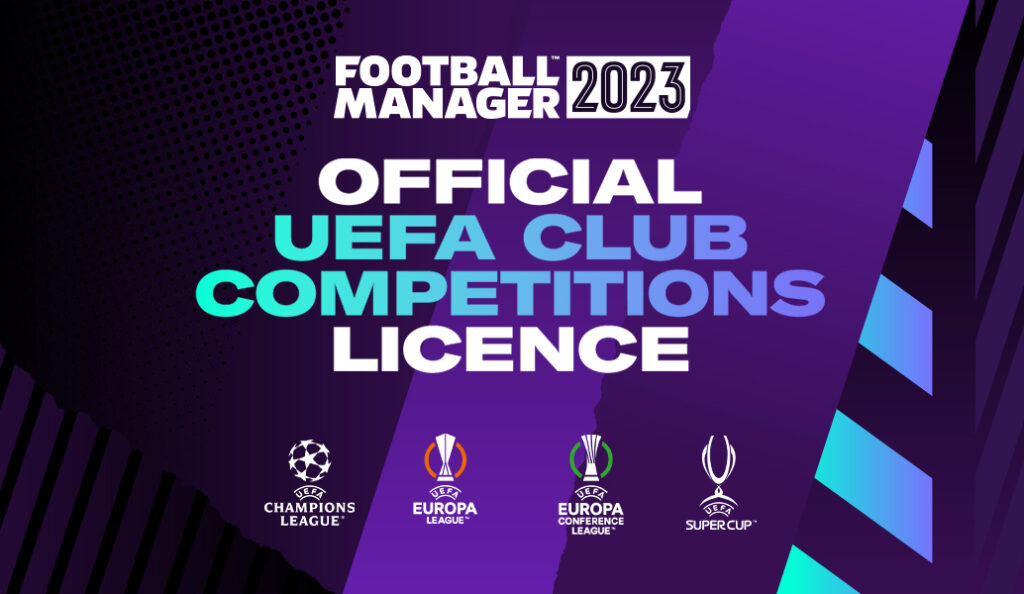 Sports Interactive Limited conclude a deal with UEFA to license the UEFA Club Competitions for the first time in Football Manager history for FM23. This means you can play the UEFA Champions League, UEFA Europa League, and UEFA Europa Conference League on FM23.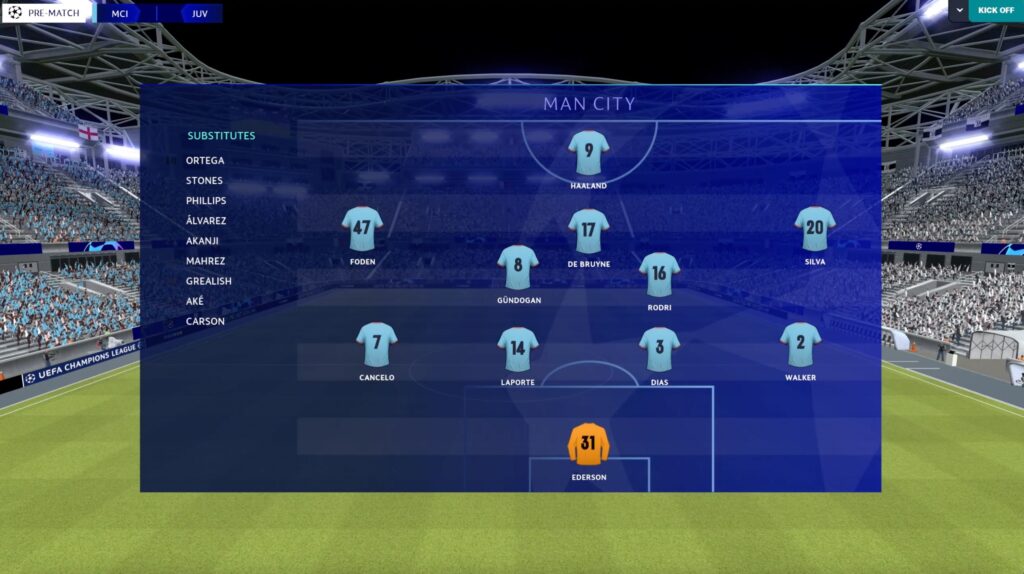 UEFA Club Competition matches will feature walkout cut scenes and a custom-tailored camera angle. Live Draw UEFA competitions will be broadcast in real-time on FM23. This means you can watch how the draw of UEFA Club Competition matches unfold as you manage your team in real-time on Football Manager 2023.
Supporter Confidence
The Supporter Confidence system in Football Manager 2023 allows you to build relationships with your fans. In FM23, the new system helps you learn what fans expect from you on and off the pitch so you can earn their respect over the course of your long and bright managerial career.
The Supporter Confidence system also reflects the current mood of your team's fanbase. The mood of your fanbase is determined by your identity, team performances against key rivals, and individual performances.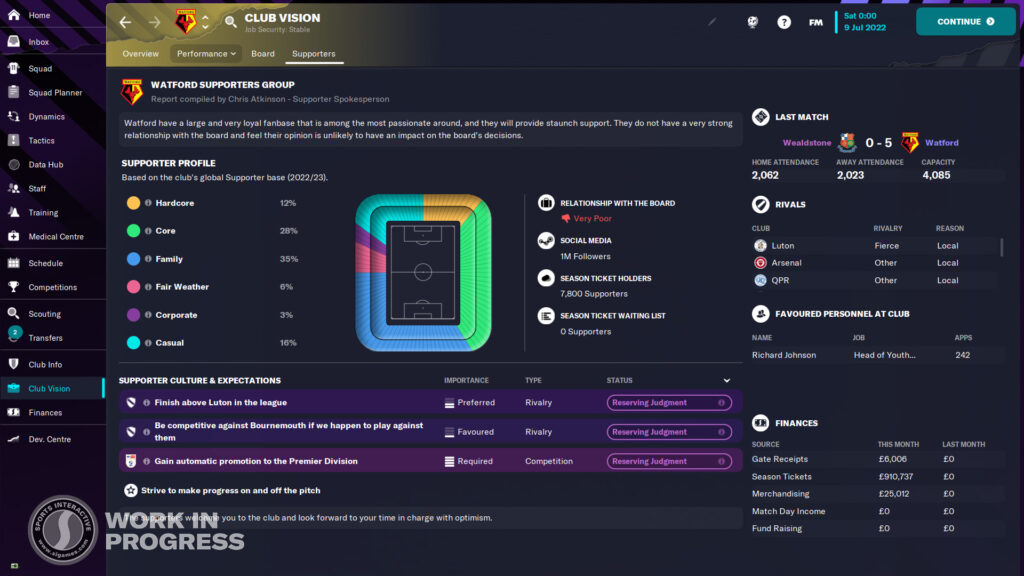 Before each game, you will receive a news item showing the match expectations from both the board and the fans. The decisions and results of the match influence the opinions of your supporters (and board). After that, the media can question your current standing within the fanbase.
Dynamic Manager Timeline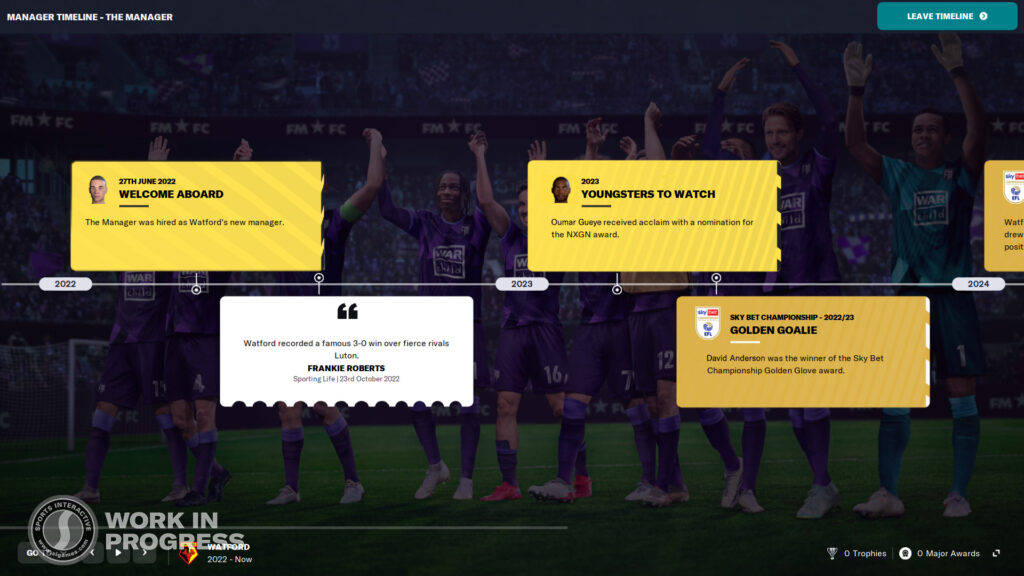 Dynamic Manager Timeline gives snapshots of the achievements and milestones of your managerial career. So, whether you've taken a team out of the lower leagues, or to cup glory, you get to see all your successes and achievements in a blink.
Gameplay Upgrades
There are six gameplay upgrades in Football Manager 2023. They include
Data Hub
Match Analytics
Versus Mode
Manager Appearance
MLS
Pre-match Briefings
Data Hub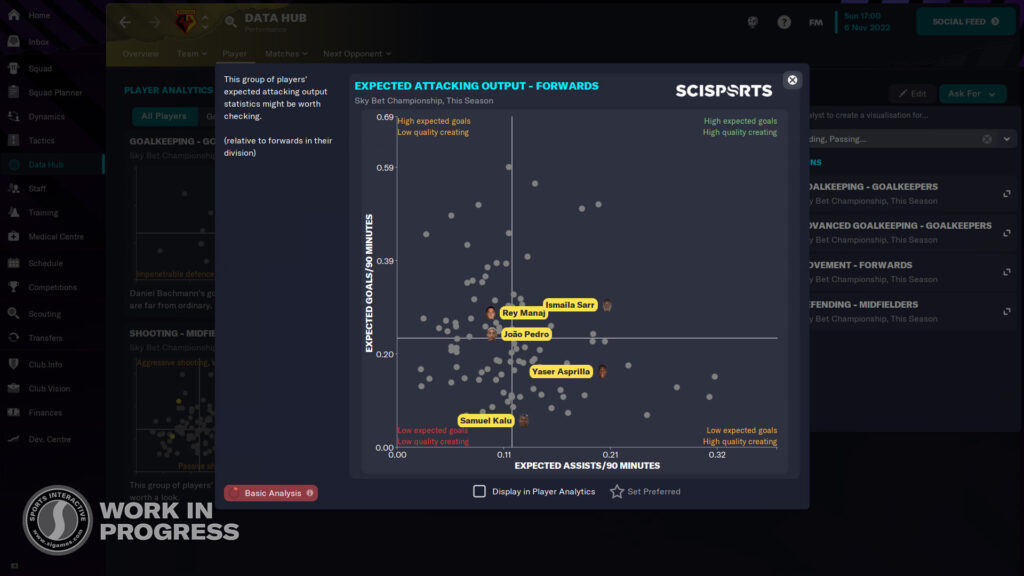 The standout new addition to FM23 gameplay is the Data Hub and it provides data on Expected Assists (xA), Pass Map Comparison and Passes Per Defensive Action i.e. completed passes that move the ball to the opposition goal.
You can easily customize your view within the Data Hub, and set which data you want to see as your preferred visual. In addition, you will get helpful data during matches such as the number of pressure attempts, successful pressures, and sprints a player has made.
Match Analytics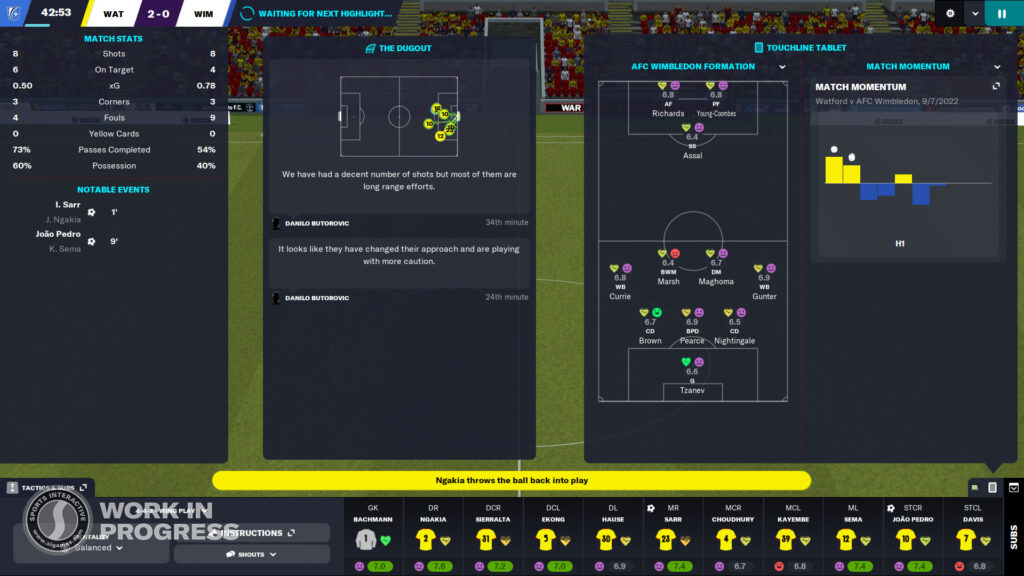 If you want to watch fewer highlights, the newly introduced Match Momentum graph provides a clear perspective. This match analytics shows you how your team is shaping up and how the match is progressing. There is also a Player of the Day news item which features stats and visualizations that highlight a match's star player.
Versus Mode
The Versus mode has been upgraded to be more engaging in FM23 for FMFC members. The new functionality in the Versus mode is called the Versus Mode Leaderboard. The Versus Mode Leaderboard allows you to filter by all-time performance, friends and see the ranking of players in the mode.
You can also set or customize the number of substitutes you want to use (which can be up to 5 subs) in extra time in Versus mode and Fantasy Draft.
Manager Appearance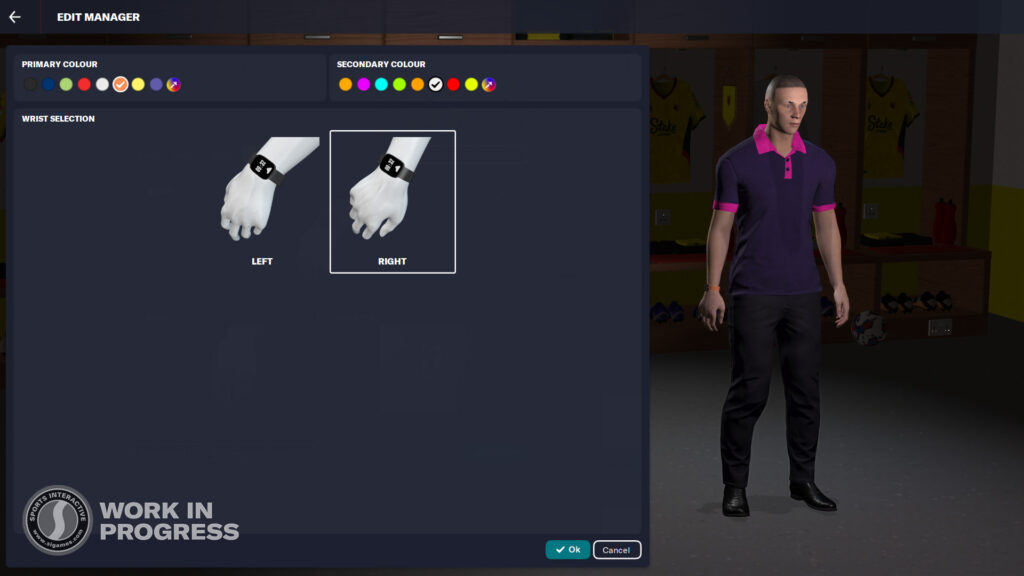 There are six new hairstyles for male managers and six new hairstyles for women managers in FM23. A series of brand-fresh suits and coats are also available for both gender in the manager's physical appearance. For instance, you can dress more stylishly and wear a scarf when you use a female as your manager. Watches, earrings, and scarves are among other new manager accessories in FM23.
Major League Soccer (MLS)
MLS is one of the world's most complex and interesting leagues, and FM23 has a host of tweaks that reflect real-life football rules. As such FM23 has an improved experience when you manage a team in North America.
MLS clubs in FM23 have a total of 11 international slots available to compensate for the difference in rules around permanent residence in the USA and Canada. So when you manage a Canadian club in MLS, you'll see that they have eight non-tenured international slots and an additional three 'tenured' spots for players who have been playing in the league for three years. These tenured spots are not tradeable but the non-tenured ones are.
Pre-match Briefings
Pre-match briefings now function with your Assistant providing feedback in FM23. The feedback is displayed in a three-column grid that allows you to see your players' reactions in match briefings.
FM23 Features: Headline Reveal
Football Manager 2023 Release Date
Football Manager 2023 releases worldwide November 8, 2022 on PS5, XBOX X|S, XBOX One, Windows 10, Andriod, iPhone, Nintendo Switch™, XBOX Game pass, Epic Games, and Apple Arcade.