FIFA Ultimate Team (also known as FUT) has been a favorite mode in the world of football video games since it first appeared in FIFA 10. The mode is called FUT 22 in FIFA 22 game released by EA. FUT 22 is a mode that'll have you spending hours and hours trying to outsmart teams, build the best squad, and win matches in your team's name. Of course, it was difficult to start playing FIFA Ultimate Team, but fortunately, this guide can help you with this problem!
What is FIFA 22 FUT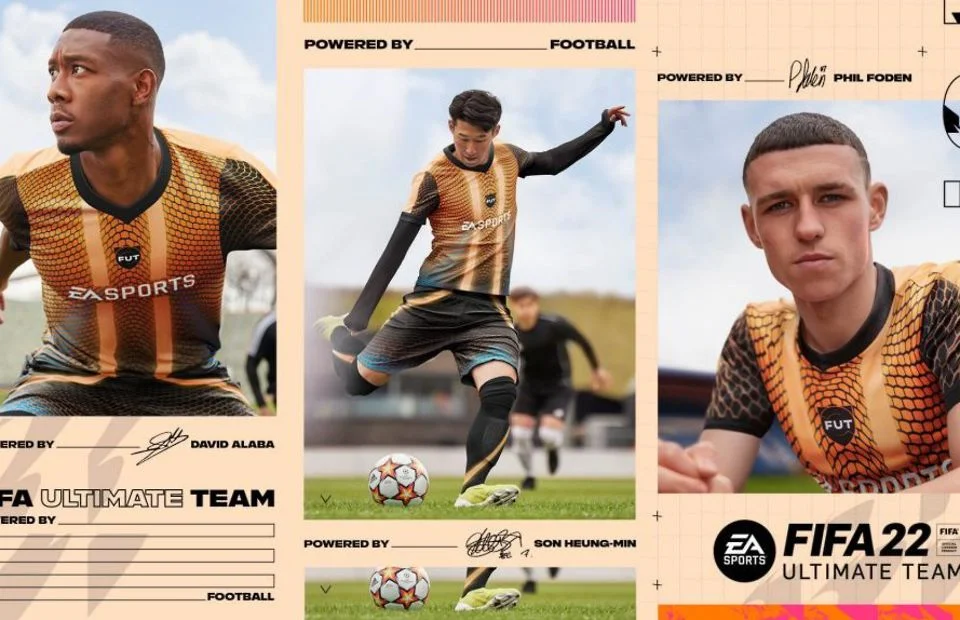 FUT is an online game mode in EA SPORTS FIFA 22. FIFA Ultimate Team (abbreviated to FUT) is a mode in FIFA 22 available on PlayStation 4, PlayStation 5, Xbox One, Xbox SX/S, PC, and Stadia. It was developed by EA Vancouver EA Romania and published by Electronic Arts (EA), a video game publishing and development company based in Redwood City, California.
FUT 22 is the latest installment of the FIFA series, and it has both a single-player mode and an online multiplayer mode. FUT 22, a FIFA 22 game mode, allows players to build their own team using cards and other items. Players collect cards through gameplay, purchasing packs, or trading with other players. Cards can be used to build teams in either online matches or offline matches against AI-controlled opponents.
Is FUT 22 Free
Unfortunately, FUT 22 will not be free. It costs $99.99 for the FIFA 22 Ultimate Edition (FUT 22). This is a special edition that has extra content, such as additional packs, kits, items, and players for Volta and FIFA Ultimate Team.
It is also possible to get it at a discount. Using the EA Access program, you will get a 10% discount when you buy the game. Discounts can also be found at third-party retailers such as Amazon and Gamestop. To find other ways to purchase FUT 22 cheaper or with discount, visit this Gamerina page.
Can You Play FUT on PC?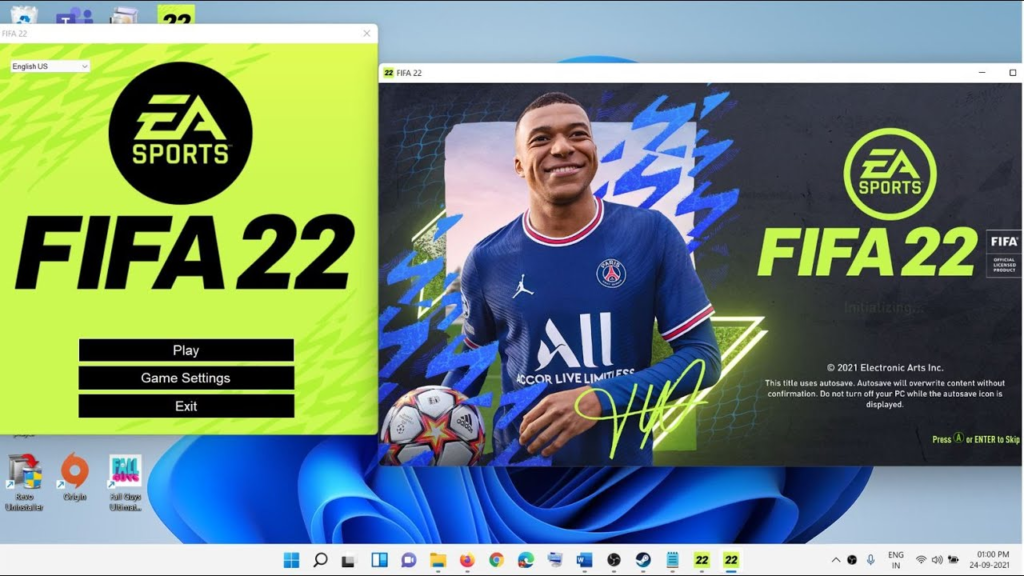 Yes, you can play FUT 22 on PC. It is important to ensure your PC meets the required system requirements. Listed below are those requirements:
Minimum Requirements
OS: 64-bit Windows 10
Processor (AMD): Athlon X4 880K @4GHz or Equivalent
Processor (Intel): Core i3-6100 @3.7GHz or Equivalent
Memory: 8 GB
Graphics card (AMD): Radeon HD 7850 or Equivalent
Graphics card (NVIDIA): GeForce GTX 660 or Equivalent
Online Connection Requirements: 512 KBPS or faster Internet connection
Hard-drive space: 50 GB
Recommended Requirements
OS: 64-bit Windows 10
Processor (AMD): FX 8150 @3.6GHz or Equivalent
Processor (Intel): Core i5-3550 @3.40GHz or Equivalent
Memory: 8 GB
Graphics card (AMD): Radeon R9 270x or Equivalent
Graphics card (NVIDIA): GeForce GTX 670 or Equivalent
Online Connection Requirements: Broadband Connection
Hard-drive space: 50 GB
Additionally, you will need a fast internet connection in order to play the game.
How Do You Start FUT 22?
You can create your club in FUT and learn to play it with the best approach by following these easy steps:
Step 1: Launch After Download
First launch the FIFA 22 game. From the main menu of FIFA 22 game, you can access the Ultimate Team mode once you've purchased the FUT 22 edition. After you have accessed the Ultimate Team mode, the FUT mode will displays the next relevant instructions which is Step 2 on this guide. Check below.
Step 2: Select a Country
The next step of the FUT process is to pick a country from a list provided by the game. Selecting a country e.g. England will give you a larger starting squad featuring more players from that country.
Step 3: Putting Together Your First Team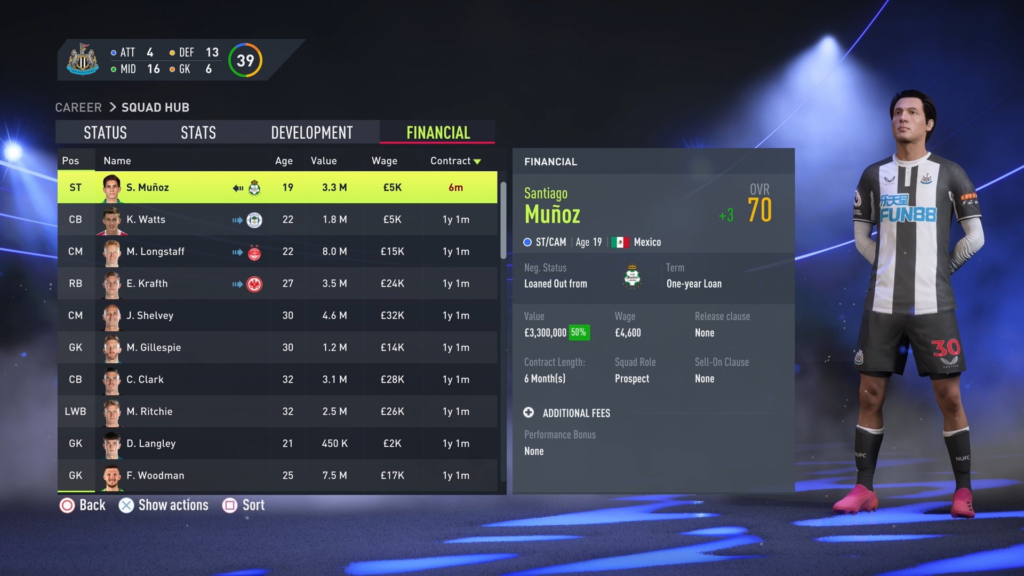 You will be given 22 players and a loan player who are mostly from the country you chose previously. A loan player is only allowed to play a certain number of matches and will leave your team when they reach that limit.
Step 4: Crafts Out Your Club Identity
In this step, you must choose your club's home and away kit from the options you have. You must then pick your club crest from the collection provided. Have no worries, you will be able to replace your club's kit and badge with the ones you earn from playing the game.
Step 4: Get the Objectives Done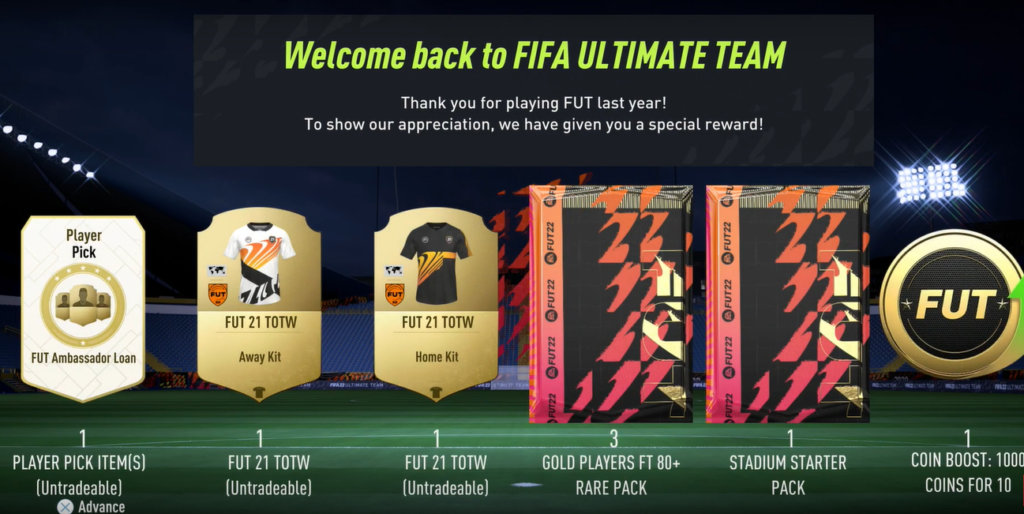 After creating your club identity, the next step is for you to complete the "Welcome to FUT" objective. Once you've completed the task and received the reward, you'll be able to play your first Season match. You should select your starting eleven first to make sure your squad is ready. Remember to pick the players in your squad who have the highest OVR ratings. Position them where they are most effective. Try to maintain a strong "team chemistry" while selecting your players because this can have an effect on the match you play.
Step 5: Get a Player from Transfer Market
Your next task will be to buy a player from the Transfer Market after you have completed your first match. You need to let your new player play the next match after you buy a new player. The latter is your next objective after purchasing a new player.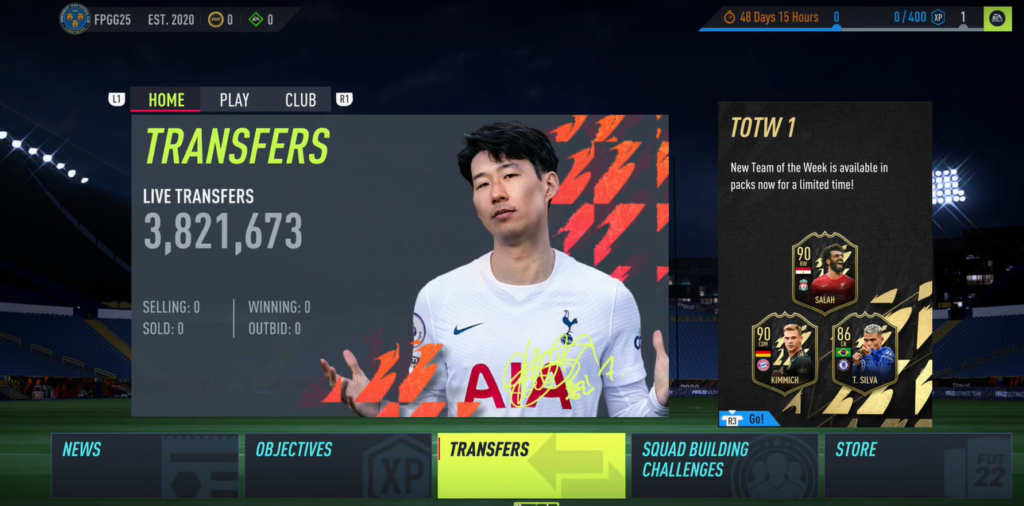 As soon as you have completed your second match, you can move on and self-complete the rest of the journey in the game which will reward you with even greater rewards.
Tips to Help You Build Your Dream Squad in FUT 22
It is best to buy and place players from the same club, league, or nationality together when building your squad. It creates links in your squad, and the more elements that match in your squad, the stronger the Chemistry link will be. This also means your players' attributes will increase swiftly.
Several Chemistry Styles are available in FIFA Ultimate Team, so make sure to choose one that best fits each player and your unique play style.
In addition to participating in matches and completing objectives, you can earn Coins for selling or discarding unwanted tradeable items and players that you no longer need. Make sure you stay up-to-date on new Objectives and play FUT Champions matches as well as Squad Battles and Division Rivals.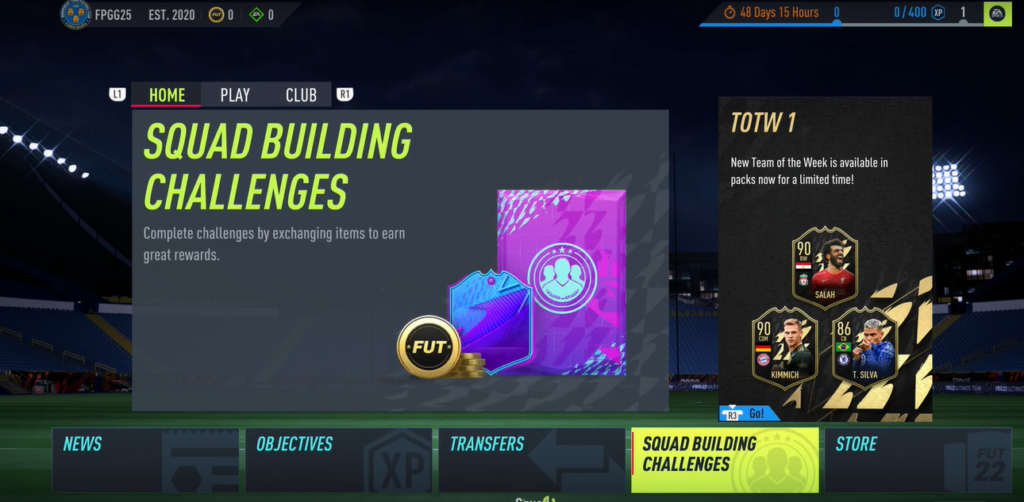 The Transfer Market is a place for players to sell their unwanted Player and Club Items and gets coins back. But also, Transfer market allow users to search for players for their squads and buy any they find suitable for their squad with coins.
For big rewards, you can also participate in the Ultimate Draft by drafting a team of 23 players. A variety of gameplay options are also available with rewards, such as Squad Battles, Live FUT Friends, FUT Co-Op, and Division Rivals.