In case you've been wondering which player to buy that will help your team concede less and win more then you should consider these eFootball 2024 best players. As a matter of fact, these are the players with the highest ratings in the game. Some of them include Cristiano Ronaldo, E. Haaland, Neymar Jr, Messi and more.
Table of Contents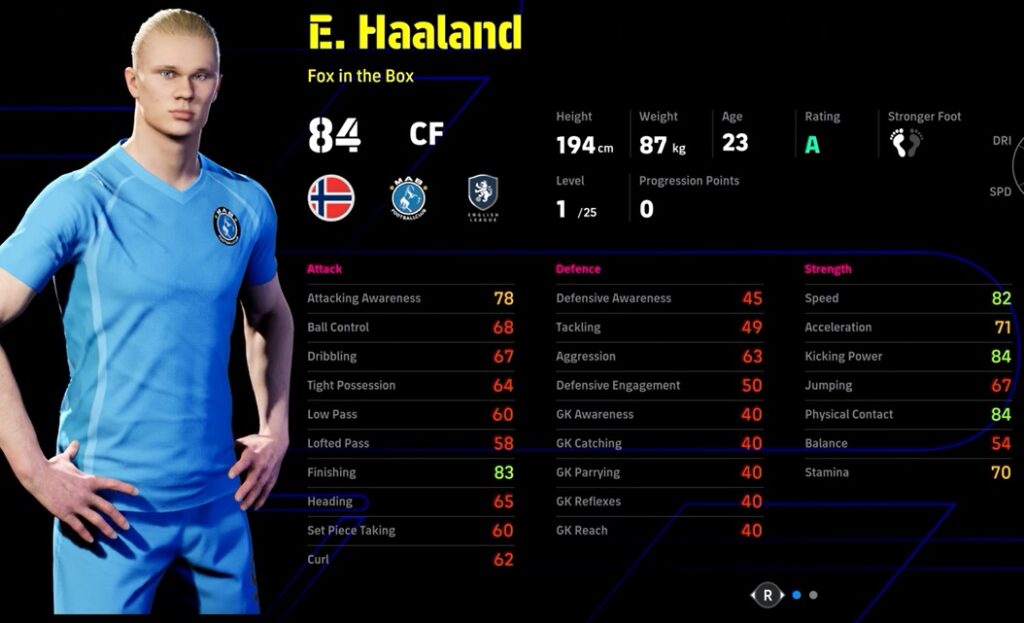 Top 50 eFootball 2024 Best Players With The Highest Ratings
Here are all the eFootball 2024 best players in the latest Konami game for console and mobile devices.
| No. | Player Name | Team Name | Overall Rating |
| --- | --- | --- | --- |
| 1 | K. Mbappé | Paris Saint-Germain | 85 |
| 2 | K. De Bruyne | Manchester B | 85 |
| 3 | E. Haaland | Manchester B | 84 |
| 4 | Rodri | Manchester B | 84 |
| 5 | T. Courtois | Madrid Chamartin B | 84 |
| 6 | Son Heung-Min | Free Agents | 83 |
| 7 | Neymar Jr | Al Hilal SFC | 83 |
| 8 | K. Benzema | Al Ittihad | 83 |
| 9 | J. Kimmich | FC Bayern München | 83 |
| 10 | H. Kane | FC Bayern München | 83 |
| 11 | Neymar Jr | Free Agents | 83 |
| 12 | R. Lewandowski | FC Barcelona | 83 |
| 13 | M. Neuer | FC Bayern München | 83 |
| 14 | L. Messi | Miami BP | 83 |
| 15 | Cristiano Ronaldo | Al Nassr | 82 |
| 16 | J. Bellingham | Madrid Chamartin B | 82 |
| 17 | B. Saka | Arsenal FC | 82 |
| 18 | V. Osimhen | SSC Napoli | 82 |
| 19 | Vinícius Júnior | Madrid Chamartin B | 82 |
| 20 | M. de Ligt | FC Bayern München | 82 |
| 21 | F. Valverde | Madrid Chamartin B | 82 |
| 22 | Rúben Dias | Manchester B | 82 |
| 23 | F. de Jong | FC Barcelona | 82 |
| 24 | Bernardo Silva | Manchester B | 82 |
| 25 | M. Ødegaard | Arsenal FC | 82 |
| 26 | Alisson Becker | Liverpool R | 82 |
| 27 | M. ter Stegen | FC Barcelona | 82 |
| 28 | M. Salah | Liverpool R | 82 |
| 29 | V. van Dijk | Liverpool R | 82 |
| 30 | J. Oblak | Madrid Rosas RB | 82 |
| 31 | A. Griezmann | Madrid Rosas RB | 82 |
| 32 | D. Alaba | Madrid Chamartin B | 82 |
| 33 | L. Modrić | Madrid Chamartin B | 82 |
| 34 | Cristiano Ronaldo | Free Agents | 82 |
| 35 | J. Musiala | FC Bayern München | 81 |
| 36 | Pedri | FC Barcelona | 81 |
| 37 | R. Araújo | FC Barcelona | 81 |
| 38 | K. Kvaratskhelia | SSC Napoli | 81 |
| 39 | W. Saliba | Arsenal FC | 81 |
| 40 | L. Díaz | Liverpool R | 81 |
| 41 | D. Upamecano | FC Bayern München | 81 |
| 42 | F. Chiesa | Piemonte BN | 81 |
| 43 | Éder Militão | Madrid Chamartin B | 81 |
| 44 | T. Alexander-Arnold | Liverpool R | 81 |
| 45 | J. Koundé | FC Barcelona | 81 |
| 46 | K. Trapp | Free Agents | 81 |
| 47 | Lautaro Martínez | Internazionale Milano | 81 |
| 48 | G. Donnarumma | Paris Saint-Germain | 81 |
| 49 | G. Jesus | Arsenal FC | 81 |
| 50 | J. Grealish | Manchester B | 81 |
| 51 | Bruno Fernandes | Manchester United FC | 81 |
| 52 | M. Maignan | AC Milan | 81 |
| 53 | K. Coman | FC Bayern München | 81 |
| 54 | R. De Paul | Madrid Rosas RB | 81 |
| 55 | J. Giménez | Madrid Rosas RB | 81 |