Top Eleven Training feature is a system that helps prepare players for the matches so they are at their very best when playing.
This Training will help your players improve their skills, such as passing accuracy.
The majority of your players will be physically fit if you maintain a regular training schedule.
Consequently, the players will have a better tactical understanding of your desired playstyle and formation in matches.
You know what? Don't let us waste time at all. Let's dive into what Top Eleven training really entails, and what we recommend you do when it comes to training in Top Eleven.
Table of Contents
Accessing the Training Screen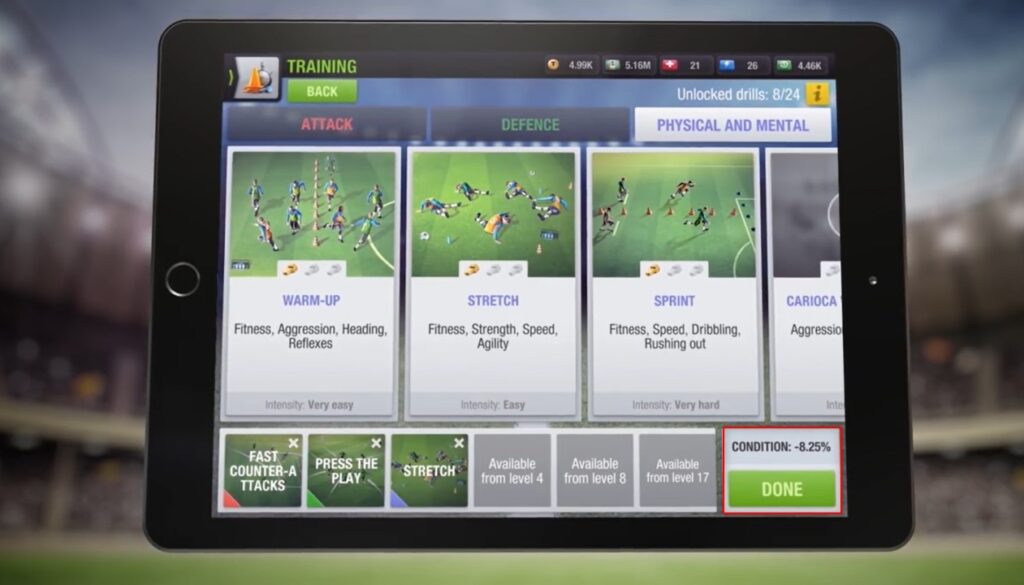 To start a training in Top Eleven, head to the training screen via the dropdown menu on the left side of your home screen.
Here, you'll have the option to handpick specific players for your training session.
Alternatively, you can opt for a one-size-fits-all approach by selecting all players or individuals based on their Zonal positions.
But, remember to always keep an eye on your players' condition to ensure they are fit and ready for upcoming matches. Once you've selected, hit "DONE" and return to the general overview.
Create Training Schedule
To create a training schedule, you must select drills to use during the training.
There are three drills categories in Top Eleven:
Attack
Defence
Physical & Mental
Each drill enhances different attributes in a player.
So, strategize. This is key when forming your winning drill combinations.
You can start by choosing the drill type you desire, then drag and drop your selected drills into your schedule.
The secret to a successful training session lies in the right mix of drills. So, experiment with various combinations to discover what works best for your team.
Do Training Intensity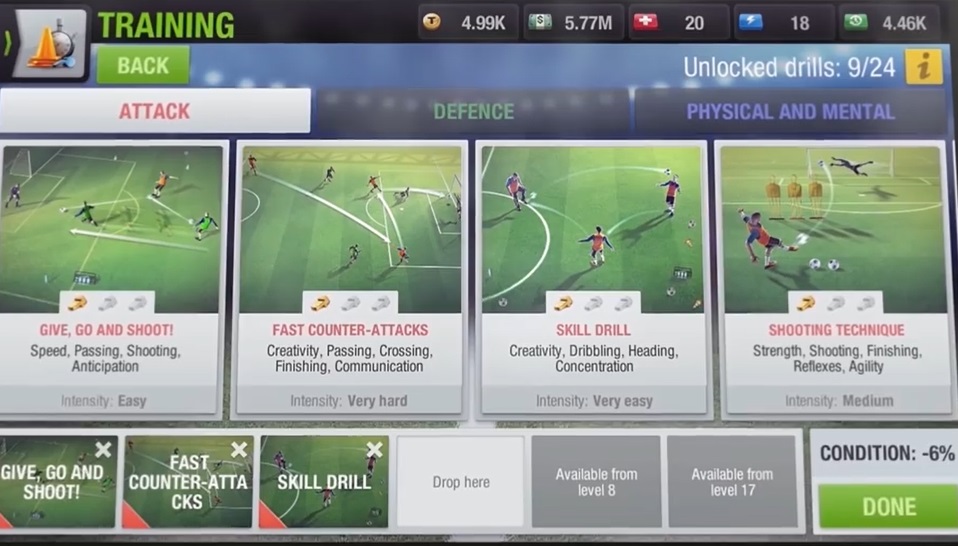 The intensity of your chosen training session will impact your players' condition.
This is displayed on the right side of the screen as "Condition".
Once satisfied with your drill selections, hit "DONE" and initiate the training session on the main screen.
After the training session concludes, you'll receive a detailed Training Report that outlines the effects of your schedule.
The report also has a system designed to help managers evaluate the quality of their training and their players' capabilities.
Meanwhile, as you level up and unlock new training drills, you can improve the overall quality of your sessions.
Leverage Teamwork Bonuses
Teamwork bonuses does one thing in Top Eleven. And that is to enhance your team's performance in matches.
Navigate to to the Bonuses tab on the main screen to see into each bonus you won after each match.
Additionally, you can hire a Special Coach from this tab, granting your team a training boost for the next 24 hours.
Below the report in the tab, you'll find details on special requirements for extra bonuses to maximize your session's effectiveness.
Peak Players' Form
The Physio Center helps ensure your players are in their peak physical condition.
You have the free will to rest players or give specific individuals a boost before their next training session.
In summary, the Physio Center facility maintain your team's health and performance.
Quick Training Option
If you are a very busy manager with packed schedules, the Quick Training option is your option and that is available.
At the Quick Training Center, your assistant manager will take control and help you decide on the training session's intensity.
However, keep in mind that while the assistant manager can only organize decent training sessions, they may not yield the very best you want.