If you want to play eFootball 2022, this is the latest edition you need to learn and understand the game. There are a lot of changes and improvements in this edition of the game. How will the changes affect you? Find out below.
Introducing eFootballTM 2022
eFootball 2022 is a football game that combines the best of real-life and virtual elements with realistic 3D graphics to enhance the football gameplay. eFootball 22 is the latest addition to the Konami series of football games. eFootball 2022 has improved graphics compared to its predecessors; eFootball 2021, eFootball 2020, and PES 2019. In this game, you can enjoy the world's most popular sport, with many features that make it so different from other football video games.
eFootball 22 Demo
The official eFootball 22 demo game features realistic graphics and animations, allowing you to experience the intensity of professional football via your game console, smartphone, or tablet. Konami released the Demo game on June 24, 2021. eFootball 22 Demo Game also called "New Football Game Online Performance Test" became fully available to test on July 8. You can try out the eFootball Demo here or go download the full version of eFootballTM 2022.
eFootball 2022 Gameplay
eFootball 2022, a football (soccer) simulation game, can be played by game players around the world. eFootball 2022 is the first game in the franchise to be built using Unreal Engine 4. The original release of eFootball 2022 had "atrocious" graphics, a lack of content, and laggy controls. Eventually, Konami apologized for all the problems the game had and promised to fix them. In the major eFootball 2022 Version 1.0 update released a few months later, numerous improvements were added, including:
Improved and more fluid player movement system on the pitch
Enhanced friction-aligned ball movement system
More focussed incision passes
Accurate kick alignment
Sharper and more precise shots than the standard shots
With better trajectories for the Power Gauge and Skill Activations,
Players' faces appear more realistic
Simulating and multi-actioned dribbling
In the game, you can play against other players online or offline in both single-player and multiplayer modes. The eFootball game has been updated for mobile with a new display that makes it more realistic than ever before.
eFootball Release Date 2022
The full eFootball 2022 game has 2 seasons, meaning the official eFootball release date of 2022 happened twice. Before the release of the full eFootball game, Konami released the PES 2022 demo on Thursday, 30 September, 2021 and then a heavily-criticized debut version. The first version of the official eFootball 2022 Season 1 was released on September 30th, 2021. On Thursday, 16 June, Konami released the second version called eFootball 2022 Season 2.
When is eFootball 2022 Mobile Release Date?
Konami confirmed the launch of PES 2022 Mobile for Android and iOS devices happened on June 2, 2022, after a lengthy work. The delay was caused by the development team of Konami working hard on the mobile version of the game to ensure that the game was of the highest quality.
The release of eFootball 2022 mobile comes as part of a significant update to the current version of the game as well as a scheduled maintenance period leading up to the June 2 release. For Android and iOS users, eFootball Mobile 2022 is available for download.
Update History of Konami Football Games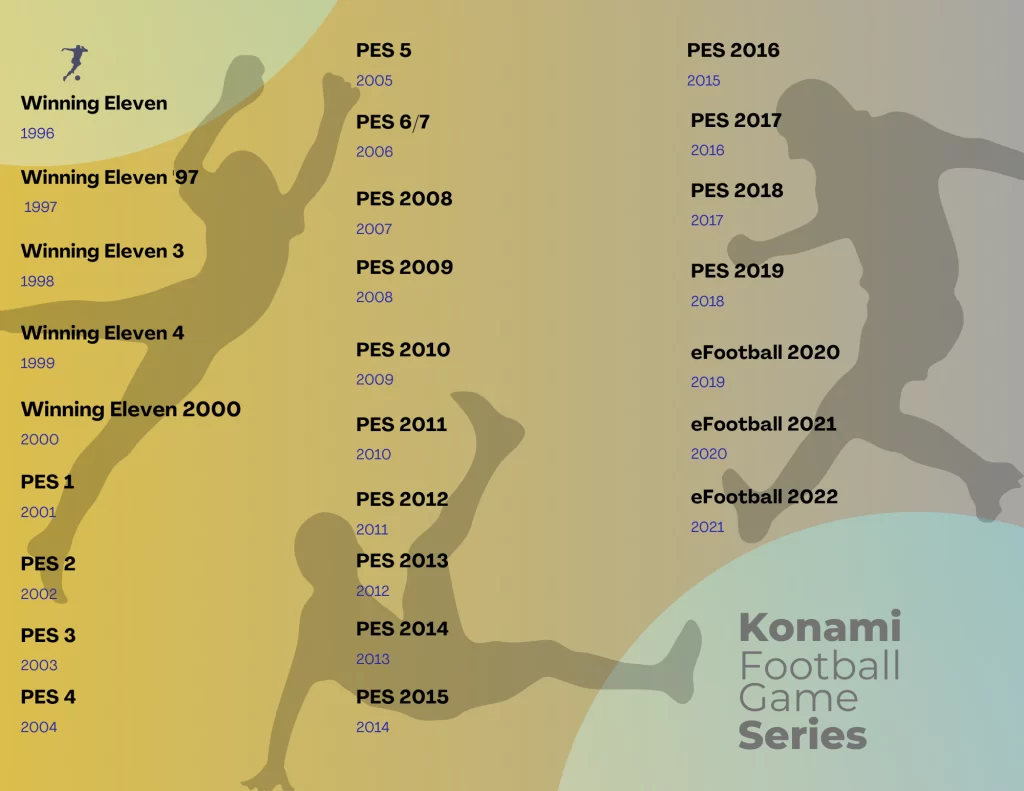 eFootball Price and Micro-transactions for the 2022 Game
On all consoles, the eFootball 2022 Premium Player Pack Pre-Order bundle costs £32.99 / $45 each. Pre-order bundles can be purchased from the online store of your console, such as the Xbox Series X/S. Meanwhile, purchasing the Premium Player Pack through PES 2021 or PES 2021 LITE will reward you with a 10% discount on the total amount paid.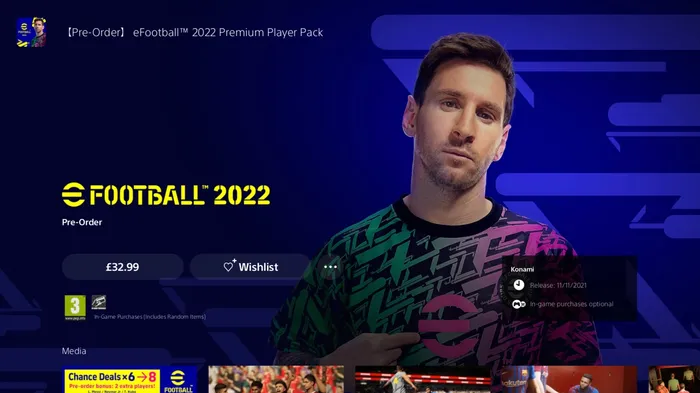 eFootball 22 Features
The latest version of the eFootball 22 game includes many new features such as:
More than 30 playable national teams including Germany, Brazil, Argentina, and France;
New stadiums with detailed stadium models, including Stade de France and Allianz Arena;
New football boots with improved graphics;
New animations for player run lights;
Improved lighting effects of stadium lights;
New crowd sounds with more realistic cheering sound for each country's supporters
Is There a Trailer eFootball 2022?
Is eFootball 2022 free?
eFootballTM 2022 game brings a whole new chapter to football gaming and playing the eFootball 22 game is free! So, anyone can take part in the fun.
Is eFootball PES 2022 an Offline Game?
eFootball or PES 2022 is an offline game. You can play the eFootball 22 game offline against the AI or with a friend while using various teams available. There are also weekly challenges you can partake in the free-to-play offline game. The eFootball 22 game kicks off with a game campaign in offline exhibition mode, free training, and more. If you would love to know how to play with all clubs and national teams on eFootball 2022, we provide a step-by-step guide you can follow to play matches with all clubs and national teams on Xbox, PlayStation, and PC.
What's on the eFootball 2022 Roadmap Calendar?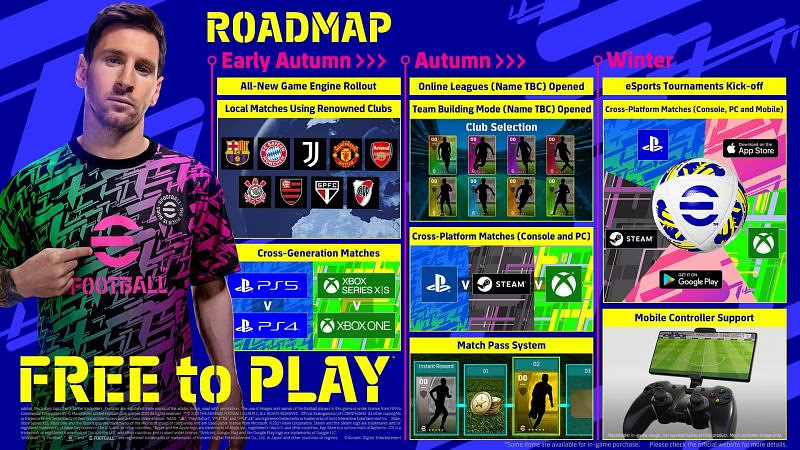 Is eFootball 2022 Cross-platform?
eFootball 2022 will become a crossplay platform in 2023. In the coming months, eFootball 2022 will receive serial updates of content that will include cross-play. Specifically, Konami winter's updated edition will bring the cross-play feature for eFootball 22 on consoles and PCs.
Will eFootball Have MyClub?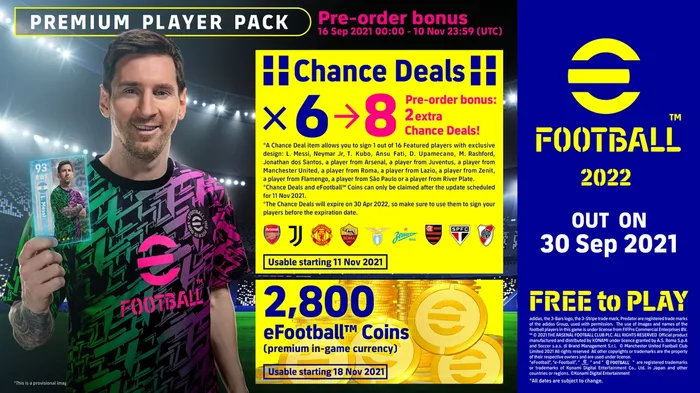 The MyClub mode usually comes into the eFootball series when eFootball coins are released. For the year 2022 edition, eFootball coins 2022 were supposed to be usable starting from Thursday, 18 November. This meant that MyClub should have arrived on this date as well. Konami has, however, delayed the release of the eFootball 22 coins and as such the MyClub's release date. According to Konami's latest announcement, MyClub will be released in Spring 2022.
Does eFootball 22 have Master League or Career Mode?
Master League, also known as eFootball career mode, will become a part of eFootball 2022 in 2023 via content update.
eFootball 2022 Master League Price
eFootball 2022 will feature Master League as additional, paid content in 2023. This means Master League in eFootball 22 will be released in 2023 and game players will have to pay extra to access it.
Which Consoles and Platforms Can Play eFootball 2022?
eFootball 2022, a football (soccer) game created by Konami, became available on PS4, Xbox One, and PC starting 14th April 2022. In May 2022, Konami announced eFootball 2022 will be available on mobile devices by Spring 2022 because they need more time to deliver a high quality gaming experience on mobiles — because fans deserve it.
eFootball 2022 System Requirement for PC
Minimum Requirements
Minimum: Requires a 64-bit processor and operating system
OS: Windows 10 – 64bit
Processor: Intel Core i5-2300, / AMD FX-4350
Memory: 8 GB RAM
Graphics: GeForce GTX 660 Ti / Radeon HD 7790
Network: Broadband Internet connection
Storage: 50 GB available space
Recommended Requirement:
Requires a 64-bit processor and operating system
OS: Windows 10 – 64bit
Processor: Intel Core i5-7600 / AMD Ryzen 5 1600
Memory: 8 GB RAM
Graphics: GeForce GTX 1060 / AMD Radeon RX 590
Network: Broadband Internet connection
Storage: 50 GB available space
How Many Clubs are in eFootball 22?
All football teams in the world are not included in eFootball 2022. The current version of eFootball 2022 features 25 teams.
What Teams are Licensed in eFootball 2022?
The following 9 teams will be available in Trial Match mode beginning on the 14th of April 2022: Some officially available teams are:
FC Barcelona
FC Bayern München
Juventus
Manchester United
Arsenal
Corinthians
Flamengo
Sao Paulo
River Plate.
How Do You Unlock all Teams in eFootball 2022?
eFootball 2022 doesn't allow you to play as any team you want in offline mode. Nonetheless, the Gamerina team has tested a method that will allow game players to choose any team to play as and against in eFootball 2022 — training mode. This method is compatible on Xbox Series X and PlayStation 5. It may work on Xbox One and PS4 (not test though). Follow the steps in our step-to-step tutorial to learn how you can choose any team to play as and against in eFootball 2022 on Xbox Series and PlayStation 5. In another article, we also provide a hack on how to unlock all club and national teams in the "eFootball 2022 Version 1.0" on PC.
eFootball PES 2021 Will Be Updated to eFootball 2022!
eFootball 2022 is the sequel to eFootball 2021 and it brings several improvements to the table. Konami updated eFootball 2021 to eFootball 2022 season 1 and Season 2. The most notable improvement is the more advanced and realistic graphics, which make a huge difference when it comes to gameplay and visuals. The game update to eFootball 22 Season 1 occurred on 14th April 2022 while the game update to eFootball 22 Season 2 occurred on 16th June 2022.
eFootball 2022 is looking to be exciting for the sports gaming industry. With new campaigns, special player lists, and other info released, there is a lot to be excited about. If you want to stay up-to-date on the latest news and events, be sure to visit the Konami official website.