One of the biggest changes in eFootball 2022 or the previous PES series is the defense system. This is because the quality of play in the latest free-to-play game is made to be really just like a real-life football game. As a computer, PS, and XBOX user, if you cannot properly hold off an opponent at bay, you will definitely concede many goals in the eFootball 2022 game. And for game players who have always relied on holding X or A in PES games via PlayStation or Xbox, that way of playing is now bygone. The size of the pitch, new playstyles, and gameplay in eFootball 2022 are even much more advanced, making everything more difficult than before — well, thanks to the new mechanics from Unreal Engine.
Gamerina team has analyzed the game and discovered how to defend and leave no scoring opportunity to opponents in eFootball 2022.
How to Tackle Players in eFootball 2022
Match Up Technique
The Match Up technique in eFootball 2022 is useful in specific situations. You can use the L2 button for Match Up when you can see your opponent is about to pass the ball or once you've lined up a passing lane to intercept. Match Up is also your best way of winning the ball cleanly if you are close to your opponent. Whenever you hold L2/LT in eFootball 22, your defender will run at the opponent and tries to get between him and the ball. With this technique, defenders often use their shoulders to nudge attackers and force them off and win the ball.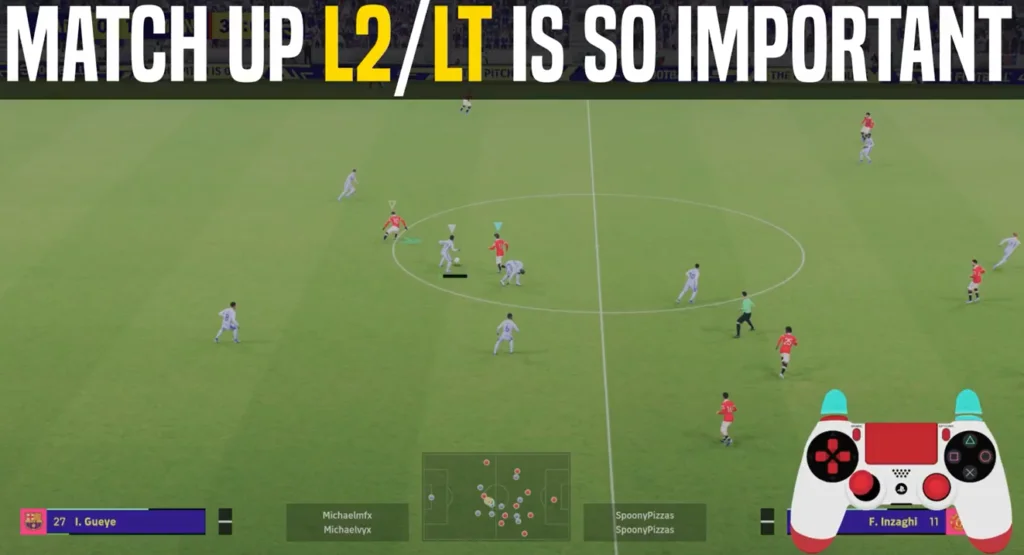 Moreso, when your defender is far away from the opposing player, holding L2/LT will cause him to pursue the opposing player. When your defender reaches the attacker, he or she will tackle him or her in an instant. There is more aggression in this tackle, so you will likely commit more fouls by spamming the L2/LT button. As far as the Gamerina team can tell, after testing out the command, this command is most useful when a defender attempts to nudge the ball from an attacker who is trying to get the ball far away with speed.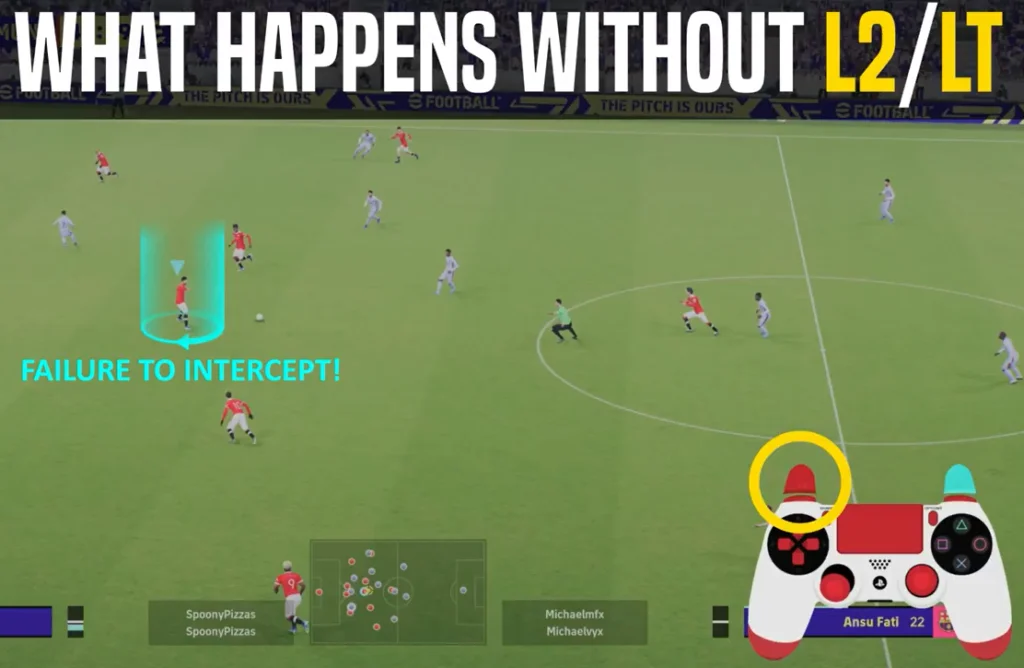 Play into Passing Lanes
The best way to defend in PES 2022 remains to play into passing lanes like in the previous PES version. Move your off-ball players quickly into positions and switch between them with your right stick at the right interval and intercept a pass.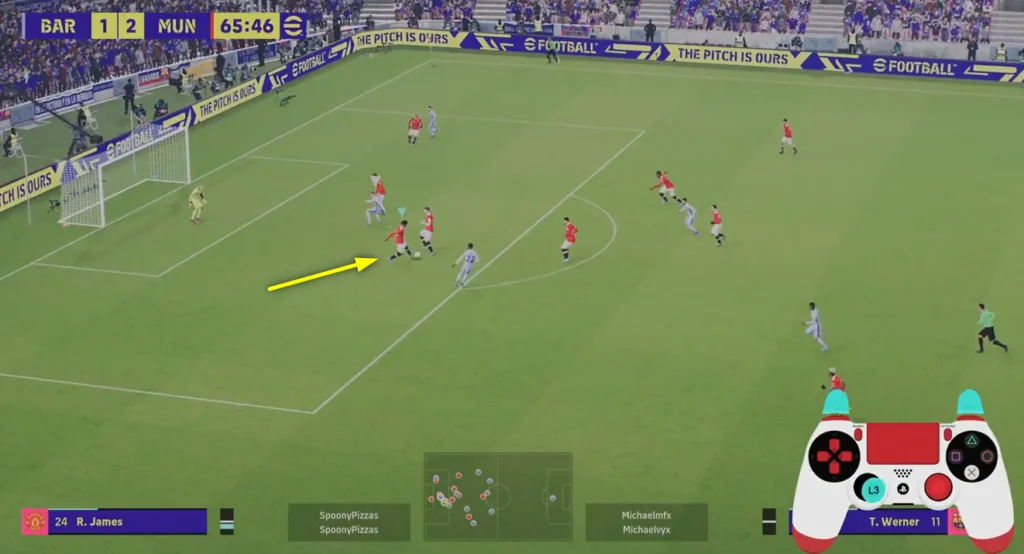 Anchoring
Anchoring a player makes the selected player gets restricted from drifting out of a position horizontally. For example, a left-back can be anchored to the left back position, and no other player will venture into that part of the field. The left-back won't also leave the position at any time. Anchoring a DMF is one of the best ways to utilize the Anchoring tactics in eFootball 2022. Though, it also works if you anchor center backs, left backs, etc. To set Anchoring on a player;
Go to Tactics.
Next click on Individual Instructions.
Select Attack1.
Go to Anchoring. Now, choose a player you will love to Anchor (to a position).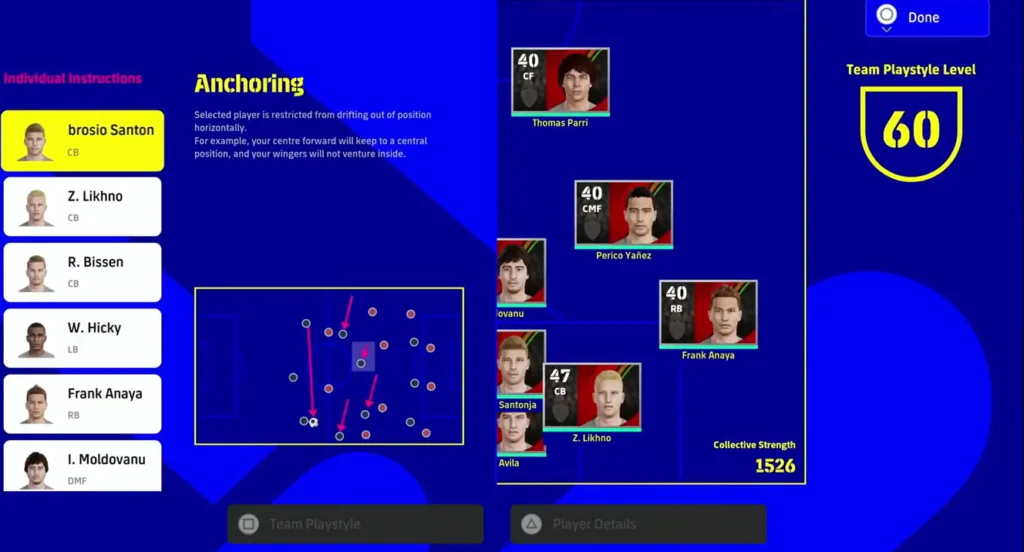 Positioning
When an opponent gets into your penalty box and is threatening to score, to help you cancel out the chances of such an opponent scoring, quickly select another defender and try to block the shot or pass the opposing player is trying to make. All you need to do is calmly watch as he starts powering up his shot and then moves across to block it.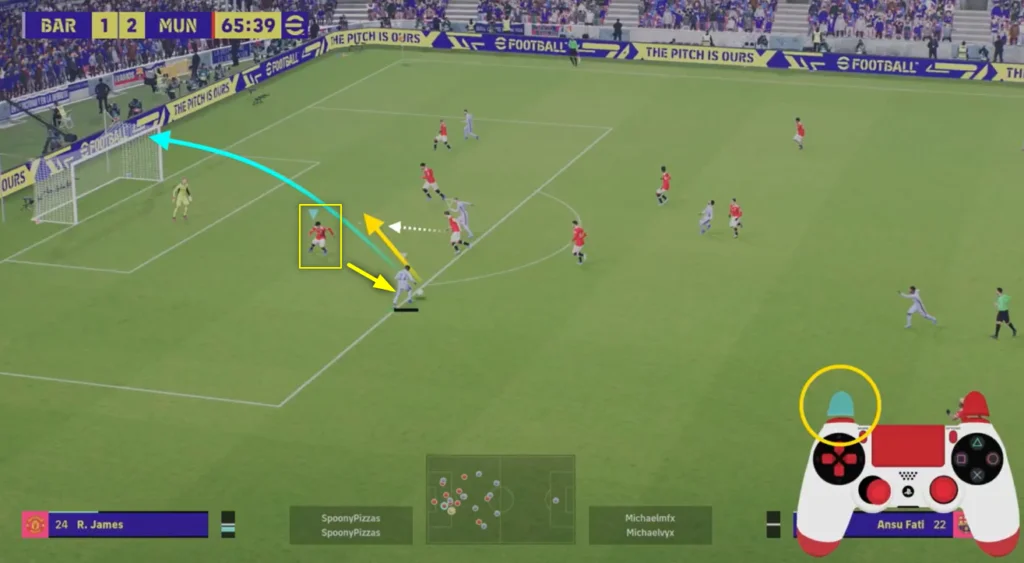 Teammate Pressure
To protect the passing lanes and pressure the ball bearing player in PES 2021 and previous editions, players used to assign the team pressure function to the Square/X button. The task seems impossible in the eFootball 2022 year game as teammate pressure cannot be called in via a command. This is because Teammate Pressure was processed in a new pattern by Konami in eFootball 2022. So how does Teammate Pressure work in eFootball 2022? In eFootball 2022, the Teammate Pressure feature is only active when you are pressing an opponent and a second defender is sent in by eFootball's AI defense system automatically, resulting in a 2-on-1 situation. There is no clear reason why Teammate Pressure works automatically. Meanwhile, Gamerina discovered that the AI defense system in PES 2022 carefully selects the 2-on-1 Teammate Pressure in the very best situations as it sees fit.
Shoulder Charge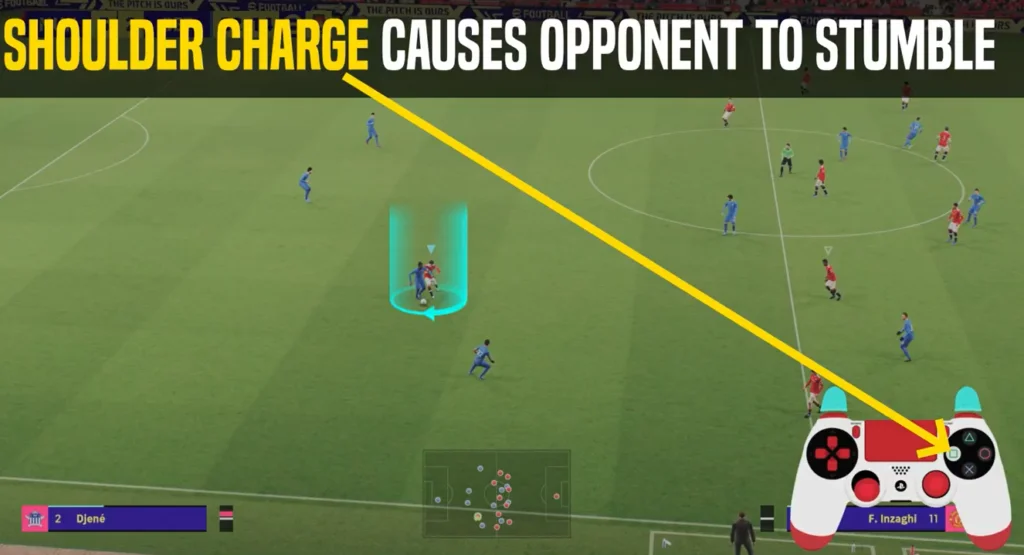 A technique you can use to defend in the penalty box is the Shoulder Charge — especially when things look like you are going to concede a goal. When your player is near an opposing player in the penalty box, you can separate the opposing player from the ball by causing them to stumble with a shoulder charge. Before you use the Shoulder Charge, make sure your player and opposing payer are side-by-side in other not to give away a free kick or penalty as it can be risky. You can do a Shoulder Charge in eFootball 2022 by pressing the Square button in eFootball 2022.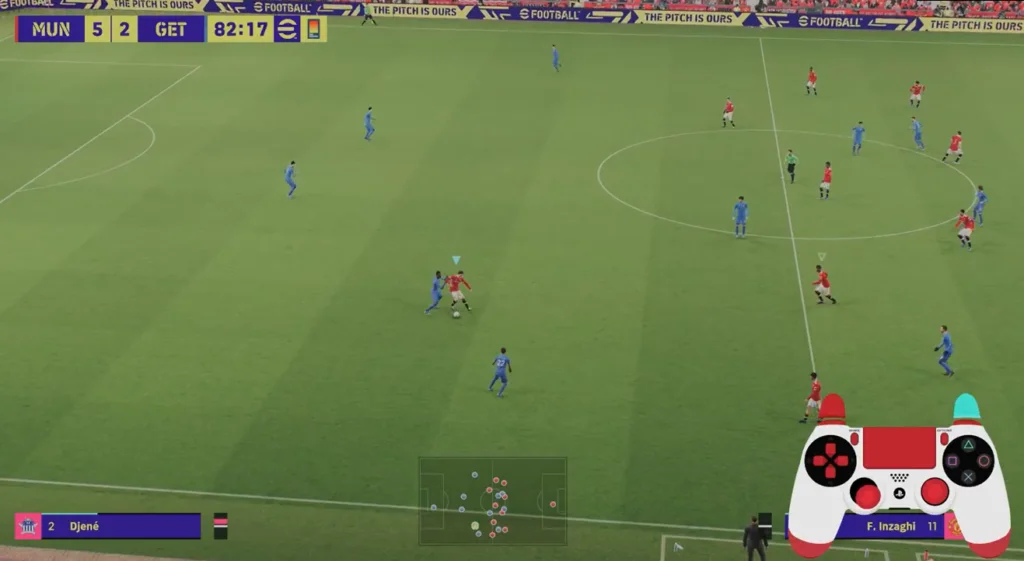 Defense Technique You Should Stop Doing in eFootball 22
When holding the X/A button in PES 2021 and previous PES editions, pressure is heavily applied to the opposing attacker by pressing the X/A button. However, in eFootball 2022, pressing the X/A button will not surmount the right amount of pressure required on opposing attackers. It just doesn't work well for catching up with attackers and stealing the ball. Rather than closing in on your opponent and performing a tackle (as in previous PES versions), by pressing the X/A button in eFootball 2022, your player will only run to stop a few feet away from the opposing player. And since FIFA players use the X/A in the FIFA game series to press they will be familiar with these mechanics.
Final Word on Defense Technique in eFootball 2022
It will definitely take some time to master the above defense techniques in eFootball 2022. Game players will have to think carefully about their next move before they make any in the Konami-owned game. Since Konami has admitted publicly that eFootball 2022 updates haven't been exhausted, there's still a chance that gamers can still grow and learn better new ways to win consistently in eFootball 2022.